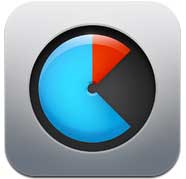 Consume
App Developer: Bjango
Version Reviewed: 2.12
License: US$2.99
Consume is an iOS app that allows users to measure the consumption of various online services such as, but not restricted to, mobile data and voice minute allocations.
Whilst iOS does offer an internal method to monitor the data throughput of your device, it is limited because it does not check with the provider. Therefore, users are required to manually reset the internal data monitoring at the end of the monthly bill cycle.
To access, and reset, this default area, without consume, you need to navigate to Settings > General > Usage > Cellular Usage > Reset Statistics. In the same area you will be able to view your current sent and received data usage.
Consume offers a better solution and has become my app of choice when viewing my current voice and data communication usage.
With support for over 250 telecommunications companies, in 18 different countries, there is a good chance your service will be covered. If you would like to find out more information relating to the supported services in your country, please click here.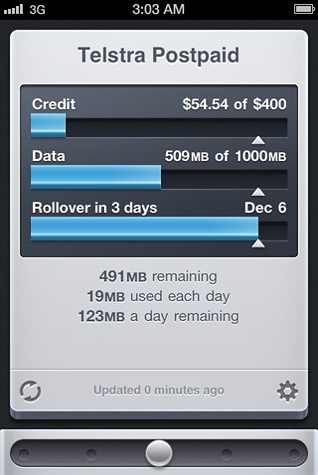 If you thought Consume was just a simple app to tell you what calling credits or available data you had left, you would be mistaken.
Consume has the ability to track many other services including landline telephone usage, mobile broadband, public transport, club memberships, store gift cards, and parcel tracking, to name a few. You can even monitor your usage and accounts for cloud storage services, such as Dropbox, via this app.
The accounts are quick and easy to setup and the usability is further increased with iCloud synchronization. The addition of iCloud allows the content within the app to remain up-to-date, regardless of the iOS device you are currently using.
There is also no need to worry about a limitation on the number of accounts you can use within the app. If it is supported, the app can access the data.
When viewing relevant information you will appreciate the uncomplicated but informative layout.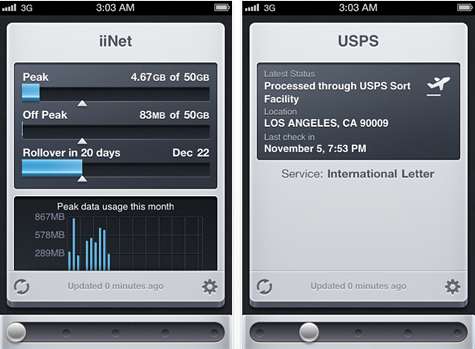 For example, when viewing a telecommunications phone plan you will be presented with information pertaining to available call credits, available data, and the days remaining until the rollover takes place.
Likewise, when tracking shipments you will be able to see information such as the current location, status, and service style.
Throughout testing I have been able to confirm that the app presents information as accurately as the iOS built-in option for data and voice communications. This has also matched information provided by telecommunications companies.
You will notice after launching the app that within a matter of seconds the data will be revised. This speed, accompanied with accuracy, resonates confidence in the mind of the end user. At this stage I should mention the speed is limited to your network connection quality and may differ from the results I have experienced. If you don't want automatic refreshing, you can turn that off from within the app settings.
One of the limitations I have experienced is the need to be connected to a 3G network in order to retrieve data from my iPhone. If I am on my home Wi-Fi network, the request will fail. This happens when I attempt to retrieve information about my 3G voice and data plan. If I turn the Wi-Fi functionality off then this problem no longer exists. For all other information retrieval I have not experienced this problem.
Overall, the app is fantastic, reliable, and fast with delivering valuable information. It is not intrusive or overly complicated. Most importantly it delivers accurate information.
The app may not suit all users. For some, it will lack important detailed information, and for others it will be a perfect guide.
It would be nice to be able to see and set notifications relating to data usage or available credit for online services. Such an implementation will make this app truly useful to those individuals who exceed their limits on a regular basis.
It will be interesting to see how the developer responds to the upcoming Passbook feature in iOS 6. Whilst they suit different users, there will be some overlap and similarities between the two.
I am awarding Consume a MyMac.com review rating of 7 out of a possible 10.