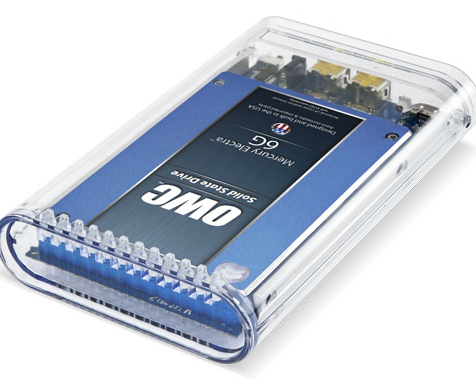 OWC On-The-Go Pro 240GB SSD Triple Interface External Drive
Price: $295
OWC On-The-Go Pro 500GB Triple Interface External Drive
Price: $138
Seagate Backup Plus Portable External 1TB Drive for Mac
Price: $130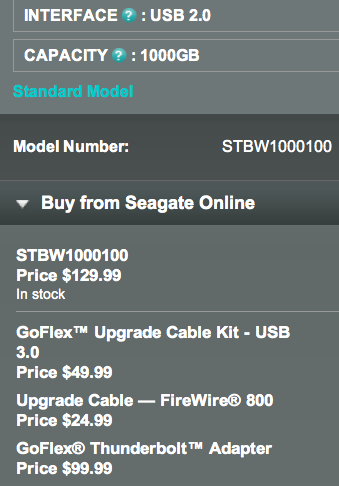 Adapters are available, sold separately, to convert this drive to FireWire 800 and/or Thunderbolt
LaCie Rugged Key 16GB
Price: $40 for 16GB, or $70 for 32GB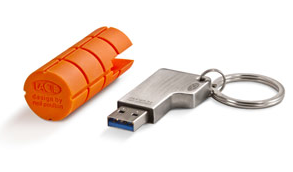 The more things stay the same, the more they change. Bus-powered external portable drives of different sizes, speeds, and capacities will be around for a while longer. USB 2 is still here, as is FireWire 800, and so now are USB 3 and Thunderbolt. Prices are all over the place, as are design and  drive case size.
Portable external drives can cost more per gigabyte than do stationary desktop units, but drive prices in general continue their astonishing descent from the days of not very yore. A few reliable companies dominate the market for external storage.
You always need more external storage than you think you need, and you always want faster transfer speeds than you have. You think company warranty periods are too short, but you typically use their products beyond the guaranteed number of years.
Enter Center Stage: LaCie, Seagate, and Other World Computing, or OWC. These three companies currently offer external storage that MyMac is pleased to evaluate and recommend year after year.
* * * * * * * * * * * * * * * *
LaCie's Rugged Key portable flash drive is the most unusual product in this discussion. It is resistant to heat, cold, water, and being dropped. Encased in its peculiar, columnar orange sheath, Rugged Key is easy to find in your cluttered backpack, and difficult to lose on your messy desk. Snug friction keeps the key firmly in place within its rubbery cocoon. A robust key ring allows you to attach Rugged Key just about anywhere.
Its USB 3 data transfer rate is quick and efficient. On a new Retina Display MacBook Pro with 2.3 GHz Intel Core i7 processor and 8 GB memory, Rugged Key copied a combination of 305 iTunes songs and movies totaling 4.3 GB in 380 seconds. The previous winner, LaCie's CooKey USB 2 LINK, required 505 seconds for the same transfer.
Activity Monitor's read speeds for Rugged Key were up to 80 MB/second, and the write speeds were up to 42 MB/second, although most of the time the speed was much lower. Comparable CooKey read speeds were up to 16 MB/second, and the write speeds were up to 13 MB/second. Again, most of the activity was slower.
Onto my 2010 MacBook Pro, with a user-installed SSD internal drive from OWC, the USB 2 iTunes folder transfer whizzed by in only 140 seconds. I know the latter isn't logical or predictable, compared to the newer Retina Display laptop, but I am very pleased with the performance of Rugged Key with my workhorse MacBook Pro.
Professional techies and road warriors will purchase several Rugged Keys, due to their versatility and LaCie's reliability. I recently had a problem with my CooKey, and the company's phone support rep solved it in two minutes.
If you currently don't have a USB 3 Mac, soon you will. USB 2 is a slow mule, and USB 3 can be a racehorse in comparison. Strong recommendation. MyMac Review Rating: 9 out of 10.
* * * * * * * * * * * * * * * *
OWC's One-The-Go clear plastic drives have been conversation pieces and workhorses for eleven years. That's an impressive lifespan for an external hard drive. The guts are very different now than in the beginning, especially with SSD storage.
Copying 39 GB of installer files of varying sizes via FireWire 800 onto my 2010 MacBook Pro with internal SSD from OWC demonstrated the difference between external SSDs and conventional spinning-drives, or HDD. The SSD handled the process in 490 seconds, while 638 seconds were needed with the traditional HDD.
Price is definitely a factor is your choice of which OWC On-The-Go Pro model to purchase. Here is a screen snap of the master page from the company's web store with the full lineup.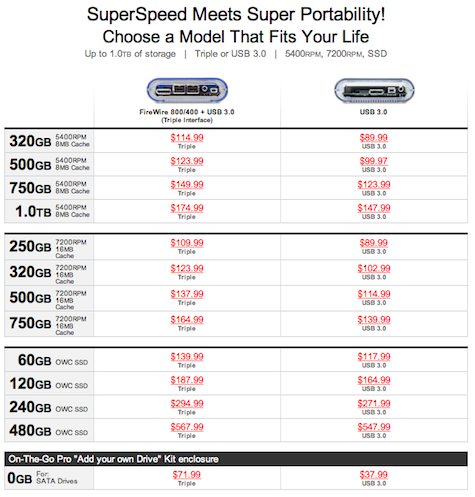 When you need maximum capacity and value versus highest speed, purchase a hard disk drive from the middle zone, with 7200 RPM drive speed and a 16 GB cache. When the need for speed exceeds everything else, get a super fast SSD unit.
As OWC tells MyMac via email, "SSDs can run up to 2.5x faster (over 250MB/s) on USB 3 than a HDD-based (100MB/s) model [in ideal conditions]. Just remember, with an SSD based On-The-Go, you get 1/2 the storage capacity at double the cost."
Always buy from the left column unless you are absolutely positive you will only have a USB 3 interface available. Triple interface is much more versatile.
The see-through plastic cases are less a novelty now than in the past, and these cases are a bit more chubby than today's techies may prefer. Let's call this a style versus strength conversation, because the clear cases are very durable and protective.
MyMac recommends all OWC On-The-Go external bus-powered drives, so buy the ones you will need a few years from now, and not the ones that you think you need today and next week.
MyMac Review Rating: 8 out of 10
* * * * * * * * * * * * * * * *
Seagate's new USB 2 Backup Plus for Mac replaces their GoFlex for Mac series. The pricing on these new external flexible-interface drives is very aggressive. Backup Plus units are slim, stylish, and sleek, with a brushed silver top and white back and sides.
It's not easy to know when you first use a Seagate portable external drive, any of them, but you can pull off the narrow segment where the cable attaches to reveal a recessed SATA port. From the company's web site you can purchase different replacement cable modules, as desired and required, for FireWire 800 and/or USB 3.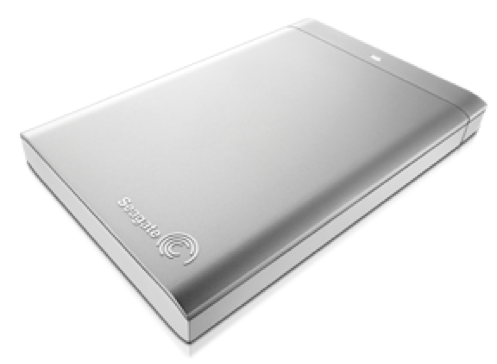 The company tells MyMac that USB 3 will replace USB 2 as the standard interface on the next series of Backup Plus for Mac drives, now that Apple is switching over to the faster USB 3 protocol. According to Seagate: "It will be the same price as the current Backup Plus for Mac. You should start seeing it in stores around early September, and Apple will have an October availability." Translation: wait to buy.
Last night I swapped a FireWire 800 module, with careful tugging and inserting, for the original USB 2 module in our evaluation unit. I then ran a full fresh Carbon Copy Clone of my wife's repurposed pre-unibody aging MacBook Pro onto which I had just installed Mountain Lion and her legacy personal files.
The 7200 RPM drive inside the 1 TB Backup Plus for Mac drive completed the entire 76 GB clone in 67 minutes, which is respectably fast. I will continue to test and do time trials on this and future Seagate units. My initial impression is positive regarding performance and design.
This Seagate portable is much faster running FireWire 800 than the speedy LaCie Rugged Key running USB 2, on my 2010 MacBook Pro. Copying the 4.3 GB folder of iTunes media took only 84 seconds when Backup Plus for Mac was connected to my computer with a GoFlex FireWire 800 adapter. Activity Monitor read speed using FireWire 800 averaged 54 MB/second, and write speed averaged 52 MB/second.
You can read a comparison between FireWire 800 and USB 3 here. Their speeds are comparable.
Once USB 3 is standard on Backup Plus for Mac drives, our MyMac Review Rating will be a recommended 9 out of 10. Nicely done, Seagate.