Kensington has some new, and not so new products for iPhone and iPad that I think are worth a closer look. I am sorry Kensington did not make Macworld/iWorld again this last show, because despite what Apple claims, you cannot see every iPhone or iPad product in an Apple store (and these products are not in the store either), and once you get your hands on them, you might actually want to buy some.
Kensington has a few keyboard cases for the iPad2 (and new iPad), which make typing easier, and almost turn your iPad into a small computer. (Note that Guy used a similar keyboard case and his iPad2 in lieu of a computer this year at Macworld|iWorld.)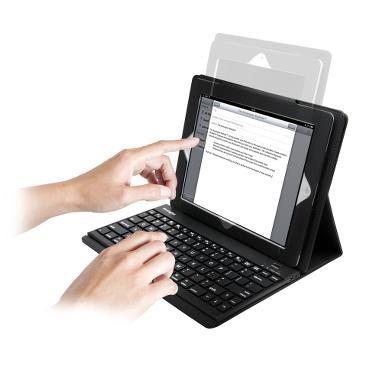 First up is KeyFolioâ"¢ Pro Performance Keyboard Case for iPad2Â ($99.99). This puts an almost full sized, Bluetooth keyboard integrated right into a protective case for the iPad2. When closed, the case protects the front and back of the iPad. But when opened, you get access to a wireless Bluetooth keyboard for your iPad, which makes typing longer emails, notes, and documents much easier than using the on-screen keyboard. In addition, the case will hold your iPad2 upright at an easy angle for reading in either landscape or portrait more without removing the iPad2 from the case. I also like that the soft rubber keys will not scratch or mar the surface of your iPad2 when the case is closed. The iPad itself fits into a "pocket" inside the case which protects it all around, and has a flap that keeps it from falling out as well. Your device is well projected here.
The case has an opening for the back camera, as well as a cut out for the front. Cutouts also make access to the 30-pin connector at the bottom simple, as well as access to the volume switches, the rotate switch, the home button, and the headphone jack. The unit is fairly light and folds reasonably flat, and does not draw power from your iPad, but rather comes with its own small USB charger which gives about 90 hours of working time and a standby time of 45 days.
While I like the case, I had two issues. First, it is not as thin as I hoped it would be, which made it more difficult to squeeze into my messenger bag along side my MacBook Pro. Secondly, the construction did not seem up to par with the quality of most of Kensignton's other products. It just felt a bit cheap to me.
MyMac review rating: 6 out of 10. Still a bit thick, and I broke the USB charging connector the first month I had it with a few too many inserts I think. But it does function well and I really like the ability to rotate the device while still in the case.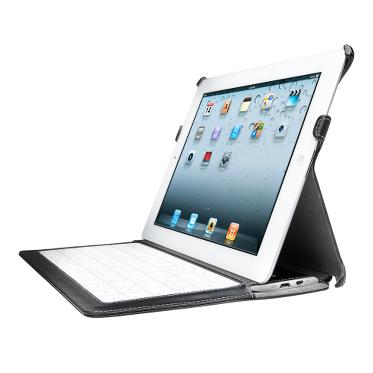 Next up is Kensignton's Ultra Slim Touch Keyboard Folio for iPads. ($119.00) This is also a Bluetooth keyboard integrated into a full cover case for the iPad2 with many similar features to the KeyFolioâ"¢ Pro, but Kensington must have heard the complaints that the previous version was too think, because they addressed that. Choosing to replace the larger rubberized keys for a flat panel touch keyboard does indeed take much of the thickness out of the case.
Function wise, there is not much difference between this and the KeyFolioâ"¢ Pro. However, I did not like this case nearly as much as the first one. I found the flat panel keypad to be much less responsive, and not much of an improvement over using the onscreen keyboard. Kensington has put raised outlines around each key to help you "find" the right key, but I found they did not help at all. And because the keys themselves have no tactile feel, the keyboard makes a very annoying "buzz" sound when you tap a key. Yes, you can turn it off, but then it is hard to know if you actually hit a key or not. But with sound off, all too often I found myself either missing letters in words, or seeing two or three of the same letter in a row.
Also, this case does not allow me to rotate the iPad2 to portrait while using the keyboard, a big omission in my view. And again, construction is not up to par with the quality I expect from Kensington. The cover "hinge" is just a piece of material that does not bend well and seems to mis-shape often. When I took it out of the box, the cover top did not fit squarely over the iPad (Okay, it had been squashed in shipping) and it took multiple bends and twists over several days to make it align somewhat better. However, I felt if I bent it back a few too many times, it would eventually break. And the hinge never closed well over the keyboard (or the iPad), always seeming to be twisted out of shape, causing the cover to misalign. There is also no clip or strap to hold the case closed, and I think that too makes a difference. Where the previous one did not seem up to par with Kensington quality, this one fell even further short of the mark.
There are a few things I did like. The keyboard is liquid and dust proof, and that is a big plus given where people use their iPads these days. And it is much thiner and lighter than the previous version too. The keyboard has the same special "one touch function keys" for the iPad, like volume, web browser, and keyboard switch to get back to the on-screen keyboard. There is also a home button which is the same as pressing the iPad's button, as well as play, pause, fast forward and rewind buttons which work for music and video.
Kensignton has not published battery life numbers yet, but given the thinner size, I suspect it will not last as long as the previous version, but I'll wager it is close.
MyMac review rating: 4 out of 10. Yes, thiner and lighter, but there are just too many things I did not like about this case. HOWEVER, If you have no issue with a flat panel touch keyboard, you may just love this thinner design. I think I'll wait for the Pro version of this one, if they ever make one.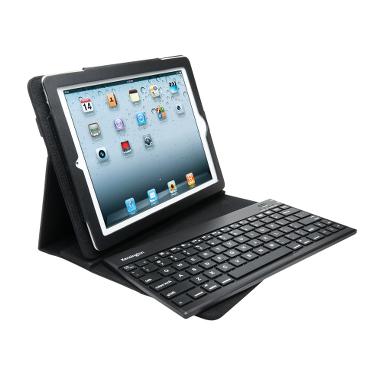 Well, maybe the third time is the charm? Kensington recently released a third KeyFolioâ"¢ keyboard case, maybe hoping this one will be even better? Â (Note: as I write this, there are three more new keyboard cases just introduced!) The KeyFolioâ"¢ Pro 2 Keyboard Case for now iPad & iPad 2Â ($99.99) is almost identical in look and feel to the KeyFolio Pro reviewed first above. It looks very similar from the outside, with just a slight difference in texture of the material and is slightly thicker. Inside, the iPad pocket and keyboard look identical as well. So what changed?
Sorely missing from this case as well is the ability to rotate the iPad 90 degrees. Yep, this one is stuck in portrait too. However, a velcro strip above (and under) the keyboard mates with another strip on the bottom of the iPad pocket, allowing you to change the viewing angle of the iPad while in the case. Velcro holds the iPad firmly at any angle chosen, and Kensington claims you can get from 20 to 70 degrees, but I did not get quite that much.
Like the keyboard on all the Folio products, it has special keys for home, keyboard, search, music control, volume, and lock. But unlike the Folio, the keyboard on this one is held in place with tiny magnets, so you can easily remove it from the case.  The ultra thin rechargeable keyboard is a small but useful Bluetooth keyboard that will pair to any device that can use one. I tried it with my iPhone, and it worked great. (It even paired to my Mac, although a few of the special keys did nothing, and access to the specific Apple's function keys did not work.) This looks identical to the KeyFolioâ"¢ Pro keyboard, so I suspect battery life is similar.
Once the keyboard is removed from the case, you have the ability to tilt the iPad screen to even more viewing angles (by tilting it to where the keyboard was), and this lets you use the keyboard anywhere that is more comfortable, say your lap, or on the table in front of the case. This made a big difference when using my iPad for a long periods of time.
Lastly, Kensington added a stretch band on the outside of the case. When closed, this strap wraps around the case and securely holds the case closed, something missing on the previous two cases. Simple, but it made a big difference when the unit was tossed into my messenger bag.
MyMac review rating: 7 out of 10. The best of the three in my view. It is still too thick. Now if they would just add the 90 degree rotation back, this would have easily been an 8!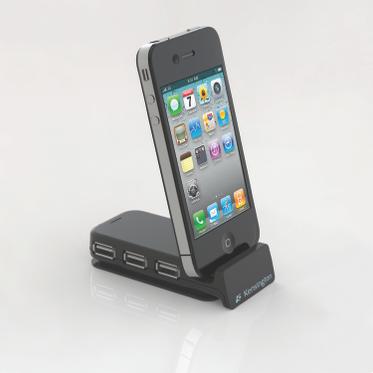 One problem I have with new Macs is just how few USB ports they have. Previous versions of the Macbook Air had only one, and most Macs today have just two. So if you use a wireless mouse that has a small receiver, and you plug in your iPhone or iPod Touch, you are out of ports.
But this cool little gadget, the Kensington PocketHub™ 3-Port USB and Sync ($39.95) solves that problem. Acting as a stand/dock for your iPod Touch or iPhone (compatible with iPhone 4, iPhone 3GS, iPhone 3G, iPhone and iPod touch, 1st, 2nd and 3rd generations), you plug this device into one of your USB ports, and not only does it allow charging and syncing of your iOS device, but it gives you three more USB ports as well for things like printers, cameras, and flash drives. It is small and compact, and comes with its own case to protect the connectors when not in use, as well as a small power supply to give USB power to the three USB hubs, or charge your iOS device when not connected to your computer. It holds your iOS device at a comfortable reading angle on your desk, and the iPhone is easily docked or removed.
My only two small complaints are: 1). Its weight. It is so light, that it easily slides all over the desk when nothing is docked. Maybe some small rubber feet would have helped here, but this is really a nit. I guess you have to consider the low weight of carrying it with you vs the stability on the desk. 2). The USB cable attached is not long enough. Probably not an issue with most people, but sometimes I like my phone not right next to my computer, especially so I do not hear the GSM signaling noise through my computer's speakers.
It is compatible with Windows and Mac (obviously, since it is just a hub after all) and is priced right at $39.95.
MyMac review rating: 8 out 10. A longer cable and some rubber feet, and this thing is perfect!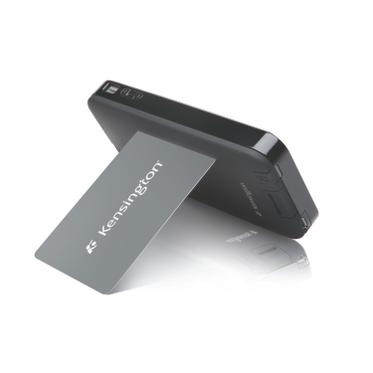 The iPhone4 (or 4s) is a great device, and I use it all the time. So much so, that I often run down the battery long before the day is through. There are a number of small batteries you can carry that you connect to your phone to recharge on the fly, and I have tried a few. The advantage is that your phone is not weighted down by an extra battery; the disadvantage is that you need to carry an extra battery and often a cable to use them. So I looked for something else, and a battery case is a good alternative.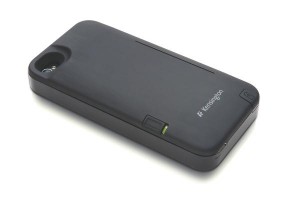 The PowerGuardâ"¢ Battery Case with Card Stand ($59.99) is a black or white plastic case (5.1″ x 2.4″ x .79″) for the iPhone 4 (and 4s) that has an extra battery built right into the case. The phone slides into the case and docks with a 30-pin connector at the bottom, and then an outside ring is snapped into place to hold the phone into the case, and protects the sides. Now, this means your sync connector is not available, but you can still sync (and charge) using a supplied USB cable. There is a small switch on the back, and when your internal battery gets low, simply switch this on, and the battery in the case starts charging the phone. Simple. Your phone is protected by the case (which you need anyway), and you have some extra juice on the go should you run low.
Yes, it does add some size and weight to your phone. The case weighs 2.47 oz, which may not sound like much, but the iPhone 4 alone weights just under 5 oz, so this is almost a 50% weight gain. As for size, the case is 5.1″ x 2.4″ x .79″, again, not much of an addition, but it adds 10% (0.5″) in height, and doubles the thickness. For me, I did not mind the extra weight and size, as I felt the functionality far outweighed (no pun intended) the increase in battery life without having to carry an extra battery. However, some may not like their slim, lightweight iPhone being made so much bigger.
Kensington also includes a small, credit-card sized piece of plastic in the box, which slides into a slot on the back of the case, and acts like a small stand (see photo above) to hold the phone upright in landscape mode. This is a great idea, and don't worry about loosing the card (which I did) because any credit card, or even electronic hotel room key will act as a suitable replacement.
This works well, but there are a few things that need improvement in my view: The outer ring that protects the sides needs to extend slight beyond the front of the phone to also protect the glass. I do not feel this case offers sufficient protection for the front. The thickness of the plastic at the top is also a bit too thick, meaning that some devices (like your Square card reader, or a microphone for example) might not fit properly into the earphone jack while it is in the case. A bigger hole might help, or thin plastic around the headphone jack, but this is a problem with many cases of this kind.
I also do not believe that the battery offers enough power compared to other cases I have tried. Kensington claims only a 1200 mAh battery, while the Mophie Juicepack air case, roughly the same weight and slightly thinner offers 1500 mAh, although Mophie does cost about $20 more. And Boost Case which is slight smaller and the same weight, offers a whooping 2100 mAh for about the same price. I think Kensington needs to up their battery power some here, as I found other cases as well, none of which was smaller than 1500 mAh.
Lastly, I really like the battery level readout on the Mophie case better, using 4 LEDs to show 100%, 75%, 50%, and 25% charge state. The Kensignton case has a single red/green LED that is green when fully charged, orange when partially charged, and red when almost empty. It simply does not give enough info on how much charge is left.
MyMac review rating: 6 out of 10. Good price for the function and an good entry to this product category, but still lagging the competition in battery power.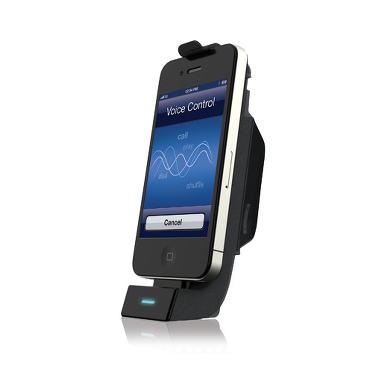 One of the problems with voice controlled devices, especially the iPhone, is that when you dock it to a windshield mount in your car, it is often too far away to get a good clear read on your voice. While Siri has helped some of this with much better voice control on the iPhone 4s, what do those of us still using iPhone 4 or iPhone 3Gs do? You try the Kensington AssistOne™ Handsfree Car Device with Voice Activation ($99.99.)
This car mount has a number of features to improve your phone's ability to work hands free in your car. Built-in Voice Activation commands are used to answer or decline an incoming call using your voice. You can also say "Voice Control" to launch the iPhone 3gs or 4's built in voice command function. The device, which pairs to your phone via Bluetooth has a built-in speaker phone to help amplify sound, as well as a noise canceling microphone so others can hear you well too.
On the back is a micro-USB port to charge the phone (cable included as well as a USB adapter for the car), and audio out port to channel sound through your car's stereo (extra cable not included – I highly recommend the Kensington Noise-Reducing AUX Audio Cable ($19.99) which I reviewed here some time ago.) Also in the box is a suction cup flexible arm for mounting AND an A/C port mounting clip as an alternative to the arm (see pic below.)  Both mounts slide and lock into a slot on the back, and the mounting bracket on the back of the mount rotates 90 degrees in either direction, to allow for portrait mode, or landscape mode to the right or left.
The phone easily drops into the mount and clips into place. The clip on top tips back for easily insertion and removal, but holds the phone securely when in use. A single button on the front launches Voice Control to make a call or play music.
Audio quality was quite good with this device, and my iPhone 4's built in voice command (NOT Siri) worked better than ever before. Hands free calling was easy as well, and the volume was sufficient under most road conditions, although there were times I still could not hear well.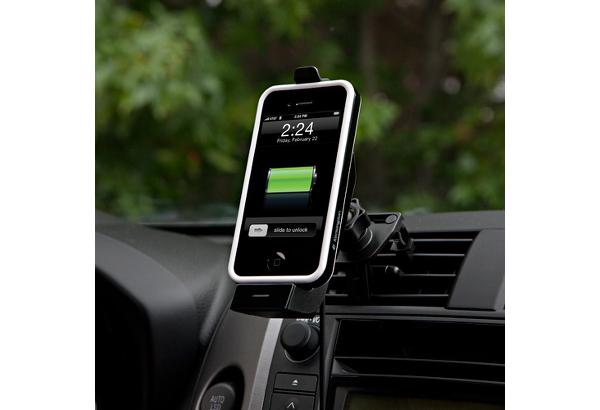 My biggest issue with this device was the confusing nature of the set up. It is a dock after all, yet you still need to pair it to you phone via Bluetooth. How odd given that it actually connects to your phone via the bottom connector. But that does allow it to deal with music and calls separately, which makes it function more like an in-car system. Â Of course, not reading the instructions, I though this thing was not working at first, but once I paired it, it worked great.
MyMac review rating: 7 out of 10. If you need this kind of functionality, this works great, I am just not sure this is for everyone.