Google+ The Missing Manual
Author: Kevin Purdy
Publisher: O'Reilly
Price: $14.99 US print, $11.99 Ebook, $16.49 print and Ebook, $15.99 print CAN
ISBN 978-1-449-31187-2
211 pages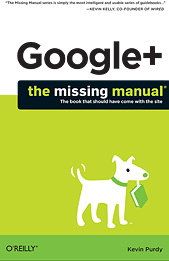 I'm one of those people who signed up for a Google+ account and then had no idea how to use it. Everyone who's anyone uses social media these days, and I jumped on the bandwagon. It turns out I'm not the only one who's confused when it comes to Google+.
Enter Google+ The Missing Manual by Kevin Purdy.
The book is an easy read divided into nine chapters, starting with the appropriately named chapter Getting Started. Purdy explains how to set up a Google+ account and create a profile, complete with profile picture.
Many people assumed Google+ would be similar to Facebook since they're both social media sites. There are some similarities, but Google+ has the advantage over Facebook and Twitter in that you can control what you share and with whom by using Circles. Circles seems to be the least understood facet of Google+, and Purdy does a nice job in Chapter 2 clarifying what's actually the strongest advantage of using Google+. Lots of examples and illustrations (and keeping an open mind is useful!) help drive home the power of Circles.
Chapter Three of Google+ The Missing Manual discusses sharing and privacy, a very controversial and important topic. Purdy explains the +1 button (spoiler: it works like the "Like" button on Facebook), commenting on posts, writing a Google+ post and what information is automatically included, mentioning other people in a post, and most importantly in this chapter, choosing who sees your posts. Throughout the book Purdy repeatedly emphasizes one point that everyone should heed when it comes to online privacy: "If you really want to keep something private, don't post it on Google+ or anywhere else online."
Google+ The Missing Manual continues with Notifications and Sharing Photos and Videos. For people with a lot of Google+ contacts, notifications can quickly get out of control. Chapter Four describes how to adjust how and when you'd like to be notified. If you'd like uploading and sharing photos and videos as part of your Google+ experience, Chapter Five details the process from a computer, photo-sharing web site, or smart phone.
The rest of the book covers Google Hangouts, searching, Google+ on a mobile device, and games. Games is the weakest part of Google+ The Missing Manual, but also most likely the least used section of Google+, so the thinness of the chapter is forgivable.
Google+ The Missing Manual is written and illustrated so that anyone on any experience level can read this book and learn something. The problems this book has, though, seems to be with editing, through no fault of Purdy. Scattered throughout the book are sentences with extra words, obviously missed during editing. Key words or phrases and web sites are printed in a light grey rather than bold or black type. For some people the grey may be difficult to see. Since this book is a first edition, hopefully the errors will be corrected for subsequent printings.
Now that I've read Google+ The Missing Manual will I use Google+ more often? I'm not sure, but if I do, now I'll be able to use it more effectively.
MyMac.com Review Rating: 7 out of 10