Checkbook Pro
Splasm Software
Version reviewed: 2.3.1
License: US$24.95
When Mac OS X Lion 10.7 was introduced and some financial apps became incompatible with the Mac, users despaired because they could no longer access their financial files that stretched back over the years. This lapse caused many Mac users to abandon ship and seek shelter elsewhere. There are a number of alternatives ranging from simple, basic check registers to hugely complex packages that track your investments, annuities, net worth, real estate holdings, and brew espresso for you.
Attempting to sort through the many commercial, freeware, and shareware financial apps that are available is a daunting task. Will this one provide good year-end reports? Will that one categorize properly? Can I import my previous files? It's a frustrating trial and error maze.
Along comes Splasm Software's Checkbook Pro to save the day. If you want a nicely designed, feature-rich checkbook register without all the excess bloat, you should give this app some serious consideration. You can download a trial to see if it fits your needs. An excellent idea.
This app is very flexible; you can customize nearly everything to fit your own circumstances. The app will handle multiple accounts—as many as you need. There are Categories such as Automotive, Utilities, and Medical that are customizable so you can add your own. There are debit and deposit Types such as ATM, Online Payment, Direct Deposit—these are customizable as well.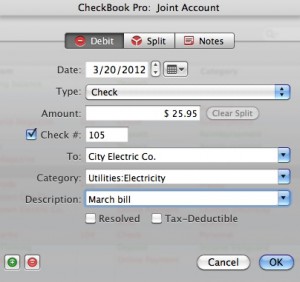 Data entry is one of the strengths of Checkbook Pro. With a click of the Deposit or Debit button, you get a simple, straightforward panel that you can tab through to complete. You enter all your data here instead of squinting to do it on the main screen where this activity often feels too small and cramped. Check numbering can be set to auto-sequence, the To field auto-completes if you enter a payee you have used previously, and your own Categories and Types are available in drop-down menus. As a result, data entry is very fast and efficient. Splits are handled easily via a button at the top of the entry panel. The data will categorize correctly.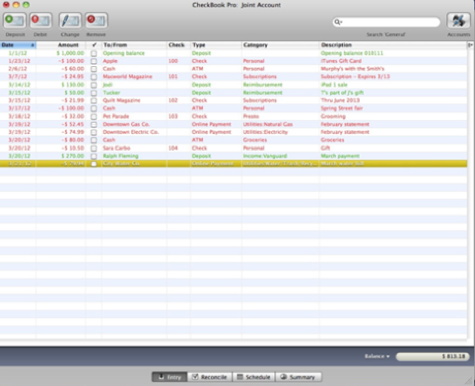 The main entry screen is the essence of simplicity. Each deposit or debit occupies one single line. Many other finance apps make each item several lines tall so there is a lot of scrolling involved in viewing your data. You can rearrange the vertical columns to suit your needs and a click on any column heading sorts the list. If you have recurring deposits or payments, they can be scheduled in a separate screen designed specifically for that purpose. Checkbook Pro also allows for transfers between accounts.
The Reconcile screen is also one line per entry. It's very easy to locate and check off items as you reconcile your month-end statements. Checkbook Pro contains a very useful QuickFilter that you can use to limit and define searches. For example, when reconciling, you can filter and view just unreconciled items.
Checkbook Pro includes many pre-defined summaries that are customizable to show specifically what you require. Once you define a specific summary, it can be saved so the same filtering can be used again and again. The on-screen and printed summaries include color bar graphs that cannot be eliminated, but otherwise, the summaries are clean, informative, and well presented. Archiving by year, month, or other range can be done by creating folders in the Accounts fly-out panel; a useful feature because your file sizes otherwise grow bigger year after year.
If you already use another financial application and you want to begin using Checkbook Pro, you can import your data in several formats—QIF, CSV, and Tab-delimited Text. You can also import monthly statements directly from your financial institution in the commonly used OFX and QFX formats.
This is a well-thought out and nicely designed app. It is user-friendly and very Mac-like as opposed to some one-size-fits-all apps that attempt to straddle both Mac and Windows platforms. Splasm introduced Checkbook in 2002 and Checkbook Pro in 2008 so it is nicely-refined and well supported.
If your basic financial need is a good, reliable register with accurate year-end reporting, Checkbook Pro is for you. It is a first-rate checkbook register, but its many additional features make it stand out substantially from the crowd.
MyMac rating 9 out of 10.