Back In Time
App Developer: LANDKA
Version Reviewed: 1.2
License: US$4.99 for iPhone
In November 2011, I reviewed the iPad version of Back In Time. It was one of the most informative and beautiful apps I have ever had the chance to review.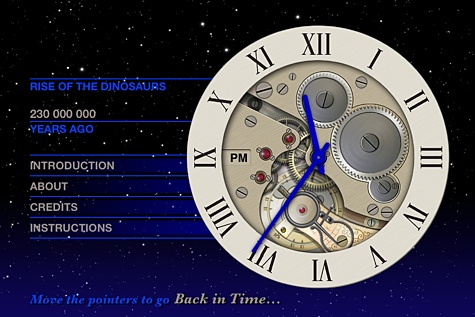 Back In Time delivers history like you have never seen before. By placing the history of everything in the known universe within a 24 hour period users are able to navigate through mere minutes in time that represent thousands of years of evolution.
Events dating back from the modern day to the Big Bang are detailed concisely. Users are provided with enough information to construct an excellent general knowledge of the origins and development of our universe and ultimately ourselves.
The app developer, Landka, has reengineered the original iPad app to work with the iPhone and iPod touch screen sizes. I was initially concerned that the developer would not be able to condense the highly graphical information and navigation menu to suit the smaller screen. I was wrong!
Not only has the developer managed to include all aspects of the original release, but they have been able to retain the elegance that the iPad app was known for.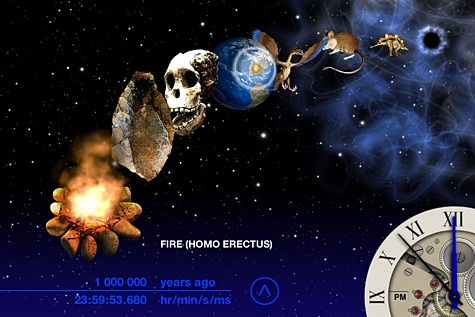 The exquisite navigation system remains as does the placid background music. Animations and video clips are also prominently presented and not excluded from this release.
This graphical wonderland of information does come at a price of storage. The iPhone app requires 664.7MB of storage on your device. Users of 16GB or lower capacity devices may feel claustrophobic with this app size. It is important to note that the app does not require an Internet connection for content.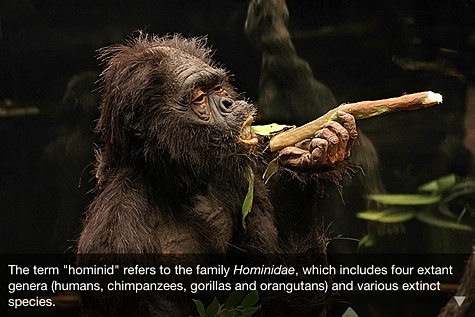 The iPhone version is available for US$4.99. The price is adequately suited to the content and detail contained within the app. The iPad version by comparison is US$7.99. The choice and only difference between the two versions is the native display resolution for the specific devices.
It would have been nice for the app to be released as universal with a single purchase price. Provided updates are issued simultaneously, I don't see this as a major problem.
Reengineering rather than simply porting the app certainly shows the dedication the developer has to producing world-class apps. Back In Time on the iPhone is pure perfection and therefore I am awarding this version a MyMac.com rating of 9 out of a possible 10.