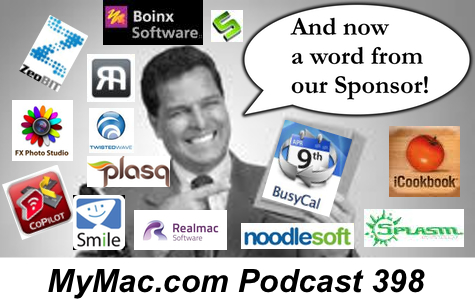 Download the show here
Subscribe in iTunes
Wowsey wow wow! What a busy and long show this week. Guy performs minor surgery on hard drive enclosures and is SHOCKED he can't buy stuff on Easter Sunday. Gaz goes to the Looe with friends (Sounds like an app to me) and wants to know what's going on with F1. The Contest sponsors get some loving with Guy and Gaz reading marketing script but unable to do it with a straight face. Oh, and in minor news, some half a million plus Mac users have been hit by malware and are part of a bonnet…WHAT?!? No worries though because the GMEN are here to help (God help us all). Find scripts at the following links to check your Mac.
http://arstechnica.com/apple/news/2012/04/how-to-check-forand-get-rid-ofa-mac-flashback-infection.ars?clicked=related_right
http://www.bartbusschots.ie/blog/?p=2236
http://www.sophos.com/en-us/products/free-tools/sophos-antivirus-for-mac-home-edition.aspx
The contest sponsors for the 400th episode of the MyMac Podcast are lining up and you guys are going to get some great stuff. Here's what's there so far:
ALK Technologies Co-Pilot iOS GPS App
BusyMac's BusyCal
Splasm Software's AudioBook Builder and CheckBook Pro
ZeoBIT's MacKeeper 2012
Boinx Software's iStopMotion Pro, FotoMagico Pro, and BoinxTV
MacPhun Software's FX Studio Pro
Noodlesoft's Hazel
Plasq Software's Comic Life 2 and Comic Life for the iPad
Publication International's iCookBook
RealMac Software's RapidWeaver, Analog, and Courier
Reggie Ashworth's AppDelete (App Store), AppDelete (Web site), and VidConvert (WebSite)
Slinkware Software's Slink
Smile Software's TextExpander, PDDpenPro, and DiscLabel
TwistedWave's TwistedWave audio editing app for iOS
Just go to FaceBook and like the MyMac Podcast page and…that's it! No other barrier to entry.
Some links:
Steam for Mac free 
Left4Dead 2 for the Mac on Steam $14.99
Woodpad for iOS devices various pricing
This week's podcast music is from Dilo – Screwed (http://www.jamendo.com/en/album/15372)