Lost Little Zombie
App Developer: Rockupied LLC
Version Reviewed: 1.0
License: Free App. Requires 4.3 or later.
Hmmm…brains…need more brains….
Zombies are always on the hunt for brains. It is surprising, that they never end up more intelligent, or less zombie-like.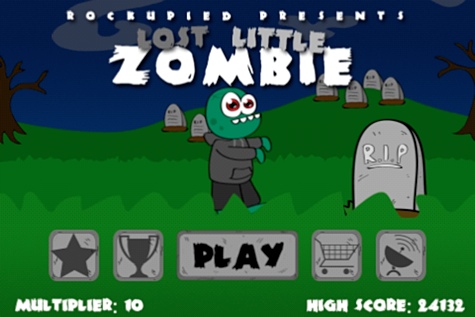 Little Lost Zombie is the type of game that will turn you into a zombie. That is not necessarily a bad thing. We all like to zone out from reality, and a game that is simple in approach but challenging is always a good way to spend those few minutes of our spare time.
You will assume the role as the Little Lost Zombie. He has lost his way and needs to find his family, if he can flee the humans wishing to drive a stake through his chest.
During a side scrolling adventure you will need to gather brains, jump over or smash gravestones, slide beneath a series of bats, all whilst scaring the horde of humans in order to stop them from chasing you.
The game only has a single graphical level that you will replay over and over. This would normally be a limitation but the random obstacle placement on each recurring level will certainly offer a challenge.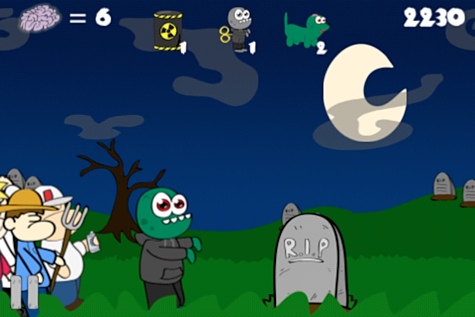 Controlling your little zombie is quite easy but you will need good reflexes. Swiping to the right will have you smashing through gravestones, whilst swiping down will allow you to slide away from the bats. Jumping is achieved by swiping up and scaring ghosts, requires you to simply tap on them. The basic control scheme certainly works with this style of game and allows users to concentrate on avoiding the obstacles and enemies in their path. The controls are also very responsive.
Feasting on brains allows for the use of power-ups that gives you special abilities to outsmart the horde of humans. You can use the brains collected to purchase a burst of speed, a decoy zombie, or a cute zombie pet that will go ahead and eat everything in its path. Other additional power-ups include a ninja and pirate zombie along with a Michael Jackson's Thriller-inspired dancing zombie. These power-ups are not long lasting so you will need to use them when most appropriate. Most power-ups will allow these new found abilities to be used for up to 10 seconds.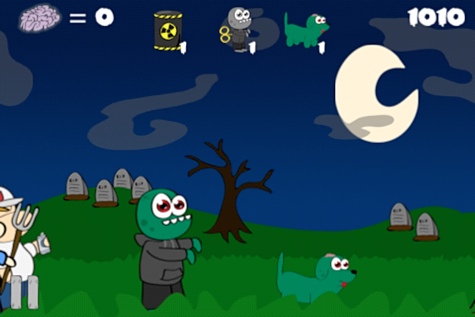 In-app purchasing is also available should you wish to purchase brains rather than simply work hard at the game to collect them. 100 brains will cost you US$0.99, while a tub of 10,000 brains will cost US$19.99. There are also two other options available between these values. I feel the developer has given a good mix between earning the additional power-ups without any financial outlay, and purchasing additional content for those who wish to proceed at a more rapid pace.
Little Lost Zombie also utilizes the power of social networks such as Twitter and Facebook in order to share results amongst associates. The most useful social aspect included is the Game Center integration. You will be ranked against other players worldwide, that assists with longevity and replay-ability of the game. There are also over 40 achievements to master.
Overall, Little Lost Zombie will appeal to almost anyone interested in side scrolling action games. The graphical elements do not present the usual gore found in zombie related games, meaning it is appropriate for younger gamers. Despite a lack of gore, fans of the various zombie franchises will still enjoy this simple but challenging side scroller.
This game is perfect for those times when you have a few spare minutes. It would be nice to see the addition of new backgrounds such as a haunted house, but this does not limit the amount of fun you will have with this game. Therefore, I am awarding this iPhone game a MyMac rating of 7 out of a possible 10.