AmpliVision
App Developer: AppAnnex, LLC
Version Reviewed: 1.0
License: US$1.99 – Universal App. Requires 4.0 or later.
Do you have difficulties reading or identifying things? Perhaps you need the assistance of a magnifying glass?
If this is the case you may find AmpliVision is the solution you have been looking for.

AmpliVision, as with all apps from AppAnnex, are designed with simplicity and elegance in mind.
In its most basic form AmpliVision is a magnifying glass that utilizes many of the iPhone's features such as the front and rear facing cameras, the LED light, and digital zoom. As a universal app it is also natively supported on the iPad second and third generations.
It is important to note that no model of iPad has an LED light. This may be a limitation for users of the iPad in low light situations, but an iPad will offer a better viewing area for anyone suffering vision limitations.
You will be welcomed by a very clean interface with minimal input options. Buttons are adequately sized and their functionality is easy to follow and understand.
Turning the LED light on and off, along with zooming, and changing between front and rear facing cameras, make up three of the four control buttons. The most important and useful is the lock button.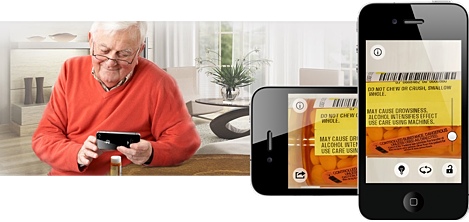 Tapping on the lock button effectively freezes the magnified image in place. This is a great asset to the app as it will assist users who do not have a stable hand or simply wish to share or save the image.
Once the lock is in place users have access to additional features that expand the app beyond a simple magnification tool.
You can zoom in and out of the captured image for better visibility along with being able to flip the image horizontally. The zoom functionality is unique as the app will capture the entire field of view when in lock mode. This allows users to zoom in, capture an image, and then still zoom out to the full field of view. This is especially handy should you wish to share the image via email or add it to your photo library. When either of these options are selected you will have the choice to export the Entire Image, Visible, or Both.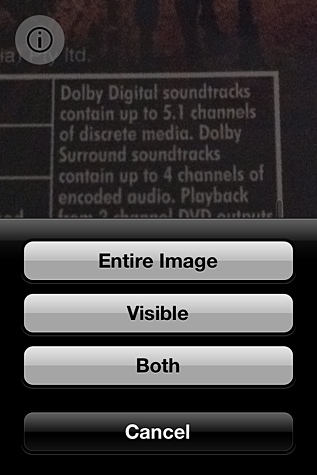 Rotating your device will not alter the perspective of the captured image. It will only move the controls to their specific areas in either portrait or landscape modes.
AmpliVision performs as advertised and lacks clutter in its user interface. The functionality will appeal and be useful to anyone needing to read fine print on labels, books, or contracts, with the added ability to share or save those images for later viewing. It would be nice, in a future version, to have an internal database allowing for the preservation and cataloging of captured images within the app.
Therefore, I am awarding AmpliVision a MyMac.com review rating of 8 out of a possible 10.