Photo Transformer
Company: Prosoft Engineering
License: $9.99 (available only from the Mac App Store)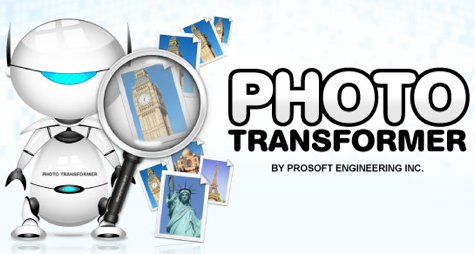 What if you have a large folder full of vacation photos you'd like to share with your family or friends. However, all your photos are on your hard drive at full resolution and some are in RAW or Photoshop format so the file sizes are huge.
What you really want is to keep all the originals organized in your own folders or in your iPhoto albums, but put together a small selection of the best photos reduced to a manageable size so they can be sent easily. That can be a big, fussy, time-consuming task. Now's the time for Photo Transformer from Prosoft Engineering.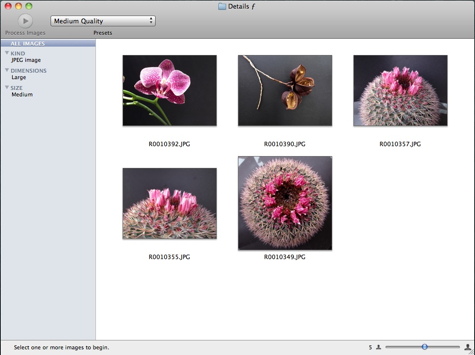 With this handy little app, you can review thumbnails of your photos in Photo Transformer's browser, select the ones you want, and with one click of the Process Images button, your photos are batch-processed to your specifications and placed in a folder you choose. The whole process runs very quickly and your original photos are untouched and remain where they were when you began.
When you open one of your folders and begin reviewing your photos to select them, Photo Transformer will start scanning the folder (and any sub-folders inside it) in the background. These are sorted by creation date and appear as thumbnails in the browser window. The size of the thumbnails can be adjusted with a slider, but Photo Transformer also supports QuickView, so a tap of the space bar allows you to see the pictures at full screen size.
You simply select the images you want to duplicate and process, then choose a preset. The default choices include Low, Medium, and High, but there are several  other options.
Photo Transformer can process your images in the following ways:
• Convert images to: JPEG, TIFF, or PNG
• Select image quality: High, Medium, Low
• Resize image: Small, Medium, Large
• Select Folder in which to save images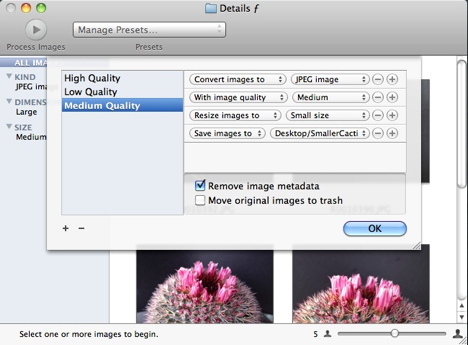 Click the Process Images button and the images are quickly transformed and appear in the folder you selected. You can also name and save your presets. If you set up a special way to reduce photos for a blog, for instance, you can save it as a preset and reuse it whenever you need to do more of the same. Another nicety is the option to remove metadata from your images which securely wipes away, say, sensitive GPS data.
There is an impressive amount of horsepower here but often you just want to send someone a photo when your original is too big to mail conveniently. With Photo Transformer, you simply select it and reduce it with a couple of clicks.
Use this app for a while and it will be become an intuitive and valuable part of your workflow. Photo Transformer is available now for download for $9.99 only from the Mac App Store.
Recommended with a MyMac review rating: 9 out of 10