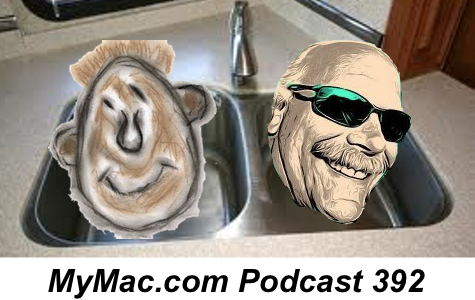 Download the show here
Subscribe in iTunes
No big agenda this week, just lot's of little things that add up to one crazy show. Guy finally breaks down and gets a Magic TrackPad but is somewhat unsure of just how it works without all those pesky wires all roll-y pointy things. The GMen are thankful they don't play with lightsabers and go into a few different Video Sharing sites. Erick Diaz sides with Gaz and the Macs aren't going anywhere debate, JollyJap wants to find some battery conditioning software in an audio question, and instead of an app pick, Gaz has some useful tips and tricks.
The contest sponsors for the 400th episode of the MyMac Podcast are lining up and you guys are going to get some great stuff. Here's what's there so far:
ALK Technologies Co-Pilot iOS GPS App
BusyMac's BusyCal
Splasm Software's AudioBook Builder and CheckBook Pro
ZeoBIT's MacKeeper 2012
Boinx Software's iStopMotion Pro, FotoMagico Pro, and BoinxTV
MacPhun Software's FX Studio Pro
Noodlesoft's Hazel
Plasq Software's Comic Life 2 and Comic Life for the iPad
Publication International's iCookBook
RealMac Software's RapidWeaver, Analog, and Courier
Reggie Ashworth's AppDelete (App Store), AppDelete (Web site), and VidConvert (WebSite)
Slinkware Software's Slink
Smile Software's TextExpander, PDDpenPro, and DiscLabel
TwistedWave's TwistedWave audio editing app for iOS
Just go to FaceBook and like the MyMac Podcast page and…that's it! No other barrier to entry.
Some links:
IVI Video conversion tool from South Pole Software $3.99 at the Mac App Store
Wiki Link to a whole bunch of Video Sharing sites:
This week's podcast music is from Fresh Body Shop