NE-600X Sound Isolating Earphones
NuForce
Price: $24.95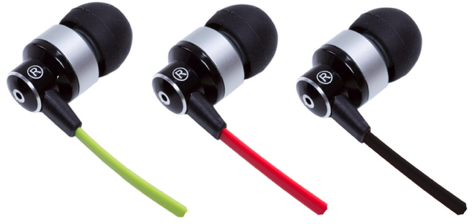 The NE-600X earbuds provide good value for the price. Bass response is acceptable when listening to classical music, though not particularly noteworthy. On the other hand, I gave them to a 19-year-old who listened to hip-hop with them and thought the bass was terrific.
In my tests, listening to a wide variety of music and varying the equalizer settings to kick the sound up a notch, I found the resonance throughout the spectrum acceptable though unremarkable. In this case you get what you pay for: decent sound at a budget price.
The NE-600X earphones come with flat speaker wires (available in black, red, or lime green) and no microphone. The wires are 43 inches long, which is a little short if you're looking for something you can plug into your laptop or desktop computer. However, because the wires are flat, they untangle pretty easily.
The earphones are advertised as sound-isolating. Many companies promote their products that way and, as you mighty imagine, the definition of that term varies from one set of earphones to the other. I spent a lot of time fiddling with the NE-600X earphones to get halfway decent sound isolation, and had to fiddle some more to get the bass response just right once I had enough of the ambient noise blocked out.
The NE-600X earphones are great for kids who tend to be hard on electronics, and they're also good to stash in your briefcase or glovebox as a backup. The sound quality isn't going to knock your socks off, but it's several notches above many other earphones, and worth the $25 selling price.
MyMac Review Rating: 5 out of 10Â