Snapseed
Company: Nik Software
iTunes link
Price: $19.99
When a photo editing application arrives for the Mac for the price of iPhoto I always ask the question "What does this do that I can't do in iPhoto?" Usually, the answer is nothing and the program is not worth the money. In the case of Snapseed, the answer is "A lot."
Snapseed started as an iOS app and has become the photo editor of choice on my iOS devices. It is fantastic (especially since I picked it up when it was on sale for the price of FREE). No other app edits photos as easily, smoothly, and great as Snapseed. I am happy to report it is just as good on the Mac.
If you want to edit a photo on the Mac and iPhoto isn't good enough Snapseed can probably give you the tools you need to really make the photo pop. In Snapseed you have your basic photo editing filters and then you have the creative filters that can really put pop into your photos.
Here is a before and after of a photo I edited in Snapseed. The edited version only has the basic "tuning" filters applied. This includes cropping, saturation, brightness and contrast, etc.


 Not only do you have these great filters, it is extremely easy to use.  There are filter buttons on the left ranging from just cropping or adding "Drama" to a photo. Below is the simple to use interface followed by the above photo after applying several filters to it. You basically click the filter you want to apply and drag the sliders that go with it. On occasion the filter will have different controls. For example, cropping acts like cropping should be with pre sized formats or custom cropping. You will also see controls similar to iOS on where you have control of where on the image a filter occurs.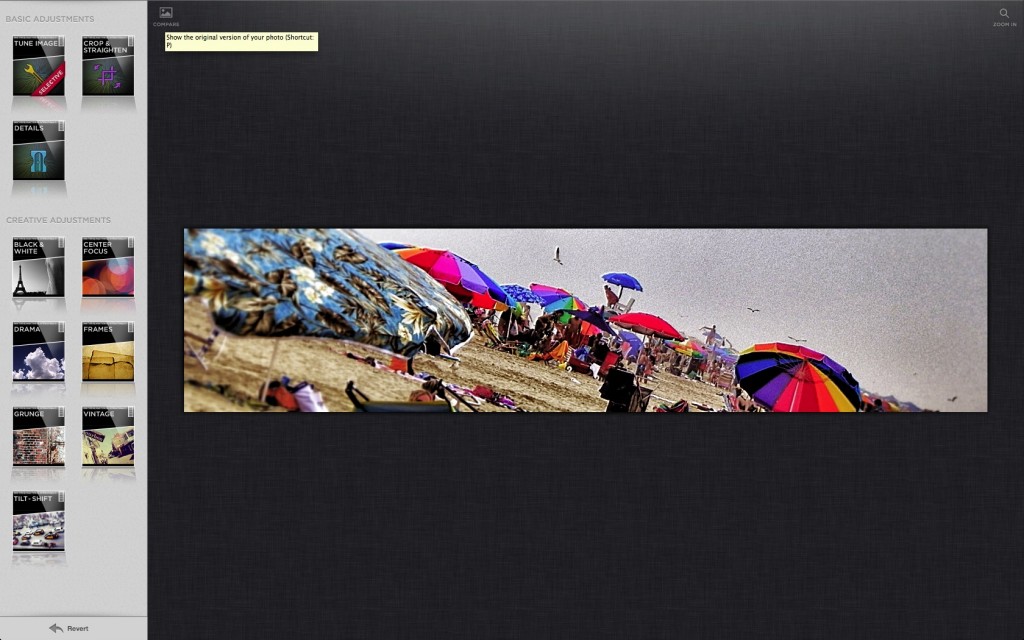 I have been considering buying Aperture for a while now because I always have that photo that needs more editing that iPhoto can provide. WIth Snapseed, I am getting the tools I need to make me reconsider the need for Aperture.
With all of that said there are two things I would love to see in Snapseed to really put it over the top. First, integration with iPhoto. Instead of having to export photos and import them into Snapseed, or drag and drop from iPhoto, it would be nice to have iPhoto integration built right in. The ability to see your library and pick a photo would be great. It would be nice if there was some type of script to export right back to iPhoto when you are finished too.
That leads me to the second item on my wishlist. A file organization system like that of iPhoto. Having a photo library in Snapseed would probably be a lot of work, but this would probably lead many to not even need iPhoto, or at the very least make Snapseed the main home for storing photos.
Overall, Snapseed for the Mac is fantastic. It will take your photo editing to the next level if you are looking for something beyond iPhoto.
MyMac.com rating 9 out of 10