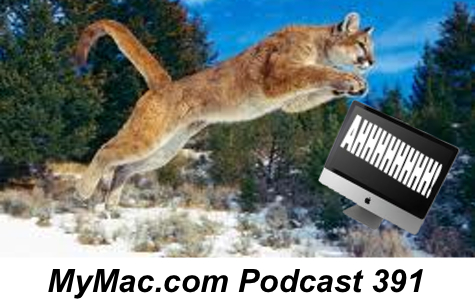 Download the show here
Subscribe in iTunes
Guy apologize's for last week's sponsor screwup that he would LOVE to blame on Gaz or possibly overindulgences from the 70's but can't. This week's phobia word of the day is especially good for those who fear their mom or dad or possibly a racecar or radar. Terra Knoble from Splasm Software (one of our 400th podcast sponsors) joins the GMen for a fun chat, and why is Guy planting the seeds of doom for the Mac because of Mountain Lion? Gaz tries to set him straight, but when did THAT ever work?
The contest sponsors for the 400th episode of the MyMac Podcast are lining up and you guys are going to get some great stuff. Here's what's there so far:
ALK Technologies Co-Pilot iOS GPS App
BusyMac's BusyCal
Splasm Software's AudioBook Builder and CheckBook Pro
ZeoBIT's MacKeeper 2012
Boinx Software's iStopMotion Pro, FotoMagico Pro, and BoinxTV
MacPhun Software's FX Studio Pro
Noodlesoft's Hazel
Plasq Software's Comic Life 2 and Comic Life for the iPad
Publication International's iCookBook
RealMac Software's RapidWeaver, Analog, and Courier
Reggie Ashworth's AppDelete (App Store), AppDelete (Web site), and VidConvert (WebSite)
Slinkware Software's Slink
Smile Software's TextExpander, PDDpenPro, and DiscLabel
Just go to FaceBook and like the MyMac Podcast page and…that's it! No other barrier to entry.
Some links:
Zite by Zite Software Free
This week's podcast music is from Fresh Body Shop