(With thanks to Tony Bennett, who sang at the 2009 Macworld Expo to conclude the final Apple keynote address.)
This week's Macworld|iWorld Expo was my tenth one, all of them for MyMac. I got a real stinker of a cold at the end of day one, Thursday, that put me on the disabled list for the duration of the 2012 conference. Nemo not happy.
Our other attending staff covered my appointments. Super thanks to them.
I was a solo act for most days of the first few years at previous Macworld January events. I ran around the enormous showroom floors in Moscone's South and North halls like a maniac, then dashed back to the press room to submit my articles and photos. Later, after dinner with San Francisco relatives, I would stay up late planning the next day's version of what I had just done.
Using the first-in-last-out method, I was the earliest early bird and the latest night owl in the bowels of Moscone press room every morning and night.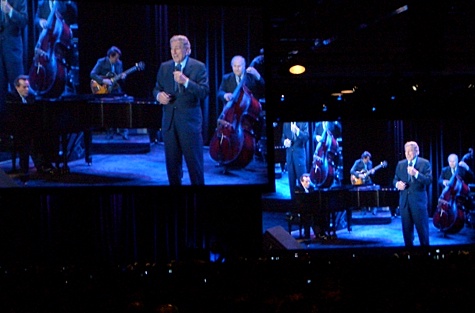 Recent years' Macworld Expo coverage has been with larger teams of MyMac writers, photographers, podcasters, and videographers. Nine of us were registered this year.
Just like Guy Serle, I planned to go slim and trim with my technology hardware. I purchased an iPad in November "for my wife," and %#&* if she didn't like using it so much that she said: "You take your Mac to San Francisco again, John, so I can follow along on the iPad." Be careful what you wish for, techie husbands (or wives, as appropriate).
You can't be too rich or too thin, so I vowed to do all my Macworld|iWorld (let's call it MWiW) reporting using my latest generation iPod touch. Did it happen? Somewhat
All my photos were taken with a Casio pocket point 'n' shoot camera. The pictures were imported onto Vicki Stokes' iPad at Moscone, and emailed to Mark Greentree in Australia, who uploaded and posted them to MyMac.com.
My audio interviews were recorded onto the iTouch. Tim Robertson posted the first AppMinute podcast using his MacBook Pro at Moscone. Mark, Tim, and I will coordinate subsequent AppMinute postings, using our home office computers.
Special thanks to MicW for providing an i266 cardioid broadcasting microphone for our live iTouch and iPhone showroom floor recordings. More on this company and its products to follow at a later date.
It was great having the entire MWiW event in the new Moscone West building, instead of being split between South and North or South and West, as in the past. I wore out several pairs of shoes and legs traversing the split personality shows in those prior years. Yugh.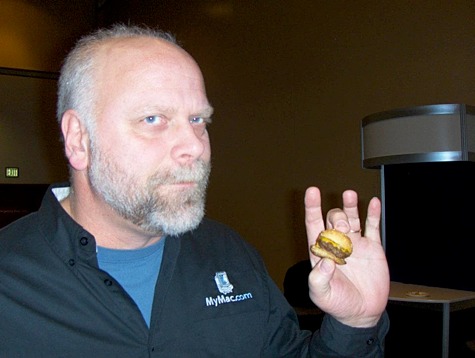 The lunch food for sale in Moscone West is very inferior to the cuisine at Moscone South. I could elaborate in detail, but trust me that your hardworking MyMac/AppMinute team didn't eat well at the food stalls this year, compared to the variety of robust feasts we enjoyed at the older venue. A well fed media is …Â  you get the idea.
There is no broadcast WiFi signal on the showroom floor or hallways during MWiW, which is inconvenient. Sprint network iPhones are capable of sending audio and photo file attachments, but ATT network iPhones are not. Up the escalator, hoof it to the press room, and use its WiFi when reliable file transmission is required.
Vicki immediately understood the value of live showroom booth interviews, and we will feature hers on a future AppMinute special report from MWiW2012. Vicki used the MicW i266 with her Sprint iPhone. Sam Levin and I conducted additional AppMinute interviews in the press room, using Sam's ATT iPhone and IK Multimedia's iRig microphone.
* * * * * * * * * * * * * * * *
My San Francisco relatives live almost as far from Moscone Center as is possible. I walk from their house to catch a 38L bus from outer Geary Boulevard in to Market Street and 3rd, from where I walk several blocks to Moscone West. The route is reversed in the evening. It's a one-hour journey each way on a crowded bus full of black-clad workers and students glued to their iPhones and iPods. The hard plastic seats on SFMUNI's buses are ruinous to my bony buttocks.
Advice #1: When you are in a public place, use headphones that contain your obnoxious music from your innocent seat mates. I have a large tolerance for different musical genres, but repeated bus rides with that awful music so tinny and so close is difficult to endure.
Advice #1A: Repeat Advice #1 in shared Super Shuttle vans to and from the airport.
Advice #2: Put on your makeup at home and catch the next bus. It is not fun to sit next to a woman doing the full treatment on her face and lips.
* * * * * * * * * * * * * * * *
Every year I make a list in advance of what tech gear and accessories I bring to the San Francisco Expo. Then I refine the list to highlight which items I actually used and needed. Here is that final list from what was important at MWiW2012:
15 inch MacBook Pro, power cable, sleeve, USB Mighty Mouse, USB junior Apple keyboard,  JustMobile LazyCouch laptop lifter, and 3-to-2 AC power plug adapter
Casio camera, neoprene case, SD cards, and multi card reader
iPod touch, rear shell cover, slip-in protective case, and USB dock cable
Mobile phone, batteries, charging cable, and slip in sleeve
(DO NOT give me a hard time yet because I don't use an iPhone. I don't use an iPhone. I get it. Now you get it.)
thinksound ms01 in ear headphones, and AKG compact headphone spring top case
Seagate GoFlex Pro 7200 RPM combo pocket hard drive, USB and FireWire 800 adapters, and Ziploc bag
IK Multimedia iRig microphone, instruction sheet, and zippered case
iPod Classic, rubber full body case, and a zillion music tracks I'm working through on a personal monster playlist edit
LaCie CooKey pocket key ring USB flash drive
Pens, pad of paper, Sharpies, pocket notepad, caps, hankies, two watches, and a flashlight
Scosche BoomCan USB portable rechargeable speaker, combo cable, and tote sack
SCOTTEVEST maroon traveler vest, and bald guy lightweight caps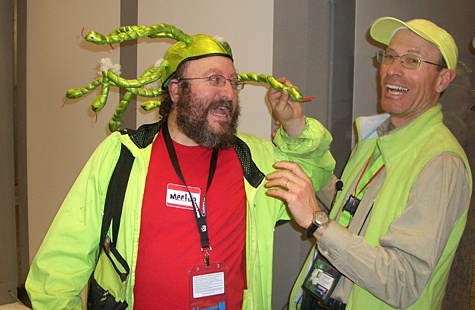 Rickshaw Bagworks chubby iPad2 shoulder bag with Velcro zipper inser
STM custom MyMac/AppMinute day pack, provided by RadTech, courtesy of Sam Levin
Griffin Technologies and RadTech pocket styli (they are identical)
Loads of one dollar bills for bus fare and tips, and plenty of twenty dollar bills for larger expenses
Very comfortable almost-new Merrell Moab Ventilator walking shoes with Powerstep Pinnacle orthotic inserts and thick tennis socks
Printed out MyMac/AppMinute staff phone and email contact list
Printed out Nemo/MWiW priority spreadsheet with expo booths to visit, plus appointment times for several companies
* * * * * * * * * * * * * * * *
Okay! Now you can give me a hard time:
Nemo, you are a nitwit, holding onto your legacy technology waaaaaaay too long. Ditch the 15″ laptop, the geezer phone, and camera. Get an iPhone and be much more efficient with everything being conveniently available in that versatile vest of yours.
I hear you loud and clear. Watch this space for future developments.
Meanwhile, back at Moscone West, what are my impressions of this year's unusual Macworld|iWorld 2012?
The absence of giant booths by mega corporations was a shocker at least as significant as Apple's non-attendance. Individual iOS and MacApp developers finally were given ample space to demonstrate their products.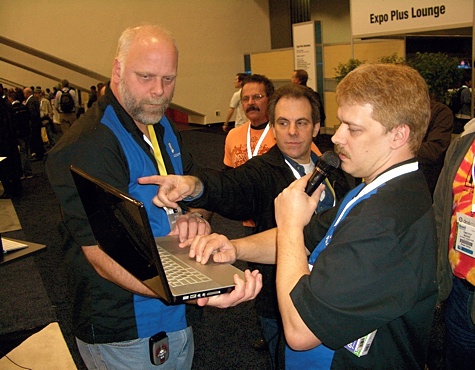 A well-known tech expert wrote today: I think the Macworld Expo is a dying thing. There was very little that was actually worth seeing on the show room floor. The only real reason I still enjoy going at all is to see [people I care about].
I accept this premise, but I hope he is wrong. The MacIT conference is important for the attendees. The individual Tech Talks and exhibits are useful, but need not be held live in a conference setting. The special events, parties, concerts, and music studio presentations are wonderful, but are not by themselves magnets for the Mac+iOS-Digerati
The Expo showroom floor is a gift from the gods to a voracious member of the media and for tens of thousands of local and out of town Mac+iOS-Hounds. There is no other way to learn about new products, apps, and trends. I plan to elaborate on this theme in a future Nemo Memo, after consulting with the other eight MyMac/AppMinute staff who were there this year.
Thanks for reading. I welcome your comments and rebuttals.
Nemo