CameraBag 2
NEVERCENTER LTD. CO.
Price: $24 to $29
CameraBag began as an iPhone app in 2008. It was wildly successful. 2009 saw the release of the desktop version for Mac and PC, again, very successful. In 2012 CameraBag 2, "a total rewrite" as the company describes, has been freshly released. If anyone was waiting for this software the wait was  worth it.
CameraBag 2 is an ingenious photo editing program, offering a combination of cutting-edge filter technology with the clout of classic tools. Escalating the use of presets into a new dimension, Nevercenter has thought long and hard about the tools and presets photographers need in order to achieve almost boundless control over images at a price that is, in my opinion, a steal. What's not to like with an interface as simple and elegant as this?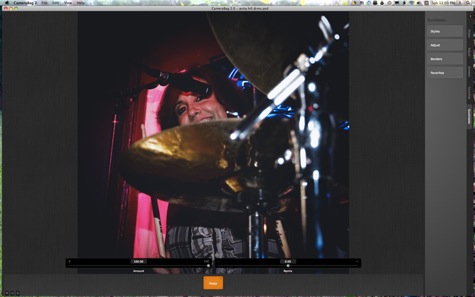 When the user's image is selected and put on the palette there are five tabs to the very right of the palette: Styles, Adjust, Borders, Favorites, and Quicklooks. These tabs are easy and fun to navigate. Just clicking on Styles, for instance, brings up the user's image as an array of presets that are immediately recognizable. In this instance I chose Helga. I can now use the Adjust tab to change the lighting, saturation, contrast, and any number of tools available in the Adjust tab. There are 100 built-in filters and styles from which to choose. If I want, I can use this "new" image, after all the adjustments are made to my liking, and go back to Styles to use another preset on top of Helga, mixing the two as I choose. Or I can choose the Borders tab with 14 interesting styles inspired by classic film photography, completely adjustable, for some cool border effects.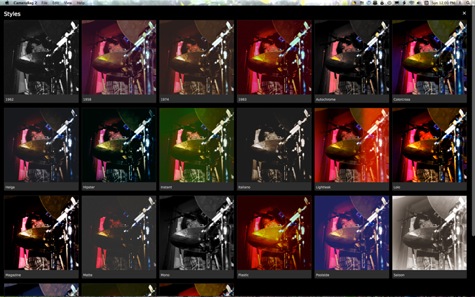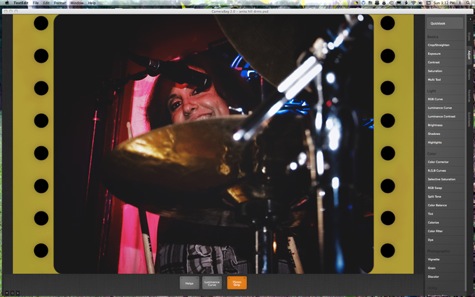 The ability to overlap all changes and affect each "layer" independently is not only convenient, it's, dare I suggest, Photoshop-like. But simpler. Way simpler. And for pro or enthusiast photographers alike this could be one of the most cost-effective photo editing programs ever. Disclaimer: it's NOT Photoshop, folks. It can't do a million things Photoshop can do. But what it does it does so well that one could imagine using CameraBag 2 as one's primary imaging station, incorporating Photoshop only when needed.
To be fair, Adobe's Photoshop Elements software is quite affordable compared to its big-daddy CS5. Many of you may already have it. But Elements still does not do what CameraBag 2 does so quickly and with such quality. And you can still tweak with Elements as needed.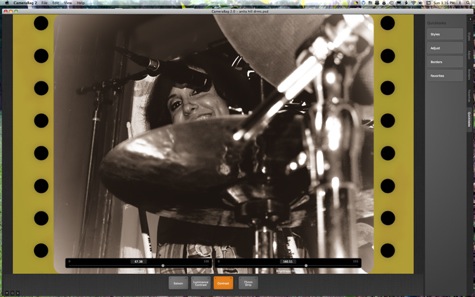 The "Favorites" tab comes pre-loaded with over 70 filters. You can make and save your own Favorites as you find what works for you. Just press the "+" when you find a combination you like and you've saved your own Favorites filter.
The Quicklooks button will give you side by side previews of your image, making it easy to choose which iteration floats your boat. Mouse over the filters on the side panel to get an instant view of the change. The filter adjustments have plenty of range which should satisfy almost any taste in photography.
If you'd like to take your new image over to Photoshop for one last Sharpening, or something only Photoshop can do, it's easy and completely compatible. CameraBag 2 works in 32 bit color depth, higher than Photoshop's 16 bit default, and equal to their highest color depth.
The entire program is set up so intuitively even a computer newbie can navigate through it with not much trouble. It's easy and fun to play with. As with any new software new users are going to fish around to see what happens. CameraBag 2 is made to fish around.
Discoveries abound as the image is put through this preset and that adjustment. The possibilities seem endless. Get on the company's website, address above, for a 30 day free trial. View the videos, which take almost no time, as they walk you through the simple steps it takes to do what you need. One time through and you'll have it, it's that easy.
MyMac highly recommends CameraBag 2 for its range and depth of discovery, while the cost is nominal. If you need Photoshop CS5, by all means, go get it. It'll cost dearly, and it should. It is arguably the premier imaging software for professional photographers worldwide. That shouldn't be cheap.
One of the remarks I hear from photographers who have Photoshop is that, while they appreciate its power and love its quality, they use only a small percentage of the program that pertains to them. CameraBag 2 has consolidated some of the most-used features of that giant program in a simple, easy-to-use form.
CameraBag 2 is not trying to be Photoshop. It has clearly defined itself as an app, a program that can help improve images, adjust many aspects of light and color, and make short work of image editing with professional quality in areas most used by most photographers. In other words, it's well worth the price and, as a matter of fact, to use the vernacular, it's a no brainer.
Single cross-platform license (installed on up to three machines at once) for $29Â 
A Mac-only version is available in the Mac App Store for $24.
Requirements: Intel-based Mac with OSX 10.5 or higher. 70 MB hard drive space.
Windows Requirements: OS newer than or including Windows XP Service Pack 3. 70 MB hard drive space.
Import Formats: JPG, PNG, TIFF, including metadata
Twitter: @camerabag

A rare MyMac Review Rating of 10 out of 10.