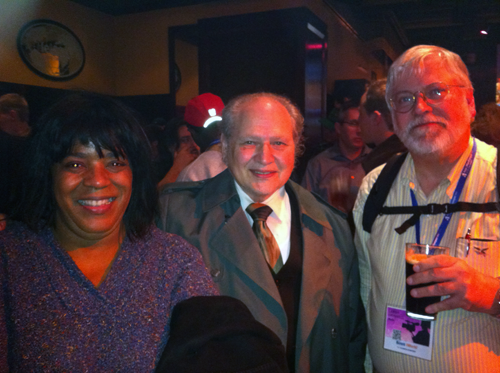 Thursday started with the traditional MyMac.com breakfast at Mel's Diner. From there, we walked to Moscone West and set up camp in the media room. Again, copious quantities of lukewarm Starbucks coffee and a selection of soft drinks were available.
After dealing with another huge pile of press releases and other important email, Mark, Vicki, Tom, and I got together with Nemo to map out a plan for attacking the show floor. I took the first shift, where I got to watch a master at work. Nemo lives and breathes these shows, and is a master schmoozer. We spent time with Dr. Wu Qunli of Mic W, maker of some really impressive (and tiny) microphones, and Nemo got a sample for a more detailed review. We then went on to the SRS booth, where we were treated to demonstrations of sound enhancement technology. I got an iWow 3D device for review that promises to improve the listening enjoyment of your favorite iDevice. Watch this site for the review, which should hit in a month or so. We looked at the iPro Lens System, which combines a rugged case and a very secure snap locking system to enhance the existing optics in your iDevice. Watch the MyMac.com website for a future review.
I broke off from Nemo to do some exploration on my own, visiting the SuperSync booth. They've got a pretty neat iTunes management product that looks very interesting. I was so impressed with both the product and the show-floor price of $20 for a 5-station license, that I didn't even try to cage a review sample, but bought it outright. I plan to do a full review soon. I also had a talk with the folks at DriveSavers Data Recovery about what it might take to recover a crashed (and not backed-up) hard drive that ran my website, to see what they might be able to do.
It was then that Nemo and I broke away from the show floor to check out Tim Robertson's and Sam Levin's iDevice presentation in one of the meeting rooms.
Tom Schmidt joined up with Nemo and me to look at a few more booths before lunch. Following lunch, new MyMac staffer Vicki Stokes also joined us to seek interesting new products. We found a great one in the j5create booth in the Wormhole Switch, an intelligent USB to USB cable that you can use to transfer files between two Macs, a Mac and a Windows machine, as well as sharing a keyboard between the two devices. If you have an iPad, you can use the Wormhole Switch as a keyboard device, though for now, no file swapping. We also saw Rain Design's stand and swivel-base products—very techno in their aluminum construction.
By now it was 3PM. Our feet were about done, and so we trudged back to the Media Room to get with Tim to record a segment of TechFan, one of the many fine podcasts in Tim's new Stoplight Network.
Then, it was party time! Members of the media are invited to a number of special events and parties, where they can spend time with vendors in a more relaxed environment. Tonight, Vicki, Tom, and I set out to visit two events, and wound up going to a third. First was an event set up by the San Francisco PR firm stage two, who brought three new products to preview. I started with the Swivl, a motorized base into which an iPhone is connected. But wait! That isn't the neat part of it. Along with this base is a wireless microphone and transmitter device that the motorized base follows, meaning you can do a solo video session, without being stuck to a "mark." Instead, you can walk around, and the camera follows you, and with the wireless microphone, you have superior audio quality. At an estimated price of $179, this could be a real inexpensive way to add some motion to your video work that might otherwise be in the typical "talking head" category. The other device I focused on was the simple.tv product, that can be used to enhance your home media system with streaming video from various sources, and permits you to view them away from your media center on iDevices, laptops, and so on. At about $150 for the hardware component, I think this could be a great addition to your media center. It will be available in Spring, 2012. There was a third product being featured at the party, having to do with GPS. I wasn't able to preview it, so I hope Vicki or Tom will be able to in a future posting. It was here that we met up with our tourguide, John F. Braun of MacObserver, who joined us for the rest of our evening.
From here, we grabbed a cab and went to an interesting and dare I say chic bar (Project One), where the folks from nivio hosted a mellow media party, celebrating the launch of their new cloud-based product that permits you to store files, rent the applications you need, and access your files and apps from anywhere. What this can mean for a typical office is that IT desktop support costs are drastically reduced, because you are only paying for the software you need, and having it delivered to your local desktop via an HTML5 browser. Very intriguing stuff.
I thought we were done at this point, but John got us to make one more stop, to the big TUAW party at San Francisco landmark, Jillian's. While having one of my favorite beverages, Tom noted the presence of Apple legend, Ron Wayne. Ron was the third partner, along with the two Steves, who put in a substantial (for him) amount of money, and then after a short period of time, got cold feet and cashed out his investment in the fledgling Apple Computer, Inc. Of course, most of you who know the great Apple legends know this story, and know that by doing what he did, he missed out on a fortune of potentially hundreds of millions of dollars as Apple grew into the giant it now is. But hey, this was what, 1980? Who really and truly knew what Apple would become? Ron has been unfairly derided for his decision when in reality, he really needed his money for other purposes. He has been an incredible sport about it, attending many Apple events over the years, and tirelessly has his picture taken with scores of people (including the one at the top of this page).
From Jillian's, we called it a night and went back to our respective hotels.
More tomorrow.