Wicked Helix Headphones
Company: Wicked Audio
MSR Price: $14.99 USD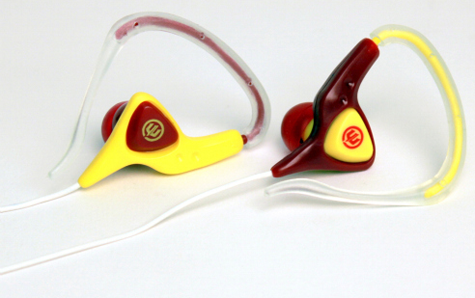 Headphones are so commonplace today, most people often have several pairs, ranging from the free pair you get for opening a checking account to the noise canceling headphones that cost more than a car payment. With so many laying around the house, why are we always looking for another pair?
The options are endless; from the in-ear, sports (behind-the-neck), on-ear to the over-the-ear styles, each with their own positives and negatives. While the style and cost are often initial factors considered before buying a new headphone the comfort level and durability were my primary factors for consideration. Often, we use headphones only when necessary, usually because they are more of a hassle than an entertainment aid.
When my fiance gave me the challenge to find her a set of headphones that had a reasonable sound quality and would stay in place whether she was studying, at the gym or playing with our dog in the backyard, I hesitantly accepted. For the past two years I have searched for a product that wasn't extremely expensive, fit comfortably and didn't easily fall off her ear with the slightest movement. Finally, the answer I'd been looking for arrived in a bright "wicked crazy" (can you tell I'm currently living in Boston?) box.
The Wicked Helix, by Wicked Audio, presents itself as a bold product in a little package. The Wicked Helix is an earbud design which sits in the ear and also provides an around the ear feature to cradle them in place. My fiance was initially doubtful that an earbud design would fit her "tiny" ears, but not only did they fit, they were comfortable too. Since they fit her so well, I was shocked that they also easily adjusted to fit my large ears too!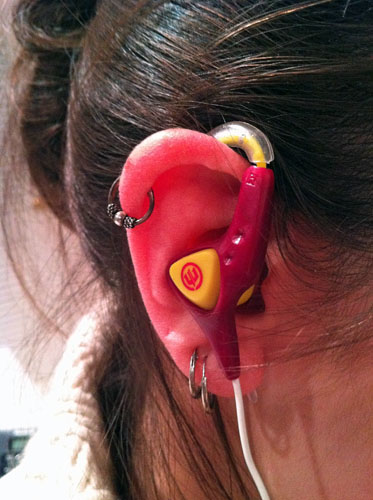 The Wicked Helix's box dares you to "try and ditch 'em," and try we did. Nothing shook these loose from their snug hold. We tested these earbuds ability to stay in place by putting them through the paces, on a treadmill, an exercise bike, an elliptical and even while doing jumping jacks. They even survived the commuter test by remaining secure during two buses and two trains on the Boston transit system during rush hour. The earhugger design allows this product to contour around the wearer's ears and remain comfortable no matter what your lifestyle is. When worn correctly, the earbud actually aligns itself with your ear canal to provide the best fit and sound.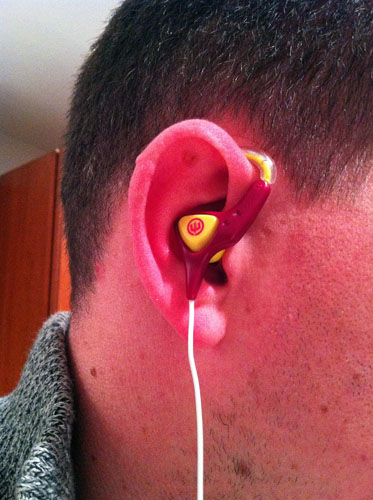 Priced at $14.99, don't let the non-conventional packaging fool you. This product may look inexpensive, but it beats out many expensive name brand products. It isn't often that a product surpasses my expectations, but this little earbud took me by surprise. Sound quality may not be as exceptional as a five hundred dollar headset, but who can afford to buy those anyways in today's market. This product outshines the competition and has me pursuing other wicked Audio products for friends and family.
For the physics fans:
*Frequency- 20 hz – 20,000hz
*dB Rating- 103dB
*Impedance- 16 ohms
*Driver- 10mm
*Cord length- 4ft/1.2m
In the box:
One set of Earbuds
Package includes 2 additional earbuds (3 sizes total)
All in all, I give the Wicked Helix Headphones  a My Mac rating of 9 out of a possible 10.