The Cult of LEGO
By: John Baichtal and Joe Meno
Publisher: No Starch Press
Format: 304 pages; full colour hardback
Price: $39.95 ($31.95 electronic book)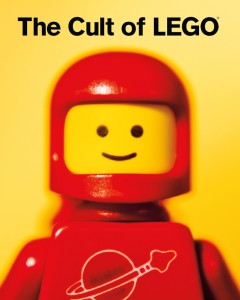 If it looked as if No Starch Press were intent on cornering the market for coffee table books appealing to geeks with their 'Cult of Mac' and 'Cult of iPod' books, then their latest offering, on LEGO, will surely cement that impression. Like those earlier books, 'The Cult of LEGO' mixes beautiful photography with incisive writing and a distinctly postmodern approach to the many and varied ways adults use LEGO blocks.
From avant-garde art to space age engineering, LEGO has been used to test out all sorts of ideas in ways that would time consuming or difficult to do any other way. As an infinitely flexible medium for turning ideas into models, LEGO appeals to creative adults as much as children, and this book is very much about these adult fans of LEGO. At the same time, LEGO is so familiar to the general public that anything made from LEGO is instantly recognisable and effectively cross-cultural, making it an outstanding artistic medium as well, as evidenced by some remarkable pieces of art. One artwork included in this book is an astonishing and disturbing piece by Zbigniew Libera that features a concentration camp made from LEGO including mini-figure guards and inmates.
The basic format in the book matches that of previous 'Cult of…' books. There are a dozen chapters, all but the first chapter, the history of LEGO, focusing on a particular aspect of LEGO use by adults. There are chapters on LEGO art, LEGO storytelling, architectural use of LEGO, LEGO robots, and so on. Much of the writing centres on the people who use LEGO, and without getting overly pretentious—and yes, this book is a bit pretentious, but in a good way—this is as much a guidebook to the anthropology of LEGO users as it is on the things people build from LEGO. There are, for example, discussions of how American and European LEGO fans compare and contrast.
LEGO-block bright colours are used throughout the book, and together with beautiful photography, the book feels rich and immersive. There's a good balance between words and pictures, so while very much a book to dip into, there's enough to hold the interest if the reader. Authors Baichtal and Meno clearly know their stuff, but what's impressive is how well they get across their enthusiasm for LEGO in an approachable way without skipping on the details that LEGO enthusiasts will want from a book like this.
Overall, an outstanding book. Expensive, perhaps, but print quality is superb and the subject covered in such depth and with such expertise that it's sure to appeal to just about every LEGO fan. MyMac.com rating: 10 out of 10.