Speed Tracker
App Developer: AppAnnex
Version Reviewed: 2.0
License: US$1.99 for iPhone only
"If my calculations are correct, when this baby hits 88 miles per hour you're gonna see some serious"…action out of this app!
Speed Tracker takes the basic concept of a speedometer and transports it into the future. Add a interactive map, trip meter, heads up display, and the ability to export trip information and you will then understand the impact this app has within its motor vehicle target market.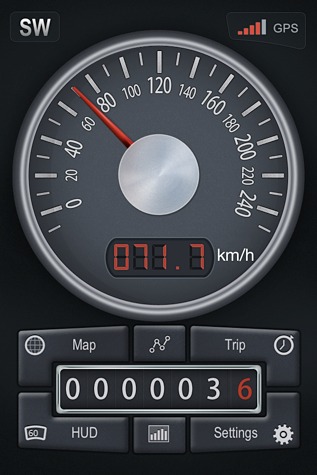 The app is designed beautifully which is a challenge for the developer as the app is also information rich. In the top of the display you are presented with your GPS signal strength bar and the compass direction you are currently heading towards. The analog and digital speed readouts are integrated and through a change in settings users can opt for either the daytime or nighttime view. The speed can also be changed to represent KMH, MPH, and Knots.
The mapping feature is superbly integrated within the app. You will be presented with current speed, elapsed time, and compass heading. At the same time you are able to zoom in and out whilst selecting between view in map, satellite, or hybrid views. Maps are provided by Google and your vehicle is represented by the icon of a blue car. Amazingly the car moves in real time on the individual street you are currently driving on. I was literally able to see the virtual car on the map turn the identical corner as I was making the turn in real life. The accuracy of the app is astonishing. I traversed several small and awkward streets that the app was able to immediately identify.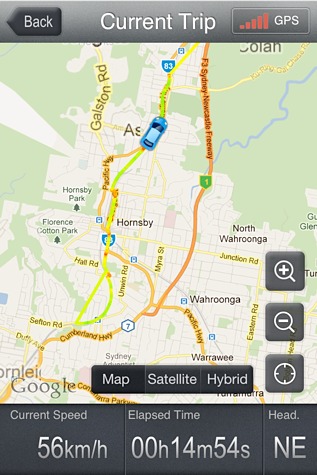 With this app you will never be lost again. As you travel on your journey a green-yellow highlighted line will be recorded behind your vehicle. This allows you to see the route travelled thus far.
It is important to note that Speed Tracker does not in this version offer turn by turn directions or the ability to plot a route.
The HUD (Heads Up Display) is an excellent use of the iPhone technology and allows drivers to clearly see the current speed and direction they are driving. It is limited to night driving as the reflection capabilities of your windscreen are needed for the feature to work.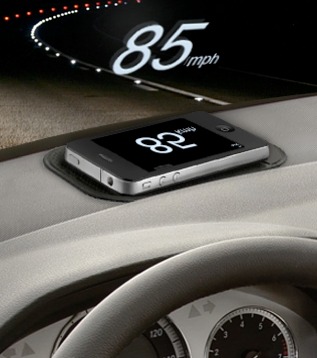 If you intend on using this feature may I suggest you check with your local authorities to ascertain if this functionality is legal in your region.
Speed Tracker makes it easy to record and keep information about the trips you have done. One advantage of this is the need to log times or distance travelled when using a corporate or rental hire car. The trip data gathers your compass heading, distance travelled, elapsed time, travel time, stopped time, current speed, maximum speed, altitude, and average speed.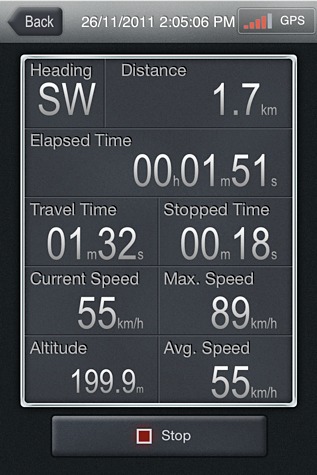 Anytime during the trip you are able to stop and resume, or simply save the trip information. Saving gives users the additional ability to not only recall the data but view in a zoomable graph format that details the speed you were doing every second of your journey. Maps outlining your trip from start to finish are also saved. The ability to export this data is built-in to the app. You can export via email or directly to a CSV, KML, or GPX file format. Social networking is not left out as you are able to place a post containing the data on Facebook or Twitter.
The main disappointment with this app is the inability to have turn by turn navigation and plotting of proposed and alternate routes. Whilst none of these features are advertised by the developer I feel inclusion of them would make it a must have app for everyone.
Additional information you should be aware prior to purchasing this app is:
– GPS usage will dramatically reduce your iPhones battery life.
– GPS is not always accurate due to device hard sensor limitations.
– Data connection is required in order to see the maps.
– Location services in your iPhone must be turned on in order to use the app.
The above list is not a limitation in the app and was supplied by the developer. They are merely general limitations with GPS and the associated usage.
Whilst this review has been based around a driving experience you could easily use this app while running, cycling, sailing, or travelling on a train or bus.
The app as it currently stands is simply amazing. It is stable and the mapping information and representation of where your car is located is pinpoint accurate. There was a small one second delay with the speed but it quickly presented an accurate reading each time.
Therefore, I am awarding this app a MyMac.com review rating of 9 out of 10.