SugarSync Service
Reviewed For Mac and iOS Devices
Licence Reviewed: US$49.99 per annum 30GB Storage Plan
SugarSync is the Swiss army knife of online backup and synchronisation. As such the service boasts incredible customisation and control over your data.
Can an all-in-one solution really be all you need?

SugarSync at its core is a cloud storage and synchronisation solution that offers file backup, and access to data across all industry leading mobile technologies including iPhone and iPad. It also incorporates sharing and collaboration functionality similar to that of Dropbox.
SugarSync offers a Free 30-Day Trial. The trial allows users to access any level of storage that corresponds with their requirements. This allows you to test the service completely in real world usage scenarios. Once the trial is complete and you are satisfied with the service, the company has personal plan options ranging from 30GB of storage to a significant 500GB of storage.
A 5GB Free Plan is also available with no expiration allowing you to test the service long term before committing to their paid service. If you only have a small amount of data that is important to you or that you wish to share then this may suit.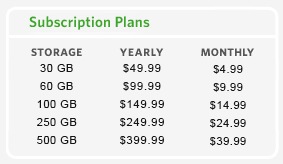 The pricing structure is comparable with similar services and quite reasonable given the amount of control you have over your data from the various supported devices.
Business users are not left out. SugarSync has plans for business and multiple user access should you require them.
The experience setting up has been fantastic. Upon downloading the Mac application and the iOS application, on both iPhone and iPad you simply need to add your username and password and instantly you will have access to all areas of your account, from all compatible devices.
One of the main issues with cloud storage is the time that it takes for a file or a series of files to upload. The majority of the time your Internet connection is the limiting factor. This is because upload speeds are generally slower than download speeds. SugarSync does have a set of preferences allowing users to change the upload speed on a scale of low, medium, and high. I would prefer to see an exact kb/s option in order to assign a specific bandwidth to the service. Throughout testing, this functionality was not working and is still unresolved by their support department.
Another unresolved issue is that, despite indicating that content streaming was available on mobile devices, every time I attempted to stream the content I would have to download the entire clip prior to playback occurring. This happened on both the iPhone and iPad. I would try different times on different days with different file formats and sizes. At no time was I able to succeed on either Wi-Fi or 3G connections.
SugarSync has a folder called Magic Briefcase that allows users to drag, drop, and save files or folders. A shortcut to this folder is located on the Desktop of your Mac and the original is located in the Documents folder. This is a perfect place to put your daily files or collaboration documents you are currently working on.
I must admit liking the way the Magic Briefcase and folder synchronisation works. I feel confident in moving content around endlessly in the Magic Briefcase whilst not disturbing the backup of my other folders on the server.
Web Access is one welcome feature with the SugarSync Service. You can view all your files currently stored on the service along with which devices the original synchronisation folder resides on. Through the Web interface users can access, add, and remove content from the Magic Briefcase, shared folders, public files, Web archive, mobile photos, contacts, and deleted files. Users can also upload content directly via the Web interface into a folder of their choosing and then sync that data directly to a device such as your iPhone.
The Web interface works just as expected and advertised. Throughout testing no noticeable problems occurred. You are limited to a maximum upload size of 100MB via the Web interface.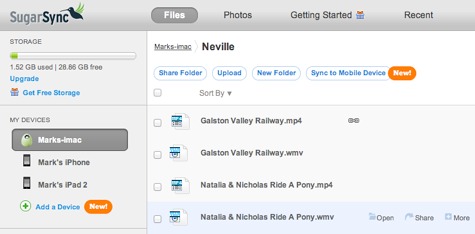 The Mac App Client will be the single location you use most of the time to manage your backup and synchronisation. One interesting feature of the Mac client is the ability to double click on your content within the app. Doing so will allow you in the case of video to commence playback immediately.
One complaint I have with the Mac client is there is no Dock icon when the app is open. Performing a Command + Tab keyboard shortcut also produces no app icon to switch to. The app does remain in the background whilst open but on smaller screens this is an issue.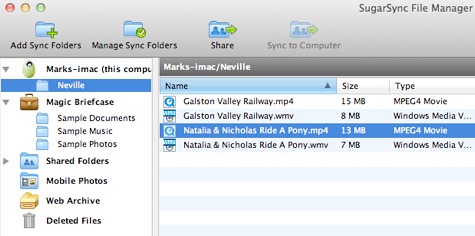 The Mac App client is more than a single window. Through a Menu Bar icon users have access to a percentage scale of current usage, the ability to add new folders for synchronisation, and a file transfer status when data is being sent to or from the service.
The companion iOS app is available for FREE and contains a similar level of control found in the Mac application and Web Access portal. Alerts will be received in the iOS app when folders have been successfully synced from the server.
One of the most useful areas of this app is the Photos section. You can simply take a photograph or record a video. Then upload it and it will be available immediately synchronised to all devices authorised with your account.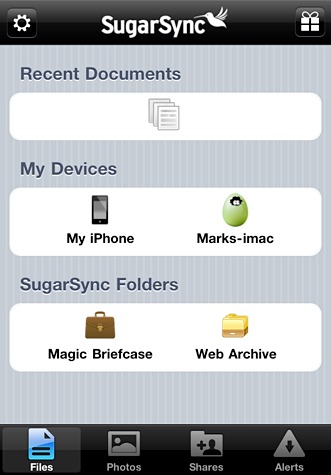 Many users of the iOS platform have purchased additional text editing apps. SugarSync's iOS app does contain a basic text editor. Your file format has to be .txt in order to edit the file on your device.
The iOS app is certainly a welcome edition to the entire service and makes accessing your data easy whilst on the go. My only advice with the iOS app is when uploading and downloading media content on a 3G network please be wary of the amount of data you have available as to avoid exceeding your allowance.
All your data is transferred between devices using SSL (Secure Socket Layer) encryption and stored using a 128-bit AES (Advanced Encryption Standard) algorithm.
SugarSync also offers versioning which allows you to access the last five versions of a file you have been working on from anywhere.
If you collaborate with people in different locations then the SugarSync service is able to help. You can create public links that can be shared via email, Twitter, and Facebook to a certain file or folder. If confidentiality of your data is important then you can assign a password, and permissions, along with only a specific set of users who can access the files and folders you are sharing. As the SugarSync service works in real time you can in many cases collaborate live and uninterrupted with people from anywhere in the world. Large files will take longer to upload but upon being completed they will be immediately available for others to access.
Most cloud data services offer a relative amount of flexibility when it comes to accessing the data stored on their services. SugarSync takes this to a new level. You may be in a Library or internet cafe and you will still be able to log into the Web interface to access your documents. Or you could simply need to email that file whilst waiting to board an airplane.
Being able to access your files across a wide range of devices and systems is certainly a plus for the service. Please remember depending on your file type you may not be able to open all files stored on the service due to compatibility of file types. For instance a .pages document is unlikely to open on a Android or Blackberry device. If you travel for business and presentations I suggest you have a few different file formats available on the service, thereby preventing any incompatibility problems.
Accessing your files remotely with iPad, iPhone, Android, BlackBerry, Windows Mobile, and Symbian devices is purely amazing. This compatibility breaks down the common barriers of computing. Traditionally, it would be essential to have a iPhone to compliment your Mac. With the SugarSync service this is simply not an issue. Users have choice. Updates done on any device will be synchronised and ready to use when you return to your Mac.
SugarSync is a service which has an exceptional broad range of options. In my opinion, there are too many options and settings that will simply confuse the average consumer. If you are a user who likes control over every aspect of your file management, you will thoroughly enjoy the experience this service and corresponding application clients have to offer.
Could SugarSync replace multiple services? For many people I would say yes. Please remember that no matter how good a service proclaims to be or how secure you feel with the service it is imperative that you have more than one backup solution.
In general the service does work as advertised and from testing performs very well. As such I will be awarding the SugarSync service a MyMac rating of 7 out of 10.