Jetsetter
Company: Gilt Travel, Inc
Version: 1.1.1 for iPad
Requires: iOS 3.2 or later
Price: Free
Version 2.0 for iPhone, iPod touch, and iPad
Requires: iOS 4.0 or later
Price: Free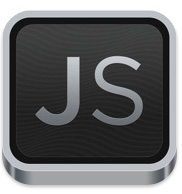 Do you like to travel? Do you find it difficult to navigate through web sites, looking for honest and unbiased reviews of hotels and destinations? Do you want to travel somewhere interesting, somewhere that you may not have thought of? If you answered "yes" to any of those questions, you might want to take a look at Jetsetter.
Jetsetter is a travel app for the iPad, iPhone, and iPod touch that's more than just a simple app that shows vacation spots. Jetsetter uses photos, reviews, insider tips, and intuitive site navigation to make searching for a new adventure, well, an adventure! I used the iPad version of Jetsetter for this review.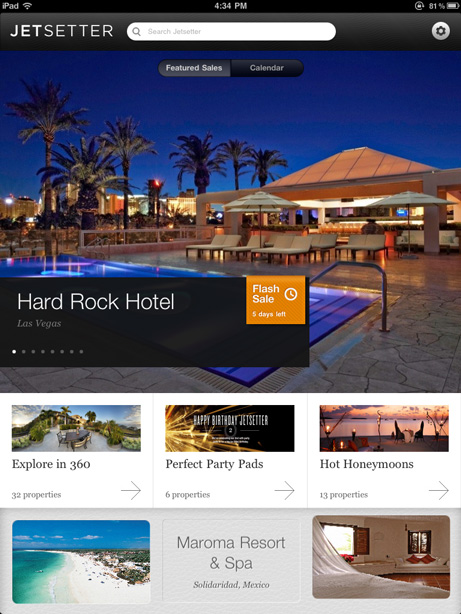 The first thing you'll notice after opening the app is the gorgeous photography. Jetsetter editors personally visit each location they review, and take pictures of the property to show users exactly what to expect.
Navigating the Jetsetter is easy. The main page presents users with a choice: click on featured sales, and the top half of the page has a selection of Flash Sales, which are limited time offers. The lower half of the page has options based on a theme, such as Top Fall Foliage Hotels, Perfect Party Pads, Wine Country Tours, or Explore in 360. You can also wander through the site by Calendar.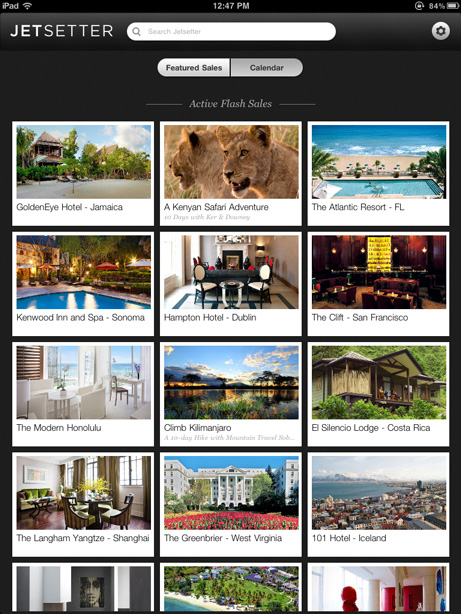 If you have a specific area or interest in mind, you can search by those criteria. For this review I chose The Venetian in Las Vegas, Nevada.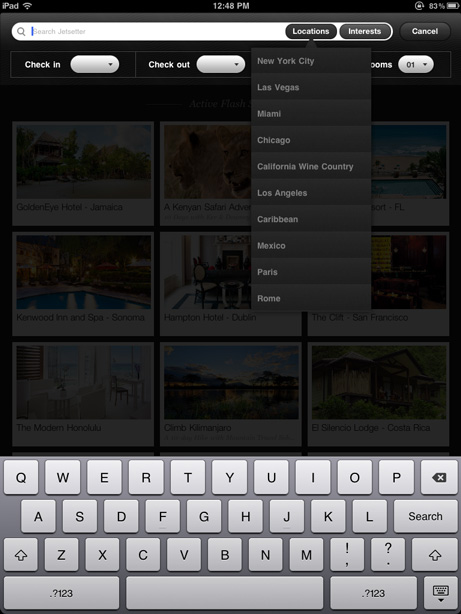 When I opened the information on The Venetian I was greeted with unbelievably beautiful photos of the property. A quick description of the hotel is shown, along with a nightly rate, and a percentage showing how many users would recommend this property. A full review follows, with "What we love" and "What to know" on a sidebar. Also listed are buttons for Nearby Attractions, How To Get There, Reader Reviews, Comments, Other Details, and Book A Room.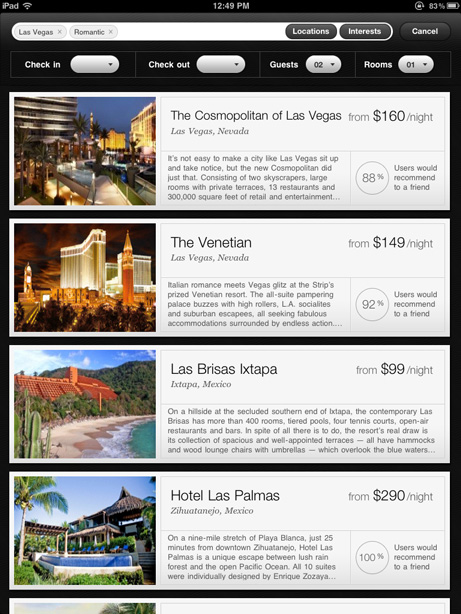 All booking is done within the app. It's very simple to change to a different type of room, or just go through the process to get a price.
Speaking of price, I did find Jetsetter to charge a few dollars more than booking directly with the hotel. However, there were a couple of minor extras thrown in with Jetsetter that make the prices basically the same. This was true with a number of properties I compared with Jetsetter.
If you're planning a trip with other people, selections are easily emailed or shared on Facebook or Twitter. Just want to dream about a vacation: save it to your favorites. But know that offers are only available for a limited time.
What I really like about Jetsetter is the ability to think outside the box when it comes to planning a vacation. Maybe your next trip will be an African Safari, a wine tasting tour of Napa Valley, or a relaxing week on the beach in Greece. Not every hotel or resort is listed on Jetsetter, but what they do show has been throughly researched.
Jetsetter is free on the iTunes Store. Download it now, and start imagining and planning your next vacation.

MyMac.com Review rating: 9 out of 10