Millie Was Here, Book 1: Meet Millie 
Available On The iOS App Store
App Developer: Megapops
Version Reviewed: 1.0
Licence: Freeware, Compatible with iPad. Requires iOS 3.2 or later.
Millie will capture the imagination of every child through her mystery, magical superpowers and amazing travels all over the world.
I'm sorry, I forgot to mention Millie is a dog! Not just any dog, as I was to discover when I introduced Millie and her incredible story to my children.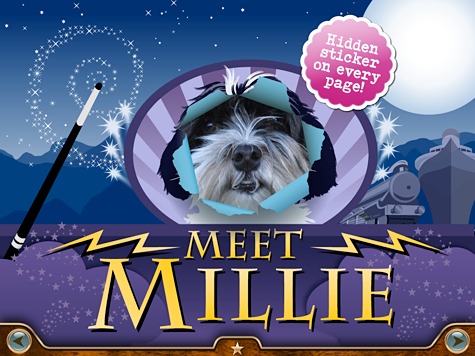 Millie's first adventure is laid out in an interactive book format with more interaction than many other competing titles. It is reminiscent of the traditional paper hide and slide books which tend to have a significantly short shelf life due to wear and tear. The iPad has no such worries and allows this interactive book app to become so much more.
Children will be led through the story about this special little dog, which will mystify them with her tenacity and will to achieve the almost impossible. Along the way, children will need to perform magic tricks to make Millie invisible and help her try on different adorable outfits for the journey ahead. Very importantly, your child will also have to feed Millie before she proceeds on her journey. Be aware Millie is a fussy eater and only likes one type of food. She claims it is to keep her superpowers strong. I think Millie just likes the taste of bacon.
Through the journey, children will also need to locate hidden stickers on each page. They are well hidden and will give children and parents alike a serious challenge. Stickers are given an independent area of the app to view the collection your child has so far located. In the same area badges are also awarded for tasks such as finishing the book and collecting all stickers. A very handy progress bar is also included so children can see a visible representation of their progress throughout the interactive book.
Millie's superpowers take a leave of absence when it comes to dust bunnies located under the lounge in her treasure hunt. Three dust bunnies will result in game over for that specific mini game.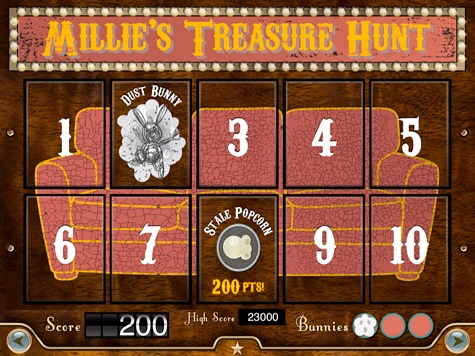 I have a sincere appreciation for how the app developer has introduced us all to Millie. Many times, as parents, we purchase apps based on little knowledge of the characters or what the app has to offer our children. Many of these apps don't have a demo which can be used to evaluate the child's interest in the title.
Whilst this app is merely a taste of what is to come in book two it is certainly no demo. It is fully featured and runs over eight pages of reading enjoyment which is additional to the series of mini games located throughout the story. It will see your child returning to the story time and time again.
There is no push by the developer to in-app purchasing which is a delight to see on a children's title. The only reference to an additional full story is a simply clean banner on the opening page of the app informing parents that should they be interested, Book 2, Millie And The Lost Key is available on the iOS App Store. Upon finishing the interactive book you are also presented with an equally elegant notification of an additional title.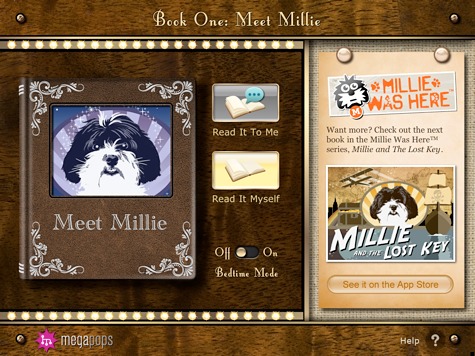 The options for parents and children are very straightforward.
Word highlighting is a built in feature which can be turned off upon request, as can the background music and overall volume in the app. The help menu is laid out simply and clearly identifies all you will need to know when navigating through the story line.
Read It To Me will simply narrate the book whilst allowing you to interact with finding stickers and playing the mini games.
Read It To Myself allows the parent to read the book to the child, or if their reading skills are developed the child will then be able to read the story themselves. All interactive games are also available in this option.
The final mode available is Bedtime Mode which reduces the brightness of the display, the volume of background music, and effects, along with the narration. Bedtime mode allows you to select either the Read It To Me or the Read It Myself version of the interactive book and the mini games are passed over when Bedtime Mode is activated. Whilst mini games are disabled in bedtime mode, interaction is still needed to manual turn the pages. Hence, as a parent you will need to be sitting and reading this story to your children.
Meet Millie has stunning visuals, animations and the short inbuilt video clips make Millie come alive. Literally!
The app developer has managed to make the most of the screen real estate available on the iPad. At no time do you feel restricted in your ability to undertake a task which will help Millie achieve her goal.
Overall, Millie was a pleasure to meet. I certainly look forward to another journey with Millie in her latest adventure, Millie And The Lost Key.
The app developer is also donating a portion of sales from Millie And The Lost Key to www.petfinder.com which is lovely gesture and one which will allow children to be proud of their contribution.
The only disappointment was the lack in auto page turning for Bedtime Mode. Therefore I will be awarding this title a My Mac rating of 9 out of a possible 10.