Dexim Visible Green Charger
Company: Dexim
Price: $34.90 USD

Charging cables are the most heavily used pieces of equipment that users of iOS devices take completely for granted. How exciting can chargers be, right? Dexim may change that perception with their new Visible Green Charging Cable — a system that is not only cool to use, but is also environmentally friendly.
The Dexim Visible Green Charger is designed to eliminate the "vampire" power draw that accounts for close to 10% of the energy consumption in the U.S. This is electricity that is being drawn from the grid by devices that are simply plugged in but are not being used. Maybe it's a game console that's turned off or a battery charging cable that's simply plugged into a fully-charged device. Either way, there is a needless usage of electricity that not only adds to your monthly electrical bill, but also harms the environment with the extra power that's forced to be generated.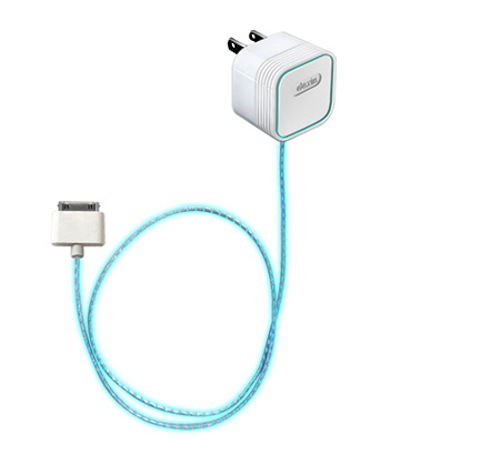 The Visible Green Charger takes one further step when charging your iODS device. Although I haven't verified it personally, once it is fully charged, the Visible Green charger shuts itself off and stops drawing any further power.
On any other charger, you'd have to take the manufacturer's word for it that this is truly happening. How can you tell if power is flowing through a cable? Dexim has found an answer that I find pretty awesome. The center of the somewhat flattened cable of the Visible Green Charger contains an electroluminescent wire that pulsates as electricity flows through the cable. The greater the power draw, the faster the pulsation. The effect is impressive and very reminiscent of Star Wars.
It looks as if you can actually see the power flowing into your iOS device through the 30-pin connector port.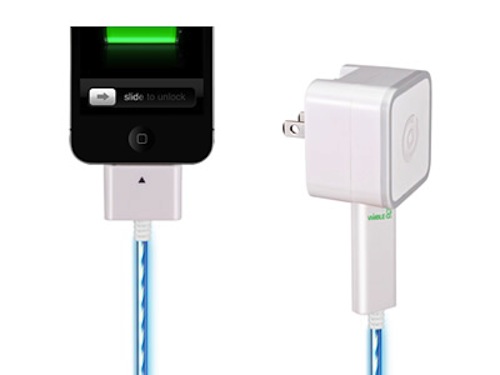 From 1%-65%, the flow is relatively fast. Once your battery reaches 65% charge, the flow slows until it is fully charged. At that point, the electroluminescent cable turns off, indicating that no further power is being drawn through the cable. It's ingenious.
The Visible Green Charger has a USB connector at one end for plugging into powered USB ports on your computer, or it can be plugged into a supplied wall jack. The other end of the cable is the typical proprietary 30-pin connector that we need to plug into our iOS devices. Several models are available, but the DCA257's 5V and 2.1 Amp output can charge essentially any iOS device, and is probably your best value.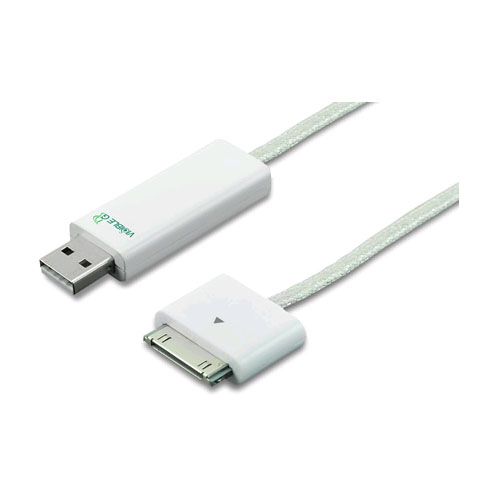 I really like the Dexim Visible Green Charger. Friends who have seen it it action immediately ask where they can buy one. I didn't think I'd ever find a battery charger at all exciting, but Dexim found a way to do it. Kudos to you, Dexim!
MyMac.com Review Rating: 9 out of 10