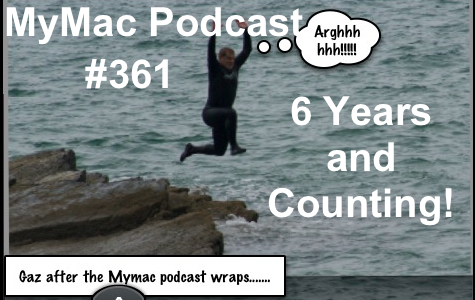 Download and listen to the show here
Subscribe to the show in iTunes 
Apparently last month made for the sixth year anniversary of the first time Guy podcasted and with Gaz off on Vacation, Rick Stringer was kind enough to step into the madness! If you want to hear how Guy used to do it, you can go and download the file here. It's the MyMac Podcast #34 with Tim and Chad and Guy comes in with the Dashboard Minute at about the 7 1/2 minute mark but don't skip over the rest as it's chock full of Tim and Chad goodness. Not to mention a hysterical Chris Seibold and his Not Mac News segment. However on THIS podcast Rick and Guy talk about patent battles and iCloud storage costs and neither can remember app picks or who's going to be on next week. 
Some Links:
Decoder Ring Theater
Corbin Design
App Picks:
Rick's App Pick: Synk Pro $40 and $60 Pro
Guy's App Pick: EV Nova from Ambrosia Software
Contact info: Drop us a line and let us know you want to be on the show. Gaz and Guy on Twitter, guy@mymac.com and gaz@mymac.com, or our Skype direct number 703-436-9501. Also go into iTunes and leave some feedback. Also don't forget our FaceBook Page!