Otterbox Reflex iPhone 4 Case
Company: Otterbox
Price: $44.95 USD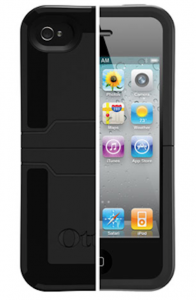 I've never been disappointed with any of Otterbox's products. It's well-known among fans of Apple's iOS platform that the cases Otterbox makes are some of the toughest you can buy. Whenever my iPad, iPod Touch, or iPhone is protected in an Otterbox case, I feel much more secure in using my expensive toys. Once again, Otterbox doesn't fail to impress with the Reflex, the latest addition to its growing line of iPhone cases.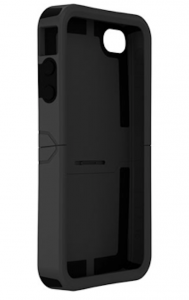 The Reflex is a departure from Otterbox's usual case design. It's much sleeker and streamlined than the Defender Series, while still offering superior protection for your iPhone 4. While on the expensive side at $44.95, the level of protection you receive while still maintaining functionality is well worth the investment. I'm constantly reminded of this as I use my iPhone throughout the day.
The Reflex has quickly become my favorite if Otterbox's cases. I really like the sleek appearance and superior fit and finish of the case. My iPhone just plain looks good in this case. I like the basic black look myself, but if you're looking for a more colorful look, the Reflex also comes in pink/black, brown/black, and blue/black.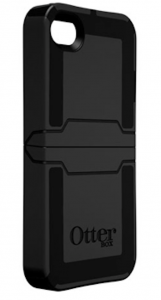 The Reflex gets its name from its new design, which is a real departure from Otterbox's other case designs. While the Otterbox Defender Series incorporates a two-layer design that has a soft outer layer of silicone wrapped around a tough hard plastic inner case, the Reflex actually combines hard-plastic and silicone into a single semi-flexible case.
Hard plastic forms the backbone of the case, with softer and more flexible silicone injected at strategic stress points. The silicone forms the four corners of the case. It also runs around the perimeter of the case's backside. This flexibility acts as a shock absorber during accidental drops. For added protection, the silicone also covers the volume control buttons and the sleep switch.
The openings on the case provide easy access to the mute switch and charging cable port. The camera and flash are unobstructed as well.
I truly appreciate that just about any set of headphones will fit into the Reflex's opening for the headphone jack. I certainly wish Apple would take a page out of Otterbox's playbook on this important consideration when designing their own bumpers. I can never get my car's auxiliary cable to fit into the headphone jack of my iPhone when I've placed it in one of Apple's bumpers. That drives me nuts! Believe it or not Apple, not everyone listens to their iPhone with white earbuds.
Kudos to Otterbox on coming up with yet another winner with the Reflex case. It's just plain awesome and I plan to make it my main case for some time to come.
MyMac.com Review Rating: 9 out of 10