Xsample Chamber Ensemble
Winkler und Stahl GbR
Xsample

Amselweg 6

32756
Detmold

Germany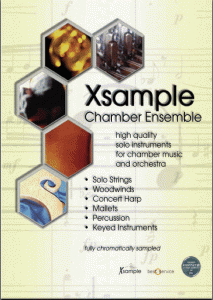 German firm, BestService, produces a wide spectrum of sampled musical instruments; here the solo and chamber instrument collection – really a set of half a dozen or so separate groups – with the product name Xsample Chamber Ensemble (XCE) is examined.
It has to be said immediately that this is an excellent collection, worked flawlessly in testing and – although expensive (aren't they all?) – would make a prized addition to any musician or composer's set of original audio resources.
Xsample Chamber Ensemble is available on DVDs or as a series of downloads. It was a good sign when the dozen and a half files which make up the collection supplied for this review all downloaded without incident, and downloaded very quickly.
Users get a key as a serial or license number which allows the unzipped sample files to be activated in Native Instruments' Service Center application (Xsample uses Kontakt and – as with all NI-licensed products – running it is free).
It's at that point in the installation process that you can specify a dedicated (external) hard drive on and from which to run the Xsample library of instruments… not essential but recommended, as is often the case with such audio samples. During lengthy evaluation this arrangement worked extremely well.
Sibelius
Configuring Xsample for use with Sibelius 6 is simple, too.
If the installer doesn't place them there for you, you may have to copy (or move) the Xsample Chamber Ensemble.lib file into ~/Library/Application Support/Sibelius Software/House Styles and – as usual – the xml files in Sound-Sets SOD into ~/Library/Application Support/Sibelius Software/Sounds.
Similarly, it may be necessary to put the file, XCE_Preset.sib, into ~/Library/Application Support/Sibelius Software/Sibelius 6/Manuscript paper in order for the XCE instruments all to become available to and visible inside Sibelius 6.Then follow the usual procedure to set up a Playback Device which respects your new instrument installation.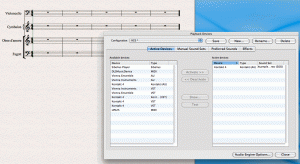 And prepare to be amazed.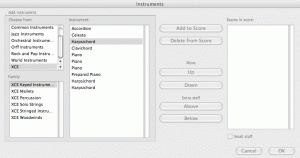 The quality really is good, the variety of articulations and expressions extensive, the integration with Sibelius outstanding and support and documentation for the whole experience of a uniformly high standard. The instruments are not only easy to work with, there being multiple expressions and articulations available by using the Sibelius 6 Playback Dictionary; but they are also very persuasive, rounded, atmospheric and realistic sounds in themselves.
To say that the instruments have both character and a real presence is not to suggest that anything extraneous is ever overlaid on the pure sounds whose samples form this library. It is, rather, to underline the fact that any instrument in symphonic, chamber, orchestral and similar music will have a "personality" – or rather a range of personalities. In the relatively short run, this reduces the fatigue that listening to a bland, steely (dare one say, "perfect"?) synthesized instrument can bring. XCE's instruments soon become familiar for what they can offer a composer as much as for simply the sounds they make.
Sound
After maybe 45 minutes (download), installation and configuration, it's time to start writing for one or more of the two dozen orchestral instruments that form the Xsample Chamber Ensemble collection, namely: violin, viola, cello, double bass; flute, oboe, clarinet, bassoon, piccolo, cor anglais, bass clarinet, contrabassoon, bass flute, oboe d'amore, basset horn; concert harp, steinway b, celesta, spinet, clavichord, toy piano, marimbaphone, xylophone, vibraphone, glockenspiel and crotales.
There are also over three dozen 'special' or non-standard percussion instruments as well. This reflects, perhaps, the emphasis on percussion of much contemporary music. Many are otherwise unavailable for Sibelius: bass drum, side-drum, cymbals, bowed cymbals, muted cymbals, tam-tam, triangle, tambourine, claves, woodblocks, castanets, bar chimes, wind chimes, tom-toms, water gongs, rattle, scraper, steel plates, small anvil, hand bell, Tibetan bowl, maracas, cabasa, rainmaker, hi hat, bongos, conga, diatonic steel drum, 'frog', horn, train pipe, 'bird', metronome, kazoo, lotos flute, jew´s harps, kalimba, friction drums and talk drum.
Our expectations of sound samples are now pretty high. But no higher than they should be. Collections like the Vienna Symphonic Library have set the bar high enough for the musician to aspire to better than merely passable sounds. Â These must have realism, multiple articulations, lifelike transitions when melodic intervals are called for. They should be neither too reverberant, nor dry and toneless. They should sound well together and yet be "nimble" enough to sound properly and not drop out when written for in quick succession.
In fact the XCE library contains instruments that have been fully chromatically sampled and multilayered; there are natural loops for all sustained notes; there are seamless xfade controllers for dynamics and sound-color continuous from ppp to fff.
MIDI control – all well-explained in the thorough manual – is extensive. Full CC1 control is available as is sensible, wide-ranging use of the Mod wheel and after touch.
It can be safely said that the Xsample Chamber Ensemble more than justifies its very high price in all these respects. Those writing serious music for a symphonic or chamber orchestra – and particularly for soloists – need realism, need instruments which – by and large – reflect the timbres and textures of the real thing. Here Xsample Chamber Ensemble scores very highly.
Sound Sets
XCE comes with six different sound sets for Sibelius, which all worked perfectly during evaluation:
Mono reduced: that's the complete library in mono but with only every three tones sampled
Mono: is the complete library with only one channel
Stereo reduced: the complete library again – in stereo  – but again with only every three tones sampled
Stereo is the whole library in stereo
Advanced is also in stereo with the addition of the most common extended techniques
Classic is only the standard techniques
The advantage of these different Sound Sets is easy to see once you start working with them. Use the reduced Sets to save loading times and aid better CPU performance; switch for the full versions when your score is finished.
Extended periods of work on what must be considered a pretty standard machine (2.8 GHz "early 2008" Quard-Core with 8 GB RAM) for this kind of work, however, resulted in not one single occasion when the most ambitious Soundset slowed, dropped out, dithered or seemed to show any signs whatsoever of sluggishness, or of being too resource-intensive or challenging to I/O.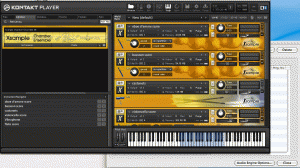 Support
The folk at BestService know what they're doing. They know the business, the musical and technical environments in which XCE is expected to work; and and they understand the need for good customer relations and after-sales support. Their relationship with Native Instruments seems to be everything it should be; and the file set has been written in such a way that it will work not only with Kontakt Player 2, which ships with XCE, but just as well, flexibly and reliably once you step up to the latest stable version (at present that's Kontakt Player 4, the environment used for this evaluation): flawless.
During evaluation there were occasions when certain text items (instrument names, for instance) appeared in German. The vendor is aware of this – and a fix is planned.
Frankly, if you follow the relatively simple and not in any way either demanding or unusual procedure to make Xsample Chamber Ensemble work with Sibelius (or Finale; indeed with DAWs too) and trusting to Native Instruments (whose support seems to have improved too, of late) for the rare issue which might arise on the Kontakt side of things, you're unlikely to come across anything troublesome. But if you do, BestService's email support is clear, efficient and reasonably quick.
This library must be considered one of the best.
Pros: excellent sound; easy to install and configure with Sibelius; good documentation; good support; well chosen selection of instruments
Cons: expensive; but justified
MyMac.com Rating: 9 out of 10