Two small, versatile, high-value computer accesssories:
Presenter Pro Remote with Green Laser
Kensington
$80
XtremKey
LaCie
$50 to $230, depending on capacity
In commando, stealth mode, I strolled casually into a retail store featuring computers by a well-known company from Cupertino. I unscrewed the base cap from LaCie's XtremKey deluxe all-terrain USB flash storage drive, exposing its USB plug tip. I discretely inserted XtremKey into a rear USB port on a new iMac, and its icon mounted instantly on the computer's Desktop.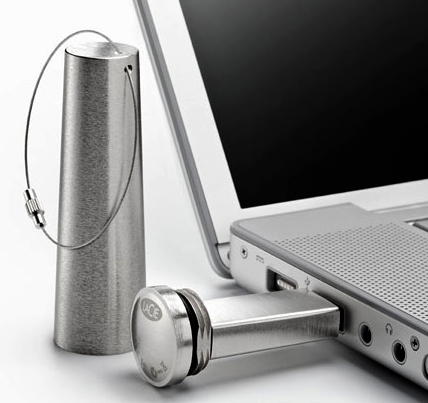 I launched a familiar multimedia application from the iMac's Dock, and selected all the audio tracks. I then carefully drag-copied these few hundred tracks over to XtremKey's open contents window. The transfer rate was faster than on any previous USB flash drive. This silver wonder is speedy.
I confirmed XtremKey's whizbang transfer rate by copying additional files and folders, and all results were stellar. I can confirm that LaCie's claim of outstanding write and read performance is accurate.
Everything (almost) about XtremKey is top of the line: brushed metal impenetrable alloy casing; tapered cylindrical styling; resistance to temperature, pressure, and impact; two-year warranty; plus sealed threads and O-ring. The dedicated web page has additional information and photos.
There are a few features that need improving:
XtremKey's rounded bottom does not allow it to stand up securely. The bottom should be flat and its edges should be rounded, instead of being the other way around, as it is now.
The angled top hole and metal carrying loop are clever, but they are inefficient. The top of XtremKey's upper shell case should also have rounded edges, and the metal loop needs a less abrasive fastener connector. Several different loop sizes should be included.
It's difficult to grasp the smooth brushed metal surface on the lower component module in order to unscrew it from the upper shell case. The narrow circular surface of the lower segment should be slightly easier to grip, hold, and twist open.
These three design and manufacturing quibbles are minor. XtremKey is an outstanding USB flash that all XtremUsers should buy and use for mission critical data storage and transfer.
NOTE: I deleted the files I had transfered after completing the test.
MyMac Review Rating:Â  7 out of 10
Still in commando mode at the store, I launched a Keynote demo presentation on an iMac. I removed the USB transceiver dongle from the base of Kensington's Presenter Pro Remote with Green Laser and inserted the dongle into an empty USB port on the back of the iMac.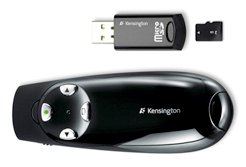 I walked across the store to be as far away as possible from the computer, then I turned on the power on the Kensington remote. As customers walked back and forth in front of the iMac showing its Keynote demo, I pressed the forward, back, and black screen buttons on the remote and observed the people's reactions.
The customers and staff couldn't figure out why the show was going back and forth and black in such a random manner. Occasionally I shot a green laser flash onto the wall behind the computer, and it had a similar effect. I was impressed with Kensington's ingenuity and product performance.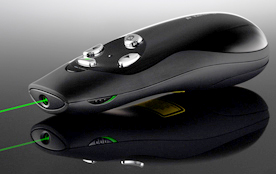 Two areas of improvement are needed:
The on/off button is too small, too difficult to press, and impossible to know visually when in the on position. This sliding button needs to be larger, easier to press, and much better at indicating when it's left on. Battery depletion is a serious concern.
The green laser requires two minutes to warm up, which is annoying until you become accustomed to it. Once the laser light is ready, it is splendid. I use it now in all my classroom and tutorial presentations.
Overall I strongly recommend Kensington's Presenter Pro Remote with Green Laser. Pay attention to the on/off switch so you don't run down your battery, and keep a spare set of batteries handy, preferably rechargeables. Your Keynote, PowerPoint, and laser pointer presentations will be much better when you use this handy remote. It ships with an excellent padded, zippered carrying case.
MyMac Review Rating: 8 out of 10