Abaltat Muse 2.0
Company: Tunepresto
Free 7 Day Trial Version Available for Download
$99 USD, 80 € EUR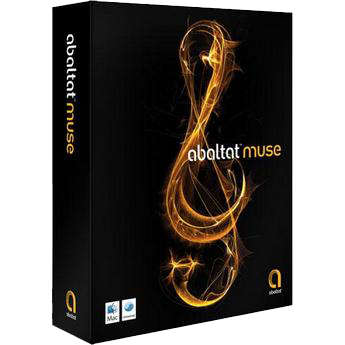 One of the most difficult decisions in producing a video or slideshow presentation is the choice of music. If you want to use a copyrighted song or soundtrack then you have the option of requesting permission for use, paying a royalty, or purchasing a copyright-free library. Music is essential for a slideshow or film production as it may evoke emotion, excitement, or drama for the viewer. Creating a soundtrack has never been easier with Tunepresto's Abaltat Muse 2.0. This is a sophisticated application that allows the user to create an infinite amount of royalty-free soundtracks with professional results. I was a bit apprehensive to use Abaltat Muse 2.0 as I am not a musician but this is an intuitive and well-designed composition software.
Once the software has been downloaded, you simply drag your QuickTime video file over the icon and Abaltat Muse 2.0 immediately analyzes the color, tone, and timing of the video file. Video clips need to be in the QuickTime format for this application and can be converted in Apple's iMovie or other conversion software. Pressing the Compose button, Abaltat Muse 2.0 composes a unique soundtrack using algorithms based on the color, depth, tone, and timing of the video clip. Once the application has completed its video recognition, a color timeline window appears with the dominant colors that are apparent in the video. This allows for further customization of the soundtrack.
You can insert keyframes to adjust volume, instruments, pan, transposition, and scale. There is also an option to add harmony with the color tracker option. More on that feature later. If the video clip has unwanted sound or voices, the software has two volume controls, one for the movie and one for the soundtrack music, so you can mute the unnecessary noise of the film. There is also a setting to use dual monitors, one for the color timeline, and one for the video editor.
After the Compose button is pressed, a menu pop-up allows the user to select the type of band and preset. There are seven bands to choose from: Atmospheric, Ensemble, Hip Hop Classic, Minimalist Orchestral, Minimalist Electronic, Percussion, and Retro Tech. Each band mode has several different presets that can be selected to make an original soundtrack. An advanced mode allows the user further creativity by changing complexity, tempo, jingle, time signature, drum patterns, and a melodic or freestyle compositional method. The advanced mode would appeal to users that are familiar with musical composition and style. Abaltat Muse 2.0 composes five tracks: a main melody, a secondary melody, bass, drums, and effects. Once the basic and advanced selections are made, the software loads the musical files, and in under five seconds, a basic soundtrack is created. I found that some of the soundtracks definitely need editing as they tend to be repetitive and have a somewhat canned sound.

An outstanding feature of this application is the ability to add harmony and change instrumentation based on the dominant colors of the video. In the following video tutorial clip from Tunepresto's website here, the clip is based on a spaceman as a tourist. The software allows the user to insert keyframes based on a color, in this case the white of the spaceman's suit, and add instruments, volume, or harmony when particular color or colors appear in the video. This feature allows the user to make a unique musical score with tonal accents. For a wedding photographer, the capability to musically accent a color would be extraordinary for a wedding video or slideshow.
To illustrate the lack of musical ability on my part and how easy this software makes it to arrange an original score, I composed the following soundtrack in under ten minutes. This is a short video clip of jellyfish while visiting an aquarium. I used the Ensemble band with the The Deep preset. I changed the tempo in the advanced settings and added three keyframes that added a harp and a string section to the melody. I added a color tracker keyframe for the color of the white jellyfish for a volume change. I was impressed that the software analyzes the completion of the video and the music stops exactly in the right place.
Abaltat Muse 2.0 allows for soundtracks to be exported as AIFF, WAV, or MIDI files, track by track or as a completed composition. The MIDI files can be further enhanced and edited in Apple's GarageBand, Logic, DigiDesign Pro Tools, or any other MIDI sequencer. I exported the jellyfish MIDI file into GarageBand, added a grand piano to the strings and I preferred the richer, more harmonic sound of the composition. I think the ability to export the MIDI files is an asset of the application and Abaltat Muse 2.0 complements other MIDI software. The controls allow for endless editing to build a strong musical composition. This ability is valuable to photographers, videographers, or designers that need to set a presentation quickly to music without the hassle of paying for copyrighted soundtracks or songs. Every composition you create is yours to use any way you wish.

I did have a small problem when I attempted to drag a video file over the Abaltat Muse 2.0 treble clef icon. The application loaded without incident but after I selected the band and preset I desired, an error message window stated "Synthesis Plug-in Not Found". I am running Snow Leopard OS 10.6.5 and on Tunepresto's website they explain a crackling issue with Tiger OS 10.4 that can be corrected by turning off airport. No apparent problems with later Apple OS. I emailed Tunepresto's support late at night and had an answer by 2:47 am MST. Very impressive follow-up. The technician suggested to uninstall and reinstall the software which I had already done and the application glitch was resolved. I had no further problems when files were dragged over the icon or opened within the application.
Tunepresto has a user friendly website that is easy to navigate. In addition to offering a free 7 day trial of Abaltat Muse 2.0, in the support section there are many video and written tutorials, and customer's video soundtrack presentations. Tunepresto's website states that new bands for the software are being developed from customer feedback and ideas from musicologists. Aside from the fact the unedited music tracks may sound a bit tinny and uninspired, I found that the application's editing tools made composing music a fairly effortless task. Simple background music or more complex compositions can be created with facility. As a non-musician, I have found that other music software can be very intimidating and present a long learning curve. That is definitely not the case here, the user interface is well-designed, intuitive, and visually appealing.  Tunepresto has created a remarkable application for anyone that needs to create a distinctive royalty-free musical score.
MyMac Review Rating: 8 out of 10