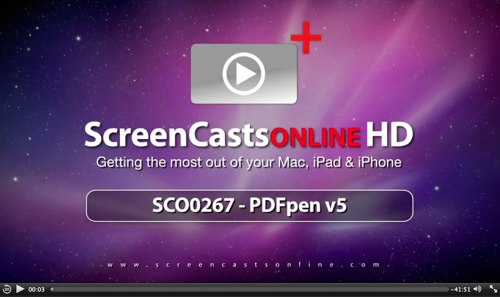 It seems as though Don McAllister is determined to provide detailed tutorials on every available application for the Mac. The site map for his ScreenCastsOnline.com (SCO) website is daunting in its scope. Many of the "shows," as Don calls them, are free, so you can give the format a trial to see if it suits your needs. The shows start with an opening sequence, then the main body of the show is broken down into several scenes, with a wrap up at the end.
Full disclosure requires me to say that Don is a Brit, as am I, but if you can understand Paul McCartney you should have no trouble following the SCO soundtrack. Don's enunciation and pitch are particularly suited to an international audience. His delivery is evenly paced, and evenly spoken, so even if initially he sounds foreign to your ear you will soon attune to his voice. High production values and visuals, but especially sound in this context, enhance the experience.
The SCO show format is a weekly event (with a generous dash of extras) that is sometimes a "MacMontage" (themed or covering several different applications) and other times concentrates on detailed coverage of a single application. Some shows are sponsored, with the recording destined for the sponsors website as promotional or educational material, but there is no bias. Other than Don's own genuine enthusiasm, this is only about helping the viewer, not about pushing products.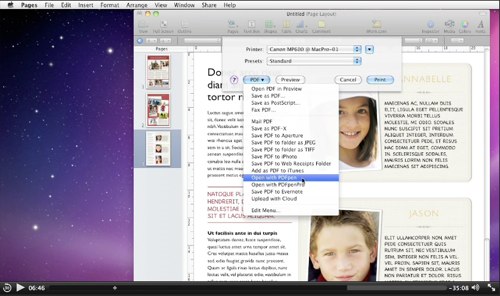 One show each month is free as a low resolution download, but a single tier membership deal gets you access to all new shows for three months, and includes access to the complete SCO back catalog and higher resolution versions. Renewals are available for shorter periods or discounted for longer periods. The higher initial commitment is justified because of that free access to the complete archive of all shows. The offers are clearly explained and there are no catches: if you didn't get what you expected you may have reading comprehension difficulties!
SCO270-272 (Don uses a leading zero that has been omitted in this review) are three MacMontage shows. SCO267 covered the recent upgrades to PDFpen and PDFpenPro and was a free show, so you can check it out for yourself on the SCO webpage for that edition, or go for the iTunes or iPod versions. The production is remarkably consistent — if you enjoy this show as a sample, then you are assured of enjoying other shows that interest you.
The coverage moves lightly between basic information for beginners, from explaining how to use the Get Info menu command to associate certain file types with certain applications so those files open in the application of your choice, to how to implement a workflow for the more experienced viewer. This is done so nimbly and seamlessly that viewers in one or other demographic will not be either left behind or frustrated with the slow pace. Absolute beginners may struggle to transition from one level to another just because of the amount of information, but not because it is not clearly presented. However, one would usually expect absolute beginners would not attempt to use a sophisticated PDF editing application, but if they did, then this "watch it as it happens" method may be the best way for them to learn.
SCO267 moves through the features of version five of PDFpen and PDFpenPro, noting where features have been introduced in the new version, and which features are available in both levels or just the Pro level of the application. Don is a straight talker, meaning there is an absolute minimum of those "umm" and "ah" sounds that plague so many speakers. To operate an application as smoothly as you will see in the show requires considerable skill, but to explain fully what is going on as it is being done is only just short of magic. Try it yourself some time, using the application with which you are most at ease, and your admiration for such skills will grow enormously. If Don relaxes by juggling full throttle chainsaws while reciting Chaucer it would come as no surprise.
The show wrap up has another delightful feature sometimes available from SCO, the money saving offer! Occasionally, Don is able to offer his viewers a discount to purchase the application he is demonstrating. Full details are shown at the end of the tutorial, and can also be found on the SCO web site within that show's page. Free tutorials and money saving offers: what are you waiting for?