Multi-Card 24-in-1 USB Reader
Company: Lexar
Price: $29.99
Product Page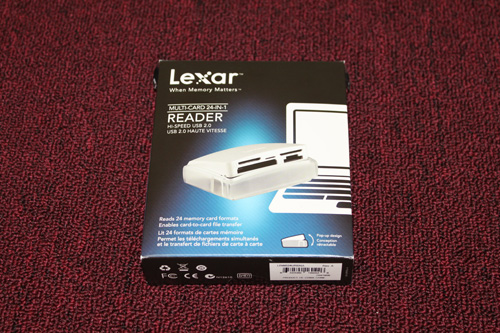 If you ascribe to the Boy Scouts' motto, "Be Prepared" then the Multi-Card 24-in-1 USB Reader from Lexar is your kind of card reader.
DESIGN
With its innovative pop-up design, the 24-in-1 USB Reader from Lexar, provides its user with a compact and effective solution for transferring data from a wide array of memory card formats.
This is a feature rich memory card solution. One of my favorite features is the ability to read multiple cards from multiple card slots, simultaneously. This feature allows for card-to-card file transfers between cards in different slots. There are many different features packed into this small wonder. For more on the feature set, jump to the product page.
USABILITY
I found this versatile card reader from Lexar, to be reliable and easy to use. As an iPad user, using the Apple Camera Connection Kit in conjunction with this product allowed me to bring my images directly into the iPad and expanded the SD only option offered by the Apple solution, dramatically.
When testing the simultaneous transferring of multiple card formats, I found this option to be very practical. Think in terms of being able to use all of your different card formats to transfer data from computer to computer or, when you are traveling, as straight data storage. This option alone makes this product worth the price of admission.
MyMac.com Review Rating:
The are many card readers on the market. Lexar has separated itself from the pack by building a better mouse trap. The Multi-Card 24-in-1 USB Reader offers usability (innovative pop-up design), Versatility (24 different formats in one unit), and a good value ($29.99). I am awarding this fine product an 8 of 10 in our MyMac.com rating system.