Casestand
Company Macally
Price: $29.99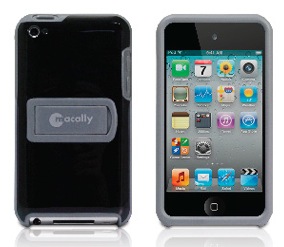 Are you looking for a case for the new fourth generation iPod Touch you just got as a present over the holidays? If you are, I suggest checking out Macally's new Casestand.
The Casestand is one of the nicest cases I have tried for the new Touch. It has a flexible black back with a rubberized edge (yellow or grey) that goes around the screen. The same rubber covers the power and volume buttons, but leaves an opening for the back camera and the bottom os the iPod where the ports and speaker are. Around the buttons the black bleeds through on the yellow. Not a lot, but I prefer the grey case. where this does not happen. Â The same accent color also is used in the best part of the case- the flip out stand that lets you rest your iPod on a surface at an angle. My only disappointment in the stand is the angle is to low, but the stand seems to work fine if you adjust it and don't rest it so far back. The stand is also tight and not easy for a toddler to open up and bend back and break (yes, that has happened with other cases to me).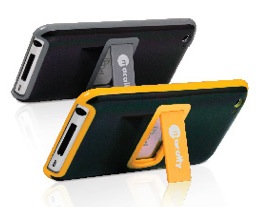 I have a similar case from another manufacturer and I prefer the Macally case for the following reasons. First, the rubber over the buttons fits nice and snug to the buttons. The other case I have has a space between the case and the buttons and you have to push harder to get the buttons to work. The Macally case is right up to it and works as if the case wasn't even there. The second reason is the weight. The Casestand is light and adds minimal weight and bulk to the iPod, unlike the other case I have.
Like all of the Macally iPod Touch cases I recently reviewed, this comes with an adhesive wipe that sticks to the back of the case for cleaning the screen. A nice touch and addition to the case. As I have said before, these wipes are fantastic.
You definitely will not go wrong by choosing the Casestand to protect your new iPod.
MyMac.com rating 9 out of 10