I love technology. I may not be an early adopter, but eventually I get all the latest and greatest: Kindle, iPhone, iPad, Flip Mino…well, you get the idea. Does this make me a material girl?
Yes. And no.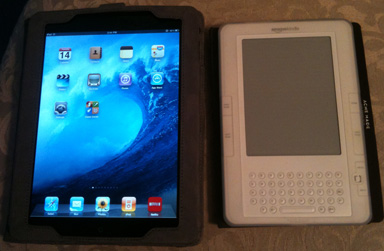 To me, there are two definitions of materialistic. The first describes a person who wants the most expensive and flashiest item(s), whether it's a computer, car, big-screen TV, or any other big-ticket item, just to show friends and family that he can afford it, even if he can't. That kind of person doesn't care what the product can do. He probably didn't research the market, or compare and contrast several brands. He bought what was popular because others are doing the same thing. This, my friends, is the ultimate in materialism: showing off.
Now you're wondering if the paragraph above describes me; after all, I did say I was materialistic. No, I fall into the second definition of materialistic. I'm someone who wants anything to do with computers and gadgets. As mentioned earlier I own a lot of technology. The difference, though, between me and someone who buys to impress, is that I use what I buy. I read on my Kindle while walking on the treadmill at the gym, or lounging by the pool in the summer. My iPhone is always with me to stay in touch with my kids and keep up with email. I watch TV shows and movies with the Netflix app on my iPad almost every night. As much as I covet whatever cool new gadget is currently on the market, I won't buy it if I have no use for it.
There is an up-side to all my technology love: friends and family refer to me as a "technology guru," and come to me with all their gadget questions, both before and after they purchase a particular item. Ah, to be loved!
So, according to my definition of materialistic, I am because I have so many "toys," as my husband calls them. But I'm not materialistic because I use what I have.
What do you think? Let me know by leaving a comment below.