Moo
Company: MOO Printing
Price: $21.99
Product Page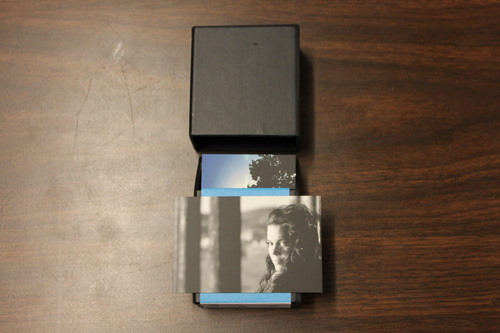 Rarely does one use the words beautiful and elegant when speaking of business cards. Generally, business cards are a necessary evil which are, for the most part, an after thought thrown together without much effort or design. The great people at MOO Printing have changed the game in the, seemingly antiquated, printed business card space. Read on and find out why business cards have been reborn.
PRINTED MEDIA IS DEAD?
In this age of electronic everything, the funeral dirge for the print media has seemingly been on a continuous loop by those who would hasten its death. The popularity of the ubiquitous iPhone and other devices like it have spawned electronic business card Apps like Bump and many others which seek to remove the need for carrying a printed business card.
With its affordable, customizable, full color, business card printing service, MOO has taken a huge step toward reviving the dying printed business card market while reminding us all how important that little piece of beauty and elegance can be to our businesses.
DESIGN WITHOUT LIMITATION
MOO offers its customers premium business cards which can incorporate one of MOO's own templates, or, and this is the best part, you can design your own card and upload your own beautiful images and have a different images on every card. Imagine the possibilities as an artist. Handing a potential patron or donor a replica of your art, would no doubt have a lasting impact on that individual.
The design processes begins when you select the Make Business Cards button on the Business Cards product page. From there, one can choose from one of MOO's designs or design a card yourself from the ground up. If you are an artist, you may upload your scanned artwork for use on your custom cards. You can chose one image for all of your cards, or you can upload a different image for every card. You can even try before you buy. Simply choose one of MOO's designs or upload up to ten of your own images. You can even upload an image from one of the popular sites like: Facebook, Flickr, Picasa, or SmugMug. For more information about the options and specs of these business cards, jump to the product page.
USABILITY
The Design Processes: MOO has made the, sometimes frustrating, process of online design and printing fairly painless. Simply select the Make Business Cards button and you are presented with straight forward options for uploading your own pictures or choosing from the MOO offerings. Once the front picture has been chosen, you can place your logo and contact information on the reverse side. I did have one issue while my images were uploading to the MOO servers. The process hung on one of the last of 25 images I had selected for the custom business cards. I started the process again and it worked just fine. All in all, MOO has done a nice job with the design and order process and the interface.
The Final Product: I must say, when my cards arrived, I was very pleased with the nice box they were packed in. The box can double as a nice travel container to keep the cards in while you are on the road. When I opened the box, my eyes were treated to a stack of beautifully printed and elegant little works of art. Each card was a presentation of my digital artwork. I found myself leafing through the cards time and time again because I just loved to see my images in this diminutive but elegant format. I thought to myself, "How am I going to give these little works of art away? I want to keep them for myself!" However, the cost of printing was very reasonable and made the prospect of giving away these little pieces of my heart, more tolerable. If making a good first impression is indeed critical to establishing a profitable business relationship, than these cards will be the best investment you can make.
MyMac.com Review Rating:
MOO has distilled the whole process of printing business cards down to a manageable and practical endeavor. Additionally, their product is beautiful and elegant. I would highly recommend MOO Business Cards to anyone desiring to make an impactful first impression. I am awarding this fine product an 8 of 10 in our MyMac.com rating system.