Muzx Ultra Headphones
Company: Altec Lansing
Price: $99.95
Product Page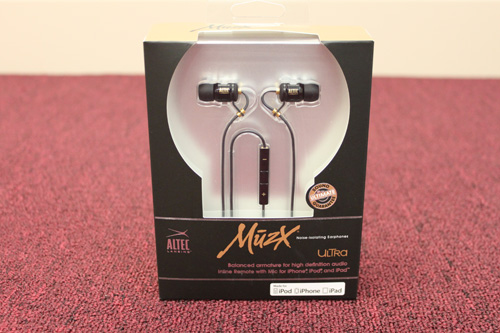 As one of the best audio system manufacturers on market, Altec Lansing has long been known and revered for their portable audio systems designed for the many different portable music players on the market. So I was anxious to try out a pair of their earphones in the hopes that they would possess the same quality and performance as the famed audio systems. Read on and find out how they stacked up.
DESIGN
The Altec Lansing Muzx Ultra earphones are designed with a full-range miniaturized speaker with built-in amplifiers. The balanced armature speakers are professionally tuned to achieve a level of sound suitable for musicians. The unique cord design minimizes the friction noise one can hear when the cord moves around during body movement. The SnugFit design along with the 8-piece kit of silicone tips, ensures that you will have a great fit and superior passive noise cancellation. For a more complete description of the specs, jump to the product page.
The overall design, fit and finish of the Muzx Ultras are all very telling of Altec Lansing's design ethos. From the black earpieces, remote, and cord to the nice case, it is clear that Altec Lansing was not only interested in the audio quality and performance of these high-end earphones.
USABILITY
Audio Quality: I must admit, the Muzx Ultras performed very well. The sound stage achieved by these diminutive giants was very pleasing. With the overall sound quality tuned towards a neutral bias, I found the mid and treble tones to be spot on. If you are wanting earphones that will shake your eardrums like that custom car sound system that drives by your house at night just to shake your windows, these are not the earphone for you. However, if you want a quality production of the sound spectrum, these earphones should be on your short list.
Comfort and Convenience: With a nice assortment of silicone tips, I was able to find a nice fit for my picky ears. The cord is of a quality level to insure that it lays down properly when you are using the Muzx Ultras. The remote worked well and I found the mic picked up my voice nicely.
MyMac.com Review Rating:
The Muxz Ultra earphones from Altec Lansing are a great set of ear phones for anyone who enjoys an accurate presentation of their music collection. I am awarding this fine product an 8 of 10 in our MyMac.com rating system.