DryZone Rover
Company: Lowepro
Price: $309.99
Product Page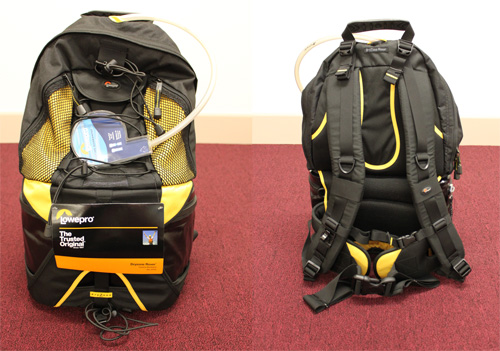 If you are a photographer who needs a bag to brave extreme weather, the DryZone Rover must be on your short list of candidates. However, how you plan to travel to that destination could change your ultimate choice in an all-weather camera bag. Read on and find out why.
DESIGN
On the surface, building an all-weather camera bag that provides your precious equipment superior protection from the elements while keeping you hydrated would seem to be an exercise in futility. After all, the goal is the keep the water out, not actually load water into the same bag as your very expensive camera gear. However, Lowepro actually pulled it off.
According to Lowepro, the DryZone Rover is the first backpack designed to safely carry both a hydration system and camera gear in the same bag. By incorporating a waterproof lower compartment and an upper compartment that can provide that needed H2o on those remote shoots, Lowepro has indeed forged a formidable partner for the extreme photographer. For a closer look at the full specs of the DryZone Rover, jump to the product page.
USABILITY
Upper Compartment: The upper compartment of the DryZone Rover was easy to access and very roomy for extra equipment that could survive a little moister in a worst case scenario. If you find that you don't need the hydration system, you can remove it and use the extra space as a nice iPad compartment. However, make sure to place your iPad into a protective sleeve because the hydration pouch does not have any padding onboard. Outside of the upper compartment, there are additional storage pockets for those items you need to access quickly. All in all, the upper inner and outer compartments of the DryZone Rover were very well designed and exactly what one would expect for the leader in camera portable storage solutions.
Lower Compartment: The lower compartment of the DryZone Rover is really the business end of this hearty camera backpack. Lowepro has designed this compartment as a separate pod protecting the expensive and sensitive equipment inside through a multi enclosure cocoon. The inner core of the compartment is a separate padded camera compartment with configurable velcro dividers suitable for a body, lenses, memory cards, and pro-level flash. This part of the compartment is pretty much the industry standard for this type of backpack styled camera bag. Once loaded, a zippered enclosure closes this inner core of the compartment. This inner core is designed to be removed so that the lower compartment can function as a watertight backpack for the non photographic journeys into the jungles of wherever.
Once the inner core of the lower compartment is packed and sealed, there is a secondary outer seal that must be closed. This is a very heavy duty watertight zipper that I found to be very difficult and cumbersome to close and open. Lowepro does include a lubricant for the zipper system, but having applied the lubricant material, the zipper still required a great deal of effort and time to open and close. It is probably a reasonable trade off considering the level of weather protection the bag affords its user. However, if you are in the elements and need to remove your gear for that important shot, it had better be a shot that will stay posed for a few minutes while you extricate your gear from the vault that is the lower compartment of this bag.
Shoulder Strap and Support System: As with all Lowepro products, the shoulder straps and waste strap are well placed and padded. I found the support system, when the backpack was loaded with gear and personal items, to be well supported and non-straining on my back.
Overall Weight: While the DryZon Rover definitely has the right stuff to protect your camera gear in extreme weather conditions, all of that protection comes at a cost. The DryZone Rover starts out at a "dry" (pun intended) weight of 4.94lbs. By camera backpack standards, this is a heavy bag. It is, of course, understandable when one considers what is needed to properly protect the precious cargo. However, the problem presents itself when one is attempting to carry the DryZone Rover on an international trip to the UK.
TSA rules will only allow a carry on bag to weigh 13 lbs. This restriction puts the DryZone Rover at a disadvantage because of its empty weight. If the goal is to keep your expensive equipment with you on the plane instead of your checked bag that will surely be rifled though by every curious TSA agent, you will be left with very little equipment due to the weight restrictions. Yes, you could pay for another checked bag, or send a package ahead to a safe location, but all of these options come at a substantial monetary cost.
MAKING A GREAT PRODUCT EVEN BETTER
There is no question that the DryZone Rover will protect your gear during those extreme conditions. I would like to see this product go through a redesign and become lighter in its overall weight. This would allow it to provide a reasonable amount of gear storage for both domestic and international flights.
Additionally, the outer zipper mechanism for the lower compartment, needs to be a bit more manageable in terms of the effort required to open and close it. Practically, as a camera bag, it takes too much effort and time to get the gear out for that once in a lifetime shot.
MyMac.com Review Rating:
The DryZone Rover by Lowepro, is indeed one of the best all-weather backpacks on the market today and worth the cost when one considers the cost of the equipment it is protecting. However, there are some refinements and improvements that could make this great product even better. I am awarding this fine product a 7 of 10 in our MyMac.com rating system.