iSkin Cases – The Touch Duo and The Vibe
Company: iSkin
Price: $34.99 USD Touch Duo, $29.99 USD Vibe
Website Links – Vibe – Touch Duo
If you are like me and can't afford the latest iPod Touch, or there is nothing wrong with your 2nd/3rd generation iPod Touch, you can help make that iPod last longer with a great case from iSkin. Today we'll be looking at the iSkin Vibe and the Touch Duo cases.
These cases offer remarkable everyday protection for your iPod Touch, a level of protection you usually don't find in other products.
The iSkin Vibe: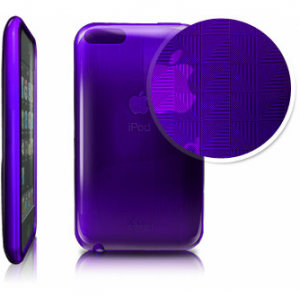 The iSkin Vibe is a body cover with a screen protector. The body cover is a flexible polymer that completely encapsulates your iPod touch. The Vibe almost completely covers every opening your Touch has. The power switch and volume rocker are covered, but fully functional. The Vibe includes a detached cover that inserts into the connector port and keeps junk from accumulating. The only opening is the headphone jack.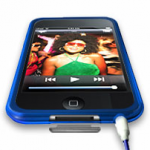 Another nice plus: the Vibe comes with an iPod Dock insert so you can charge your Touch simply by removing the tiny detachable cover over the connector and plugging your iPod into your Dock.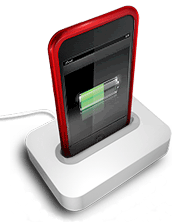 The Vibe also comes with a clear screen film and an alcohol rub to remove any oil from the screen before application. Application is easy and without liquids unlike some other films. The non-adhesive film comes off easily. I wish companies that supply a film would supply two. That first application can be dicey sometimes.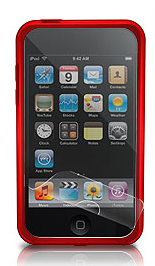 The Vibe comes in five delicious colors with a high gloss low profile design that looks great on your iPod Touch. I really like this cover.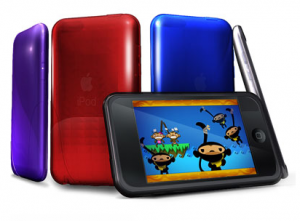 MyMac Rating: 9 out of 10
The iSkin Touch DUO:
The iSkin Touch DUO is a silicon wrap that also encapsulates your iPod Touch.
Every port is covered and unlike the Vibe, the Touch DUO has a flap at the bottom that covers your connector port rather than a detachable cover. Also, unlike the Vibe, you can't simply plug your Touch into your docking port, because you will have to use a cable. There are plusses and minuses with each approach. The little detachable cover on the Vibe can be lost.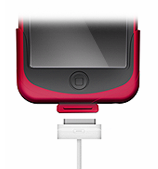 The Touch DUO comes with a screen film, but it is an anti-glare/anti-fingerprint film. Additionally, there is an optical clear coated visor screen guard that snaps over the screen and fits into groves on the side of the case. When not in use this guard is stored by attaching it to the back of the case. The touch screen does not work with the visor connected. It is for protection only.  The iSkin touch DUO features Micro-ban antimicrobial protection to inhibit the growth of oder and stain causing bacteria.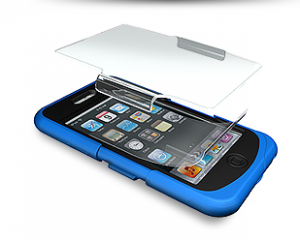 The Touch DUO comes in four stunning colors that will fit any fashion concern.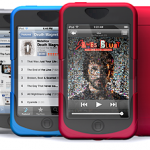 Protection and style, what more could you ask for in a case.
MyMac Rating: 8 out of 10