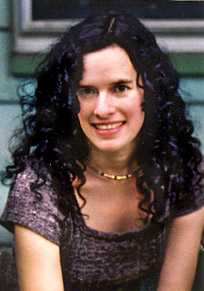 MYMAC: I understand you've always used Macs. Give us a summary of your timeline through the evolution of the Macintosh.
LISA: Apple IIe was the first. Then Performa, Power Mac, eMac, and now a new iMac (10.6.4) bought hot off the presses early August (the week after it came out). I wrote my first book, This Fantastic Struggle: The Life & Art of Esther Phillips on the Apple IIe (after longhand, much) in 1994-5, so I was always behind the times until my eMac of '05 and better yet this iMac. My younger brother, working in Silicon Valley in the late 90s, provided me the Performa and Power Mac as hand-me-downs from his company, low-income creative artist that I was!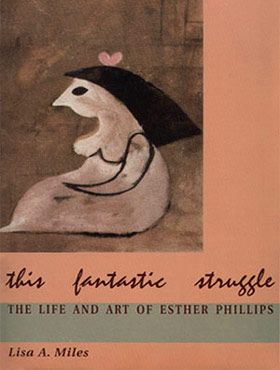 MYMAC: You're also a musician. How have your Macs been involved?
LISA: Nothing fancy yet added to my hardware or software. I of course manage all my original music in ITunes.
MYMAC: What is your original music like? Where and how can we hear the best examples?
LISA: "Classical Punk" my background has been called, as I have played both in symphonies and independent bands, and my music is surely fed by both classical and the Clash, for example (and I have a piece called "Classical Clash"). How honored I have been that I was recently awarded some grant support from the Joe Strummer Foundation for New Music to get my work out via an invitation from Parma Recordings (yet again a unique blend of classical and the underground). My compositions can be intense, edgy, and ethereal. It's original music that is at various times driving, chordal, overdriven, dissonant, rhythmic, and spacious (from both independent rock & classical forms). My pieces are sometimes intricately woven with multi-recorded tracks, including original text and site-specific improvisation and movement, and certainly my Mac comes in handy there.
Your readers and listeners can get a taste from these online tracks and book excerpt, plus a TV interview on my cultural work and writing here. Under MP3 Music Samples, go to 1st "album" Lisa Miles: Original Music, and play #1: Driving. I wrote this for violin and cello. (E. Snyder plays on it.)
Play the Automatic Slide Show. You'll be hearing original music I wrote for my performance piece Presence (with indeed some text interwoven) while seeing images of the performance. Â (I wrote music for, directed, and produced this piece, which was a collaboration with Jungian therapists, glass artists, and others.)
This web page brings you to the main page about my book, and I have chosen some excerpts rather randomly, as I think you may want to peek here and there at the excerpts presented yourself (easily found from the main page).
MYMAC: I saw that you have a performance piece on your site. How did that come to be? Is your Mac part of your multimedia experience?
LISA: My Macs have always allowed me to fully experience my creative performance work, including having visuals, slideshow, and audio on my website for my piece Presence (on finding authentic self).
MYMAC: Do you do a lot of collaborative work? Again, where does the Mac fit in?
LISA: Presence was a collaboration with Jungian therapists and other humanities professionals. Yes, I love working with other creative voices, melding my vision with theirs: filmmakers, dancers, theatre and visual artists, and other musicians. The Mac always comes into play, as I easily store, send and share audio, visual files, and writings.
MYMAC: Has storing and using all that content been easy with your Mac? What hardware and software solutions do you use?
LISA: Previously I purchased extra storage capacity for the eMac. That has not been necessary with the new iMac. I am a musician, creative artist, writer, and teacher, and I have tons of audio, visual, and raw research data needs. I also have an external hard drive that seamlessly provides me Time Machine access.
MYMAC: What other professional interests do you have that involve working with technology?
LISA: Here's a list, John:
• Advocating The Artist as Worker, including all creative digital designers
• Stimulating Communities Via Their History, involving some creative use of GPS systems to have schoolchildren map out old historic sites
• Consulting with businesses on the creative use of employee individuality, including unique interpretations of technology in the workplace
• Historic consulting, utilizing full capacity of raw data dissemination electronically to better share land plot and structural history
• Sharing with other artists that DIY (Do It Yourself) is a viable option, with the right blend of professional (yet still unique) attitude, perseverance, and technology that will enable individuals to work on their own websites, publish their own books, distribute materials, and bill for services using all capable technology. I am an independent publisher and distributor of all of my works, including two well-received books. I coordinate all audio, graphics, and production elements from my Mac, then I employ creative professionals to "make happen" what I play around with conceptually and visually in a layman's fashion on my computer. I am NOT a visual and graphic artist and I work with a damn good sound engineer. I manage my own billing, including via American Express Accept Pay, and storage and distribution of books and CDs. None of this would be possible without the best operating computers out there (and occasionally the help of my husband Jan and his truck, especially upon first publication).
MYMAC: In what way has your Mac shaped or influenced your identity as a creative artist, writer, musician, speaker, and educator? Where does a personal computer intersect with your creative process?
LISA: "I work on a Mac." I've been saying this proudly with good reason since the mid-90s and always will. I actually consider my creative identity intrinsically woven together with my being a Mac person. It is as much a part of my identity as my Subaru wagon that I drive my instruments and amp and old historic maps around in, or my liberal political views, or where I live in a cool old three-story house on a hill in Pittsburgh, Pennsylvania, or the punk spirit I have always retained. I don't know how others can work on Windows PCs, especially people in the creative fields!
MYMAC: What else are you looking for from your Mac computer experience?
LISA: I do a lot of speaking engagements (including Keynote presentations) and will now employ iWork's Keynote (which came with my new iMac) for my presentations. Â I have visuals of Esther Phillips' art (from my book This Fantastic Struggle) previously only for overhead projection or slideshow. Now I can develop visuals far more accessible in presentation.
MYMAC: Where can we read some prior reviews of your creative projects?
LISA: You will find handy links here.
MYMAC: Any closing thoughts?
LISA: My wish list for a software program is the following. Perhaps someone can let me know if it is out there. I would like to be able to play my violin or mandolin (acoustic or electric) into a microphone that feeds into my Mac, and to have the computer then generate for me the notated musical composition that I created. I compose not by written script, but hands-on, direct from my instrument. It would take a long time, though I am trained to do so, to notate out my many compositions. Much too long, getting in the way of other creative work.