Adobe Premiere Elements 9
Company: Adobe
Price: $99.99 for Standard,
$149.99 bundled with Photoshop Elements 9,
$139.99 with Plus
Note: I am writing this review as iMovie '11 is being released. I have note tried iMovie '11 and any iMovie references are to iMovie '09.
If you are an iMovie user and frustrated with the limits of the current version, Adobe Premiere Elements strives to be the next step. Premiere Elements is like iMove 09 on steroids. You can edit your movies, add effects, and export them in a variety of formats for viewing. I view it as the movie editing program for everyone. However, I found it to be harder to use than I had hoped, and not something I would say is for everyone.
When I first started using Premiere Elements, I was a little confused. I am an iMovie user and the interface of PE is a lot different. It does not feel Mac like at all. Even saving a movie uses an interface outside of the normal Mac save window. I found it clunky and confusing.
Parts of the program I found easy and self explanatory while others were not. For example, editing a movie clip was very easy. The clips appear in the preview window with sliders underneath. Just dragging the sliders edits your movie instantly. If you want to change it just drag the sliders back. Other editing steps like cutting out the middle of the clip were not so obvious and I had to use the help system. Once I figured out what to do, it was easy.
With that said, the help system is fantastic. I was able to find exactly what I wanted each and every time. Although, I probably needed it too many times.
One nice thing you notice when using Premiere Elements is the speed for importing movies, especially when compared to iMovie '09. Clips import instantly (assuming they are already on your hard drive and not being imported from a camera). No spinning beach as clips are imported. However, while it imports clips very fast, my iMac gave several beach balls when doing the actual editing and effects rendering.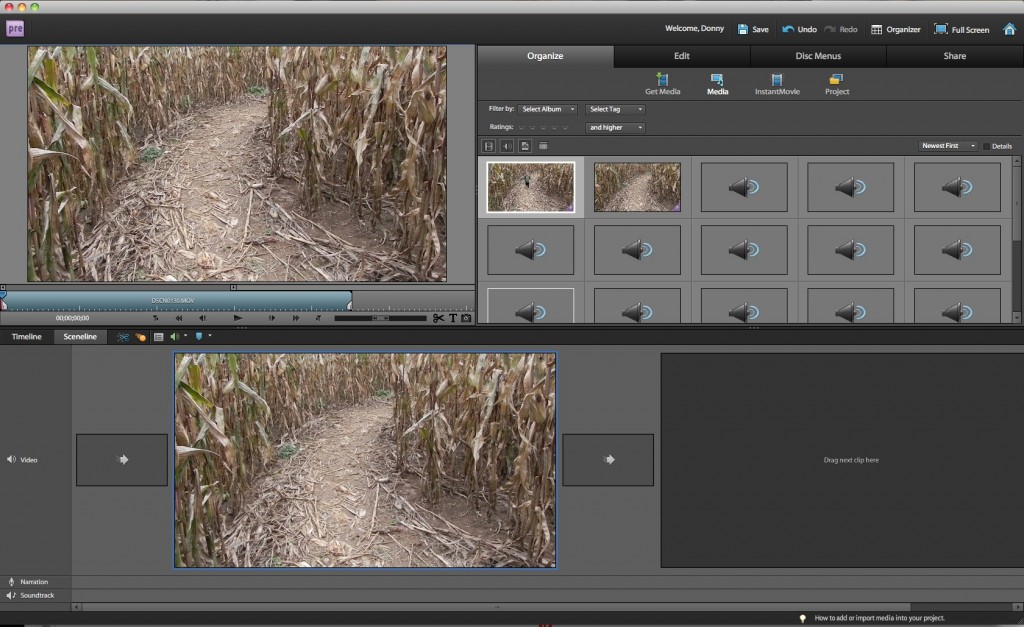 Speaking of effects, Premiere Elements is packed with effects that you can apply to your movies. Many of the effects look like they were taken from Photoshop. For example, I can apply a cartoon effect to a clip and the entire clip will get the cartoony/outline look. In my opinion, the effects are some of the cooler parts of Elements.

In line with effects are transitions. Just like with effects, there are a ton of transitions for moving clip to clip in your movie. This hold true for titles, too. However, I found inserting a title to be very clumsy. I would pick the theme and insert it into my movie but trying to click on the text and edit it would either let me edit the text, create a new text box, or do something else unexpected. It started to get very frustrating.
Here is a link to a test clip I did experiments with various effects. This took about twenty minutes to complete, which seems like too long for this small a clip. In iMovie '09 I would have done something in less than five minutes.
Another nice touch is the ability to create a DVD within Premiere Elements. PE has templates for DVD menus, and you can layout and burn the DVD right within the program. You can also choose to convert the movie and menu into an online presentation via Flash. Doing this converts your movie, menus and all, into a flash movie that can be uploaded directly on the web for all to see.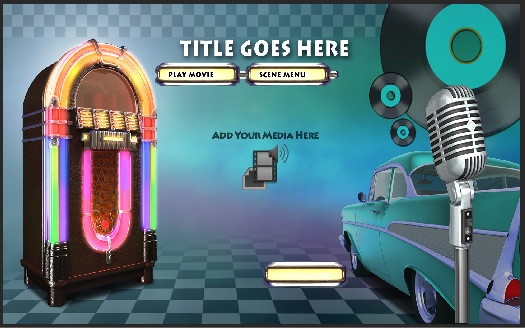 These movies can be exported and uploaded to you MobileMe account or you can open and close them within iMove. However, you cannot directly export to MobileMe within the program. This would be a great feature, if possible. As I said earlier exporting is very clumsy and cumbersome.
If you really want to get simple, there is an instant movie feature. You select the clips, pick a theme, music, etc. and Premiere Elements make the movie for you. You do have to have at least 4 minutes of clips, which for some might be restricting. You might have a two minute movie of your kid that you want to quickly put something together and you cannot do the instant movie with that short of a clip.
As an alternative to MobileMe you can export to Photoshop.com where you can sign up for a free account and 2gb of free space. This account also works with the online Photoshop editing tools and storing photos for use there. For an additional $39 you can purchase the "Plus" package which gives you 20gb of storage along with access to online tutorials for Elements. Be aware this is an annual fee and not a one time payment. For those looking for an alternative to MobileMe, this might be a good option.
For organizing and finding your movies you use the Adobe Elements 9  Organizer. To iPhoto users this will seem familiar. I use iPhoto to store all of my movie clips and photos and then import or drag them into various applications. The Adobe Elements 9  Organizer  does the same thing. It collects your movies and clips for use in Premiere Elements (Photoshop Elements too). It even asks if you want to import your iPhoto content when you first use it.
Overall, Premiere Elements 9 was disappointing to me. It might be something another user would be happy with, but you have to be patient and willing to learn something new. If that describes you and you want a movie editor with more editing features, this might be worth you money. There is a downloadable demo available on Adobe's website.
MyMac.com Rating 7 out of 10