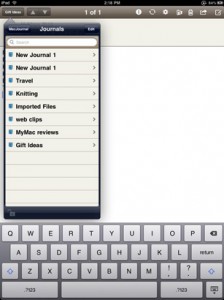 MacJournal for iPad
Company: Mariner Software
Price: $5.99
Web Page
iTunes Product Page

MacJournal is a popular application for the Mac that helps people chronicle their lives with words and pictures, update blogs, take notes in school, or just keep their lives more organized. To make sure users can get their thoughts down no matter where they are, Mariner Software recently released MacJournal for iPad.
While the iPad version of MacJournal doesn't have all the bells and whistles of the Mac version, it's still a capable, and may I add, fun app. New journals and entries are easily created, tagged, and labeled. Journals can be arranged into Smart Journals, similar to Smart Playlists and Smart Albums in iTunes and iPhoto. For added security, if needed, journals or entries can be locked, and even encrypted.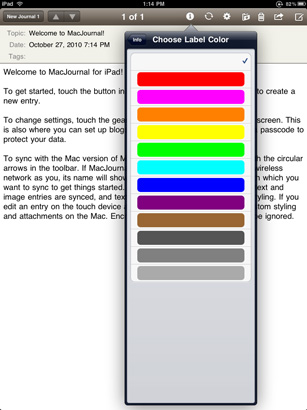 How to create a new journal: while in the Journals screen, click the edit button. Underneath the existing journals is a plus button to add a new journal. Touch the button, name your journal, then start adding entries. Click on your newly-named journal, and you'll once again be presented with a screen to create a new journal within the existing journal or to add a new entry. When you add an entry you'll give it a title and tags, then start writing. If you want to add another entry in the current journal, just click the button in the far right corner of the screen. That will give you a new page.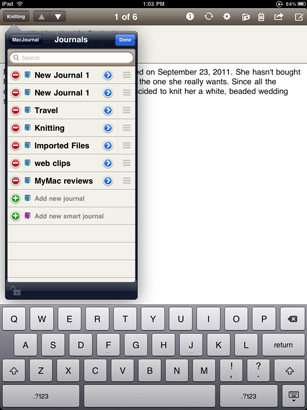 Are you a blogger? Need to update your blog from the road? I resurrected a briefly-used Blogger.com blog for testing purposes. After entering my username and password within the Blogger.com screen on MacJournal I was connected to my blog. I was easily able to upload entries, and even download entries from the blog. To upload, write an entry on MacJournal, then click the arrow button at the top right of the window. A drop down menu will give you a choice of sending the entry to a blog. If you have more than one blog, choose the blog, click Send, and your new posting is available to the world. Unfortunately, if you need to put images in your blog post they will have to wait until you can get to a computer. MacJournal for iPad does not allow images within an entry.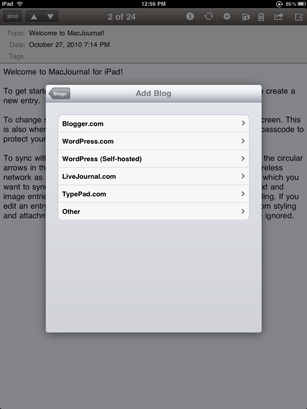 Sadly, as the saying goes, "Into each life a little rain must fall." There are a few showers with MacJournal. Syncing is the biggest issue. If the clock on your computer isn't exactly the same time as the clock on your iPad a syncing error appears on the computer. MacJournal developer Dan Schimpf is aware of this problem, and has released a beta version of MacJournal for the computer that does help with the syncing. Schimpf is quite active on the MacJournal forums and support pages, and is taking consumer feedback seriously. He's hoping to release a fix for the syncing bug in the near future.
Another problem I ran into was syncing locked journals and smart journals. I'm hoping once Schimpf fixes the clock syncing issue it will also take care of these problems.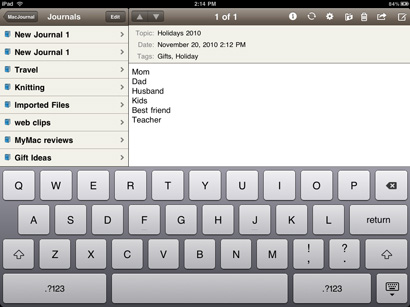 The iPad version of MacJournal is plain text only; no formatting allowed. And, no images within an entry. But there is a way around that if you have the computer version of MacJournal: photos, web links, and PDFs can be dragged into the sidebar under the chosen journal. True, it won't be within the entry, but it will be accessible within the journal. Be sure, though, to first resize the image down before you drag it into MacJournal, as there are no image editing tools on the iPad version. Once you finishing syncing, the non-text data will be on the iPad.
It's true that there are plenty of blogging/list-making/note-taking apps available in the iTunes app store, but using MacJournal is easy, plus it's even easier to find a specific entry. You can search by date, recent entries, tags, or by a word. If you already use MacJournal for OSX, then getting the iPad version is a no-brainer. You don't need the computer version of MacJournal in order to use the iPad app; each version of MacJournal can stand alone. That said, if you start with the iPad app, you may end up with MacJournal OSX soon afterward.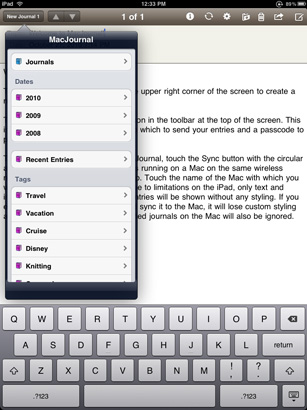 Right now, MacJournal for iPad is a slightly buggy product; however developer Dan Schimpf is aware of these problems and is working with his team and end-users to get things right. It's not too often I've seen a program developer take the time to really listen to his consumers and incorporate their comments into the final product. Once the bugs are worked out, MacJournal for iPad will be unbeatable.
MyMac.com rating: 7 out of 10 (I'm sure the score will improve after the bugs are squashed.)