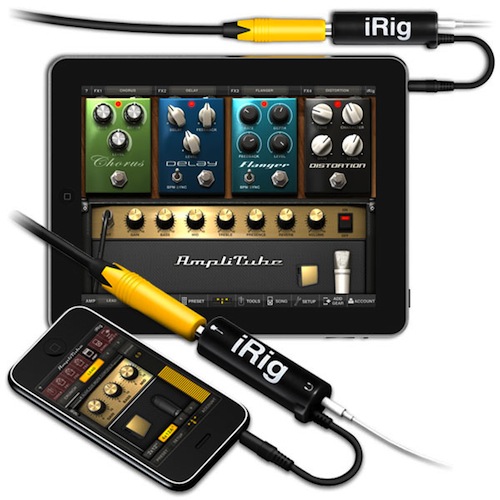 I've always wanted to learn how to play the electric guitar. So, two years ago at the young age of thirty eight I finally decided to give it a try. Mid-life crisis you ask? Maybe, but I'm having a blast! Anyone else who's worked hard at learning one of their favorite tunes knows the thrill felt when you finally hit that power chord riff or solo perfectly. I remember the feeling well as I was recently rocking out to Def Leppard's "Pour Some Sugar On Me." Hey, cut me some slack, I grew up in the eighties!
It's this new passion for the guitar that made me raise an eyebrow when I first saw IK Multimedia's new product, the iRig. The iRig is a cable interface that plugs into your iOS device's headphone jack, allowing you to connect your guitar cable to your iOS device and a set of headphones or speakers. With a separately purchased app, Amplitube, your guitar is now connected to a complete stomp box and recording center.
At $39.99, the iRig is a bit pricey for what it is, but once you begin using the setup, it's well worth the price. Combined with the $19.99 for Amplitube, you have close to a $60.00 investment in the entire setup. But with this investment you get a ton of capabilities with your guitar.
There is a free version of Amplitube which provides three stomps, one amp, one cabinet, and one mic. These offerings can be expanded via in-app purchase, but if you think you're interested in the full compliment of stomps, amps and cabinets, purchasing the full package is a better value. I do not like the fact that the iPhone version of Amplitube must be purchased separately from the iPad version. It seems like you're paying twice for the same product, which is unusual in the App Store.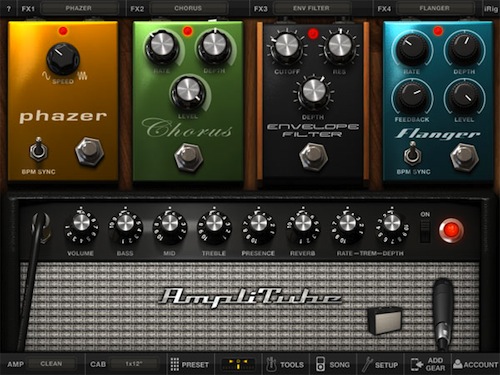 The full version of Amplitube provides eleven stomps (including delay, fuzz, distortion, overdrive, wah, chorus, flanger, phazer, octave, noise filter and env filter), five amps,five cabinets and two mics with recording capabilities. The recording features are not yet available on the iPad version of Amplitube, but I expect to see the update when iOS 4.2 is released for the iPad this month. Considering that the typical special effects pedal runs anywhere from $60-$100, the $60.00 investment doesn't seem so bad. With Amplitube, you're getting hundreds of dollars worth of special effects capabilities with your guitar.
Amplitube also has a built-in tuner, a metronome and the ability to add songs from your iTunes Library via wireless syncing. I really enjoy playing to my favorite rock tunes. You really feel like you're playing right along with the band. You can also program up to twelve presets (thirty six on the iPhone version), giving you quick access to the exact combination of effects you want for a particular song.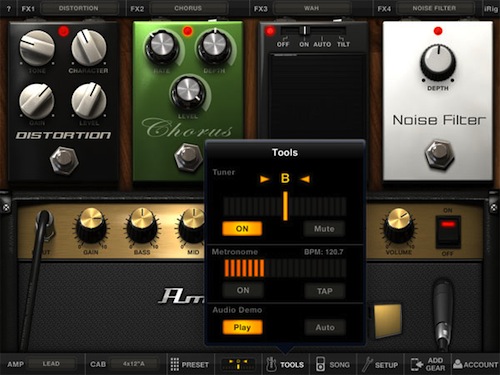 Each stomp box and amp are fully adjustable with controls that include volume, bass, mid-range, treble, presence, reverb and rate-trem-depth. The number of combinations you can produce is huge, giving you hours of fun as you explore the many possibilities.
Overall, I'd say that IK Multimedia's offerings are a great asset to any guitar player, no matter what level of skill you're at. People are definitely awed when they see you plug your guitar into an iPad or iPhone and produce some truly impressive sounding music.
MyMac.com Review Rating: 8 out of 10