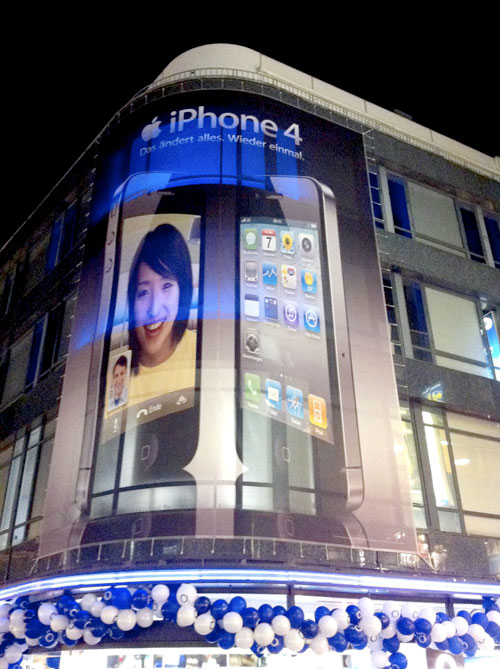 On the 27th of October the network carriers Vodafone and O2 celebrated their adoption of the iPhone 4. Already having had the iPhone on its network for some months now, eplus didn't have as much to celebrate, other than being able to sell the iPhone unlocked and free to use with all carriers now. I went to the O2 flagship store in Cologne, Germany with a friend to get her new iPhone 4 with a contract adaptation of her previous mobile contract.
O2 greeted us on that morning with free drinks, food, a DJ and gorgeous O2 hostesses. Waiting in line with my friend to get her iPhone 4, we noticed that it was taking a very long time for the five people in front of us to complete their purchases. The O2 employees informed us that their servers were not responding and that only one of their computer terminals had access to the system.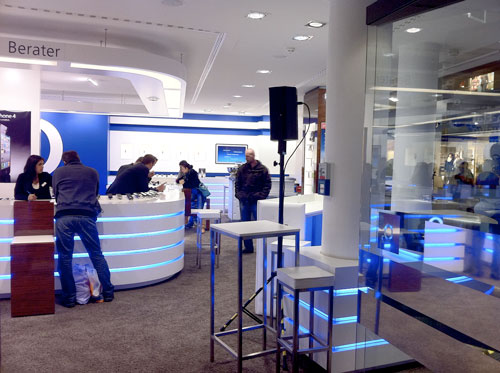 With nearly 50 people waiting for an iPhone, we knew that this would take quite some time. As we enjoyed nice conversations, the lounge music being mixed by the DJ, the drinks and the food, and we gradually made our way to the counter. Previously, my friend had been given a number, with which the employees could associate her desired contract and iPhone setup. So even when we reached the counter, it took a very long time until the computer terminal had normal access to the system again and the iPhone 4 was activated. Then we had to go to the cashier. They let us wait there for another half hour for some reason and then finally we had it.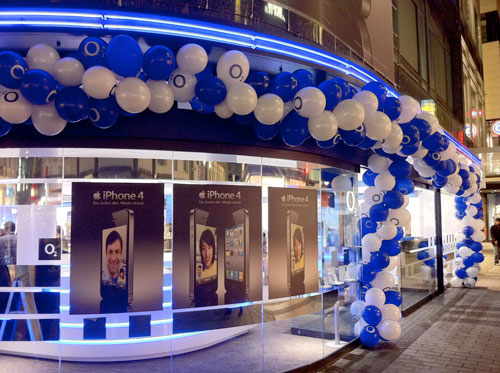 But we were not quite done yet. My friend still had to go to the service area to swap network access form her old SIM to the new iPhone 4 Micro SIM and to add an unlimited mobile data plan to her existing contract. The service guy told us that O2 could only process one request per day so she would have to wait for the data plan until the next day. That took another half hour. After about 3 1/2 hours we were out of there. Actually that is nothing compared to the waiting time of 8 or more hours that some people have in the U.S. All in all it was a fun trip.
The U.S. is now the only western country left with the iPhone being locked to a certain carrier. Apple noted that from a marketing perspective it would have a greater effect on people to advertise one carrier to be the lone distributer of contracts along with the iPhone. Customers would get the feeling of a solid and clear partnership. Additionally, Apple bet on the iPhone to be a major success and knew that people would get it along with a totally overpriced contract anyway, further increasing revenue for AT&T and Apple.
Maybe they did reach more people with this message. The downside was that AT&T had millions of iPhone customers to take care of, that were not only making calls, but browsing the web, streaming videos and sending emails. It gradually got people annoyed and even angry, that they did not have a decent (or any) reception. Dropped calls were frequent for many. This kind of service did not justify the price of the contracts at all. So the customers had to pay for AT&T's and Apple's revenue goals. This is now apparent.
Even though Apple primarily chose Verizon to be its partner, Verizon made it clear that they did not accept Apple's tight control over the device. They wanted to treat the iPhone as they did any other phone: implement their own proprietary software and services.
AT&T accepted this solution and saw great potential in the partnership with Apple and foresaw this device as being a market wide revolution.
Apple was criticized often for having chosen this route, locking the iPhone down in the fashion that they did. But maybe now they are realizing the benefits of an iPhone that is open to several carriers. We will probably see growing iPhone sales when customers are presented with a multitude of carriers and contract models. The people enjoy choice more than anything.