a-JAYS Three
Price: $60 online
t-JAYS Three
Price: $80 to $100 online
Company: Jays of Sweden
Devon Gilbert assisted with this review
The most visible difference between these two new affordable in-ear headphones from Jays of Sweden is the cables. One is flat and wide, and the other is skinny and round. Closer inspection reveals speaker driver housing design variations. One is small and round, and the other is squared-off and chunky. Both models ship with identical accessories and superb packaging, to be described several paragraphs below. Here is a photo, after the cases have been opened.
a-Jays Three, abbreviated here as aJ3, are the former, with their long, unusual, wide band cable and more conventional earbud tips. The t-Jays Three, or tJ3, have a two-stage conventional cable, but have an idiosyncratic speaker driver design.
The aJ3 buds are too short for Devon's ears, but they fit into mine. The driver housings or tip shafts need to be made a little longer for some users' comfortable, secure ear insertion, or offset from where they attach to the flat cable. I was able to obtain a secure fit using aJ3 with its largest rubber ear tip.
Let's pretend aJ3's fit is perfect. How is the sound? In a word, rich. Sixty dollars U.S. is not much money for what Jays promises: "thumping bass" for "the perfect choice if you demand throbbing bass notes and crisp highs." Bass was strong, and mids and highs were crisp and clear during extensive listening in the three week testing period.
Jays' packaging design wizard is very bold and precise. aJ3's "innovative, stylish, and tangle-free cable" is certainly innovative, and Devon was impressed by its length, but it is simply too much cable for its small clamshell carrying case, and for typical use situations.
Devon adds:
I wouldn't stress so much that the case is a downside. To be honest, earbuds rarely come with a case, and if they do, it's more of a small cloth pouch; in this sense, the plastic case helps. However, as you stated, you really have to jam them in there to fit, and that's just too much hassle for the average user. I didn't find the cable to be too wide, but it did remind me of a noodle that I want to throw in some boiling water!
Jays' designer, Daniel, answers these complaints by saying: The identical carrying cases [for both headphones] do have less free space when packing the a-JAYS than when packing the t-JAYS with extension. The flat cable takes up more space. However if winding the cables around three fingers and packing, as user manual describes, the a-JAYS fits inside too.
Sorry, Daniel. Either your cable is too long and wide or your case is too small and narrow, but Devon was very frustrated attempting to store aJ3 in the clever clamshell case. He was worried each time that the case would crush the cable or the speakers.
Two improvements will make aJ3 a superior product: narrower cable and better ear placement for small-eared users. I expect that if only the second is provided, so all listeners can consistently achieve a full, snug, comfortable fit with aJ3, the experience will be much better.
MyMac Review Rating: 8 out of 10. Devon says "I'm awarding an extra point for aJ3's terrific packaging and product design."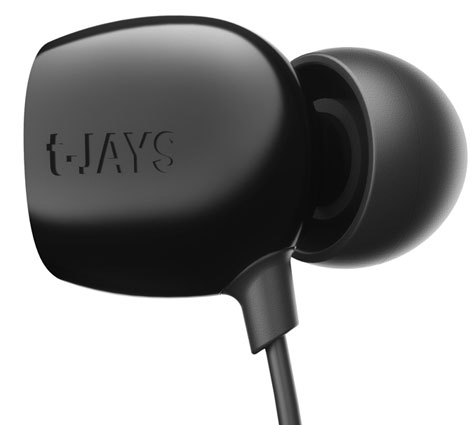 I tested the slightly more expensive tJ3 myself, and I like them. Once you become accustomed to the peculiar not-round shape of the large speaker driver housing, and learn how to position it, you will enjoy rich sound. Bass is much more powerful than with aJ3. The company's promo is accurate, claiming "ultra wide frequency range with a resonating deep bass response and a sound experience which will stop you in your tracks."
In a very noisy environment, tJ3 lose their audio presence, which is surprising, but not a deal breaker. Advice for both models being reviewed: purchase and enjoy the tJ3 and aJ3 if most of your listening is done in a quiet place. These unusual headphones will produce satisfying performance of all types of music. Audio spectrum balance slightly emphasizes the low end, without any diminishing of crisp highs.
Hundred dollar in ear headphones are never perfect. Jays promo for tJ3 continues: "A crisp, clean and natural sound … ensures that instrumentals and vocals are reproduced in exactly the way the performers originally intended." And "bass response which is snappy, precise and deep and vocals which are crystal clear and uplifting." There is inherent sonic coloration, but it adds to the listener's enjoyment.
With careful wrapping and tucking, the two stage cable length fits tightly into tJ3's plastic puck case. Both products being reviewed ship in remarkable oblong cylindrical enclosures that contain five sizes of replacement ear tips, an airplane adapter, and a stereo splitter, in addition to headphones and cable(s).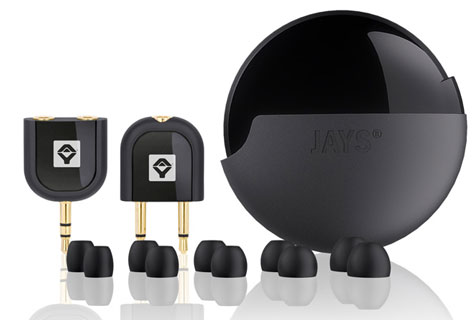 Alert #1: Jays' ear tips fit very snugly and are not easy to put on, so be patient when switching tips. Alert #2: Jays recommends slightly wetting ear tips for better seal, but I question the wisdom of that method for potential medical issues, which are beyond the scope of this review. Alert #3: It is not obvious how to open the oblong hard shell retail package. Look for a little press indent button on the lower rear of the plastic "box," then press it and you'll be able to release the two component pieces.
For a hundred dollars, tJ3 have excellent value for music, accessories, convenience, and style. We recommend them, with a MyMac Review Rating of 8 out of 10.
* * * * * * * * * * * * * * * *
After I complimented Jays on their unusual packaging and product design for aJ3 and tJ3, I received the following response:
When we reviewed our old retail boxes they seemed slightly bigger than needed. And when opening many retail boxes they leave a lot of trash behind. Broken PET blisters, tape, paper, protective PP bags, etc. We also noticed that in some stores carton retail boxes seemed to get a lot of beating and ended up not looking so hot after a while.
So with that in mind we started to design a new retail box which needed to be less expensive, easier to pack, take up less freight volume, yet feel more exclusive, work as a generic case for more than one model, be re-useable for storage or as travel case for longer trips and also give our customers a new experience.
The form was of course important. A retail box should always reflect what's in them. And we think this one really does that. Earphones are one of today's most frequently used accessory. It's almost part of our ears sometimes. And when you hold this retail box, you should get the same feeling just loving to hold it in your hand. And then, when you open it, we always want to give you that extra exciting feeling, because opening something you just bought is always one of the best things when you come home with something new, isn't it? It's a great feeling. And I don't know how many times I get disappointed with products I've purchased.
You get crappy retail boxes and then the product look worse than you thought it would do. We try to bring the exact opposite feeling. Opening a JAYS product should always be a little adventure. A little journey on your own before you reach what you're really after: the earphones. Opening retail boxes should be fun. And you should never be disappointed.
Yet we don't put near as much energy on our retail boxes as we do on developing our earphones.