Altec Lansing Home & Away
Company: Altec Lansing
Price: MIX BoomBox – IMT800 $299.95 Orbit MP3 – IM227 $29.95
Product Page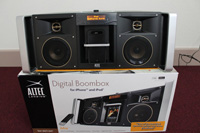 Altec Lansing has long been a standard of audio quality and value particularly within Apple's iPod and iPhone eco system. Their product line is both well stocked and varied. One can generally find something to perfectly meet the demanding needs of the budding audiophile in all of us. In an attempt to take a look at the two ends of Altec Lansing's iPod/iPhone audio system universe, we will cover two products targeted at the to ends of the consumer audio spectrum.
DESIGN
MIX BoomBox: At the top of the Altec Lansing heap, is the MIX BoomBox. Rocking Xdb bass-enhanced side-firing subwoofers with tuned passive radiators, two custom-designed mid-range drivers, and specially engineered horn-loaded polypropylene tweeters the MIX has the hardware cred to, on paper, handle the hardest Rock you might want to throw at it. Additionally, the engineers at Altec Lansing included such technologies as: Audio Alignment for balanced sound, a Digital FM receiver for clean radio reception, Dual AUX IN jacks to allow others to join the DJ'g fun, and many others features to make this audio system stand out from the crowd. For a full breakdown of the specs, see the product page.
Orbit MP3: The Orbit MP3 is a small and compact audio speaker system for the iPhone and any other audio player that sports a 3.5" headphone jack. The Orbit uses three AAA batteries and an Audio Alignment system to push sound into a 360 degree sound field. Additionally, the Orbit has been designed to handle the movement and jostling associated with portable audio. For more information on the specs, jump to the product page.
USIBLITY
MIX BoomBox: If you are into BIG sound and even BIGGER bass in a small portable (around the house that is) audio system, then look no further. This is the best sounding iPod/iPhone audio system I have ever listened to. The bass produced by the side-firing subwoofers must be heard to be believed. It is deep and wide. You will not find this kind of bass production short of a custom component system costing many hundreds of dollars more than this diminutive powerhouse. The mids and highs, while not as impressive as the bass production, do a nice job filling in the sound stage. The total sound stage produced by this audio system will not disappoint all but the most persnickety of audio enthusiasts. Bravo Altec Lansing, You really hit this one out of the ballpark!
Orbit MP3: I am always on the look out for a reasonably good sounding small speaker system to take on the road. You know, something that you can easily throw into your backpack etc. Most of the small single speaker solutions have left me feeling somewhat under whelmed. For the most part, they have all suffered from the same problem, no bottom end. Well, Altec Lansing found a reasonable solution. The Orbit MP3 produces a surprisingly balanced sound stage for a device of this size and power output (three AAA batteries). The bottom facing 360 degree sound port seems to improve the overall sound quality measurably. Color me impressed with this little jewel from Altec Lansing.
ALTEC LANSING HOME AND AWAY
Looking at the two ends of the Altec Lansing iPod/iPhone speaker system product line, one thing stands out. Altec Lansing has taken a hard look at what the consumer needs in both of these scenarios. At home with a few friends over, the MIX BoobBox will satisfy that inner DJ lurking within. As an added bonus, your friends can even plug their iPods or iPhones into the "MIX" so to speak. Great sound and great fun will be had by all.
With the Orbit MP3, Altec Lansing realized the importance of a portable system being, well, portable. The inclusion of a nice little case and plug storage system just makes this little wonder even more of a delight. At the end of the day, the Orbit sounds great and will give its user lots of great sound when at that remote location where noting else would work quite as well.
Between these two devices, Altec Lansing has provided some great solutions for those seeking an answer to the home and away dilemma.
MyMac.com Review Rating:
MIX BoomBox: The design and performance of the MIX BoomBox put this audio system among the very top in its class. If you are looking for big sound at a reasonable price, you owe it to yourself to go and give a listen to this system. I am awarding the MIX BoomBox from Altec Lansing a well deserved rating of 9 out of 10 in our MyMac.com Rating System.
Orbit MP3: As a highly portable audio system, the Orbit is a well thought out and implemented device. The sound stage is balanced and sounds great for a single speaker system of this size. I think Alec Lansing has struck a nice balance between form and function. I am awarding the Orbit MP3 from Altec Lansing a well deserved rating of 8 out of 10 in our MyMac.com Rating System.