GoToTraining
Company: Citrix Online
Price: $149 and up per month
Intro video and product info
Pricing info

Citrix Online's new professional web-based training application provides a simple and affordable way for business, education, and marketing organizations to train employees, students, and volunteers. Citrix provides templates and support so training staff can develop customized sessions that incorporate integrated participation and feedback.
A 30-day free trial period is available, without any restrictions. Citrix Online has designed GoToTraining to be an easy to use solution for putting training sessions online. A thorough FAQ is posted here with dozens of useful links. A quick teaser PDF is available here.
Citrix Online aims to be cutting edge. Another PDF explains how new social media tools can be incorporated into training methods. MyMac is impressed by how much advance planning and development has gone into GoToTraining's rollout.
Live and pre-recorded training sessions are available to help customers decide if GoToTraining is worth considering. An outline of features is at this URL. Experienced trainers will grasp the potential. The company hopes newcomers to online training "will appreciate the simplicity and online support tools as they make the transition to online training," as a Citrix rep told MyMac.
Citrix's flagship products, GoToMeeting and GoToWebinar, can be included (or not) as part of GoToTraining organizational workflow. The latter two are beyond the scope of this introductory article, and they are well-documented on the Internet.
I participated in a GoToTraining session led by Citrix Online's product manager. I was impressed. From the first invitations to attend and the pre-session materials to study, through the training event to the follow-up evaluation, every aspect was precise and focused. There was no latency, even though I was on an ancient lampshade iMac at the far end of the wireless range from my router.

The product manager and I traded places so I could test-drive being a trainer, with additional on-screen features available. I don't currently utilize such a top-notch online training protocol for my group tutoring lessons, so I am motivated to become a GoToTraining instructor.
I asked the product manager a few questions after we concluded our demo. Here is our Q & A:
1. What help and support is available, and when, for trainers?
24/7 phone and email customer support is available for organizers and attendees. The Customer Support Center is a web presence for on demand support. Our Knowledge Base of help files supports usage of the product. We have videos, live and on-demand training, and Product User Guides.
Here is the link to our support site.
Here is the link to our comprehensive FAQs. At the main home page, the FAQ link is on there in the blue panel on the left.
We also have weekly live training sessions for customers and trialers of the product.
2. Who are your top tier competitors and why is GoToTraining better for your clients than the competition?
From a non-technology perspective, it is traditional classroom training and showing the effectiveness and value of moving online – showing how a virtual classroom environment can be as or more effective than face-to-face training.
Our advantages are absolutely ease of use and enabling an easy transition to online training. There's also affordability and predictability in price with unlimited training sessions for a flat fee. We also have features that are valued by our customers and beneficial to the market, including full service registration, content library, material distribution, real-time curriculum management, testing and poll options, and integrated audio conferencing.
3. Are there plans to add web cam features?
With video predicted to be an important component of online collaboration as the space continues to grow, we're actively evaluating video support for our Web collaboration products, with R&D efforts underway for assessing customer needs.
Our goal is ensuring that our video capabilities are user friendly so that businesses can easily incorporate video to make their meetings more effective and productive. Providing a high-quality video experience enables us to continue our market leadership and record of innovation in delivering simple, purpose-built collaboration solutions that offer businesses of all sizes unmatched performance advantages.
4. Is computer audio or telephone dial-in better for trainees to use?
The value in our solution is that trainers have the option for both, based on their preferences.  We integrate the audio in a way that allows for a seamless and high quality audio experience.
5. Are there any bandwidth or network requirements necessary for trainers or trainees? How do you maintain your no-latency content delivery to multiple locations?
GoToTraining technology adapts to variations in bandwidth among participants, so it works with most types of Internet connections. However, for optimal performance we recommend people use a cable modem, DSL, or better Internet connection. However, for optimal performance we recommend people use a cable modem, DSL, or better Internet connection. You can find quality T1 lines if you are lacking the appropriate speeds. Also, participants wanting to use the VoIP audio feature will need to have a fast Internet connection of 384 kbps or more.
To support global infrastructure and redundancy, Citrix Online currently has brokers and communications servers distributed among multiple interconnected data centers across the globe. We are constantly evaluating our data centers and Internet service providers (ISPs) to optimize performance for our customers in regards to bandwidth, latency and disaster recovery isolation.
6. How different is the training experience on Mac versus Windows? Any special software/hardware requirements?
GoToTraining allows cross platform compatibility that enables trainers and attendees to join from either a Mac or a PC.  While our goal is to maintain feature parity across both platforms, there are some features that are not currently available for Mac users that we have plans to address in future releases.
System requirements for Mac users can be found here.
7. Explain how trainers can customize their GoToTraining interface.
GoToTraining customers can select which panes are used on the control panel.  For example, if they are not using tests or polls, they could select to not have that pane show up. They can also control the types of messages that are presented to them – by making changes to their preferences. They cannot change the look and feel of the control panel.
8. What storage capabilities does GoToTraining offer?
Our GoToTraining customers have access to 2 GB of storage capacity to store content that can be shared with attendees before, during and after the session. This is a great feature and enables trainers to take full advantage of our shared library functionality, adding or sharing content files among other trainers in their organization. This also provides consistency across their training formats. While we do not limit the type of file that can be added or shared – documents, web links or other file types – there is a 100 MB limit on individual file sizes being uploaded.
9. How do your interactive polls work? What about your built-in timer? And how can you tell if your remote participants are paying attention or goofing off on YouTube or Facebook?
Our poll feature is a great way for trainers to keep the interactivity level high in a training session. Polls can be setup in advance or during a session. Trainers have control over when a poll is launched. Each attendee can then respond to the poll question by selecting the answer on the screen. Trainers have visibility into how long the poll has been active and the percentage of the attendees that have responded, which is helpful in determining when to close the poll. Once the poll is closed, trainers have the option of sharing the results with everyone. They can also review individual poll responses in the post-session reports.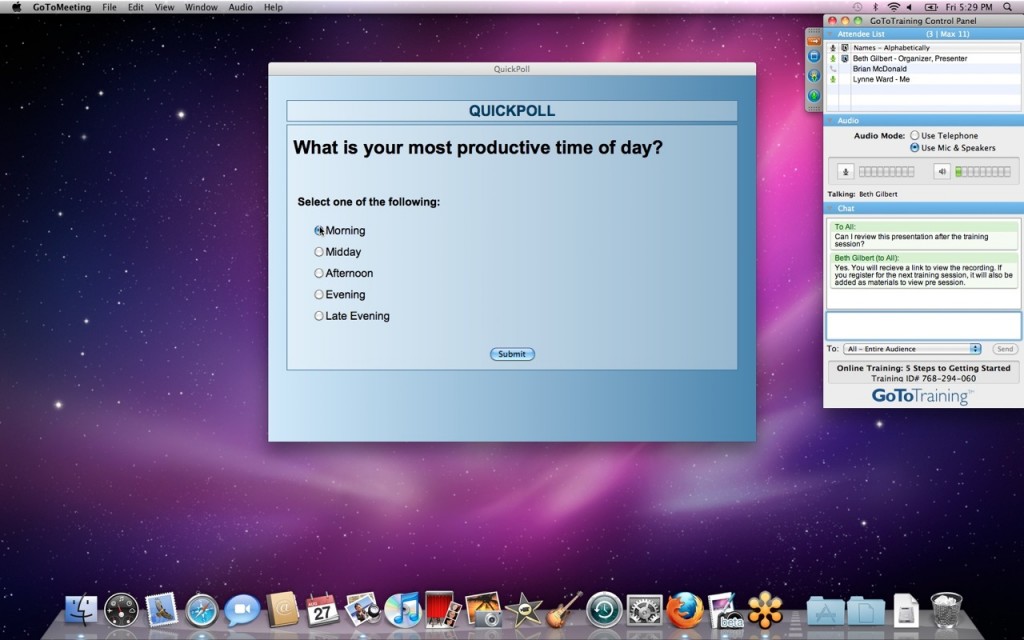 Our timer feature can be used during breaks or in-session activities to keep track of the time allotment.

In terms of monitoring attention, our attentiveness meter is a favorite GoToTraining feature. This indicates whether or not someone is paying attention. Trainers are able to tell whether the attention span of the entire class is waning or identify individuals who may need to be re-engaged.
10. For trainers and students, should advance time be built-in to sessions when people are unfamiliar with your interface or usability?
GoToTraining is designed to offer tools to easily deliver an online classroom experience. While we do offer live and on-demand training sessions should users want additional assistance and information, ease-of-use is the key focus for both trainers and students and feedback we've received is that the user interface and experience is simple and intuitive.
11. PowerPoint and Keynote can become boring after a couple of slides. What spicy tips can you give to new or experienced trainers to make their presentations lively and engaging?
Utilize features like polling and testing to not only keep things interactive with attendees, but to assess their existing knowledge and target the training to their needs.
Make good use of resources like annotation and drawing tools that can help direct attention and maintain attendees' focus.
Offer attendees a chance to temporarily present, giving them keyboard, mouse and screen control, as well as access to chat and audio capabilities for increased interaction.

This article is a first-look discussion, not a review. MyMac will work with Citrix Online later this year, aiming to have a more detailed evaluation of GoToTraining.