YUBZ Retro Handset
Company: YUBZ
http://www.yubz.com
Price: $44.95 US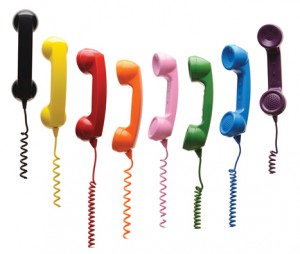 When I was growing up, the telephone receiver was attached to the telephone by a coiled cord. Years later, the cordless phone was invented, which made me very happy. I could rest the receiver between my ear and shoulder while keeping my hands free to type on the keyboard, fold laundry, write… well, you get the idea.
Fast forward to cell phones. Regardless of the brand, they were too small to set between your ear and shoulder. Either you held the phone to your ear, or you used a Bluetooth headset. But now there is a way to go "old-school" with your cell phone.
The YUBZ Retro Handset is just what the name implies: a handset that looks like it belongs in the 1970's. It comes with various adapters to be used with most cell phones on the market today, including iPhone, Samsung, Nokia, Blackberry, and Motorola.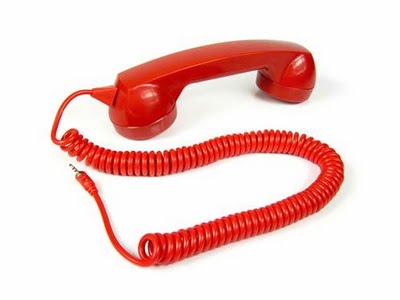 To test the Retro Handset, I had one of my kids call my iPhone, first from his cell phone, then our home phone. In both cases, there was a slight echoing sound, but not enough to be distracting. Conversation was clear, and I loved being able to put the receiver between my ear and shoulder. There is a volume control button that slides up and down; I found that the best thing to do is have the volume of your phone at the highest level, then use the volume button on the receiver to adjust the sound to a comfortable level. That seemed to work best for me. Also on the receiver is a button to accept calls or disconnect with one click.
The adapter used for the iPhone has a similar configuration as the MacBook. That allows iPhone users to also use the handset for Skype calls. In my testing, the Skype calls were just as clear as the iPhone calls.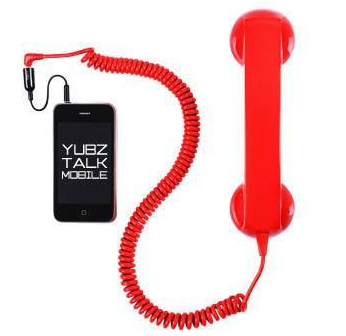 The YUBZ Retro Handset comes in nine colors and weighs less than one half pound. The company claims the handset reduces 96% of mobile phone radiation, a nice feature for users who are worried about this issue.
While I feel the YUBZ Retro Handset is too bulky to be used out and about, I think it's a great receiver for home or office. It's fun, definitely original, and keeps your hands free to do other things while talking. It may even make a nice gift for that hard-to-buy-for person in your life.