MotionX GPS Drive HD=
MotionX
$2.99
iTunes Link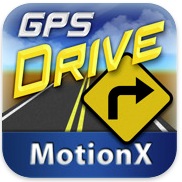 MotionX GPS Drive HD for the iPad is my first experience with any GPS unit. I have never found the need for one, but I had heard a lot of buzz around this app and was about to go on two trips when I was asked to review it. What a better test?
Before I get to the performance of the app, I want to talk about a few features.
First, the search. The search feature in the app is great. If you are looking for a Mexican restaurant you can select that from the list of categories and up will come a list to choose from. You can search in any number of categories, or type in an address or place to search for.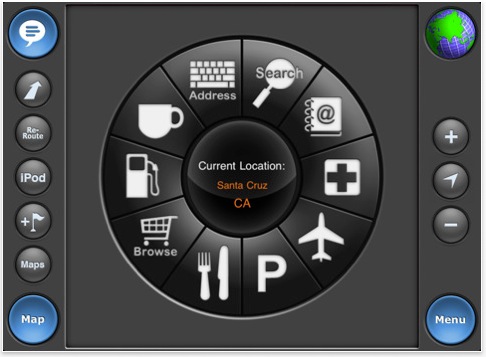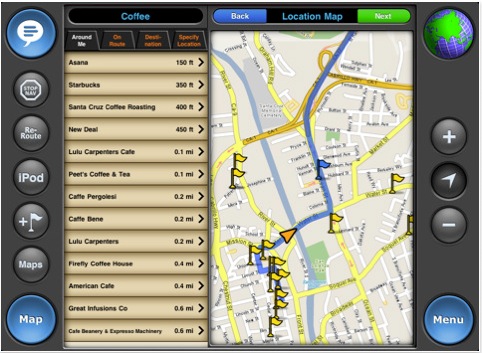 One feature which you can use in traveling without navigation activated is a satellite view instead of the drawn look. I really like this option. You can use the real view to help locate something by using landmarks (assuming the map is up to date). However, this view is not an option when you are using the navigation features. I'm not sure why, and wish it was available.
A nice touch is the iPod button. You can access music, audiobooks, and podcasts through the app to play while the app is running. This is great, especially since iOS 4 has not made it to the iPad yet.
The app also has a wifi mode. This is great for being in a hotel and trying to find a store or place to eat. It determines your location through WIFI and you can use the search features to find what you need.
The display of the app is very attractive, but I think it might be a little too busy making it slightly confusing to figure out exactly what each button does and how to do what you might want to do.
On to performance.
I tested the app on two trips I recently took. One to Ocean City, Maryland which I have been doing since I was a child and can drive with my eyes closed. The other was less familiar and to Sesame Place in Pennsylvania (a must for kids who love Sesame Street, think Disney world but Sesame Street).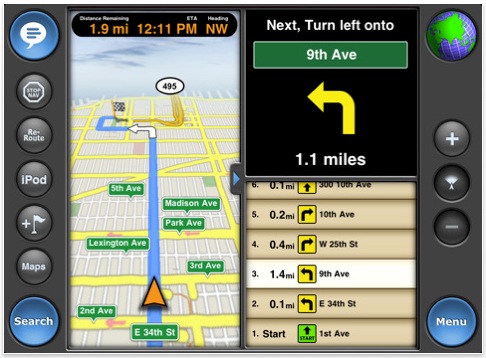 Along the way I searched for places I knew or didn't know and watched as it appeared on the app and then we passed it. Even on deserted country roads it was accurate with little side streets.
While the app seemed to be very accurate most of the time, there were some strange results to go with the good results. First, it said the trip to Ocean City would be 140 miles when I know it is about 160. Second, it said we were five miles away from a restaurant during this trip when we were sitting in its parking lot. Third, I searched for the Delaware House rest area on the way home from Sesame Place and the search said it was eight miles away from our location and the sign we passed said eight miles. Sounded good until I told it to navigate and it jumped to 18 miles???? What is that? I tried several times and kept getting similar results.
The app also gave us a more complicated way to get to our hotel at Sesame Place. The directions off Mapquest via the hotel website were much more direct than the way the app wanted us to go.
As far as the maps the app downloads the maps and data on the go so it does not take up a lot of space on the device. However, because it downloads the maps it is constantly eating up your limited data plan. That is something to keep in mind on long trips. I opened and closed the app periodically so it wouldn't use all that data. The nice thing is the app did not have to be reset. It remembered the last destination and loaded the  map from our new spot.
You also have a free trial of the Live Voice Guidance which is really nice on the iPad that might be sitting next to you instead of being mounted like a GPS unit or iPhone. Instead of looking at the iPad the guidance system can tell you where to go.
Overall, this is not a bad app. At $2.99 for a GPS app it is a good deal. If you want GPS on your iPad and can live with getting occasional inaccurate results this is an app worth getting.