Atlona 2 X 1 Mini Displayport KVM Switch
COMPANY: Atlona Technologies
http://www.atlona.com/
PRICE: US $99.00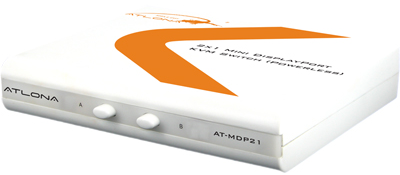 If you shelled out the big bucks for an Apple 24″ Cinema Display, you've got one of the best flat panel displays around. Many Cinema Display owners have a MacBook laptop as well as a desktop computer. It can be terribly frustrating not to be able to share the Cinema Display between your MacBook and your desktop. On top of that, wouldn't it be sweet to be able to use one keyboard and mouse to control both machines at the same time?
Atlona Technologies' 2 X 1 Mini Displayport KVM Switch may be the answer to your needs. The Weeks Division of MyMac Labs tested it out, and here's what we found.
KVM stands for "Keyboard Video Mouse." It's a small (LxWxH) 6.25"x 5" x 1.23") box that allows you to share a Mini Displayport-input monitor between two computers, as well allowing sharing of a single mouse and keyboard between those computers. Again, this particular KVM switch works ONLY with Mini Displayport-capable monitors and computers.
With the KVM switch hooked up, you can have your MacBook and Mac Pro (for example) both up and running, and you choose which one to use by just pushing the appropriate button on the KVM switch. Push "A", and the MacBook video display appears on the 24″ Cinema Display, and the USB keyboard and USB mouse controls the MacBook. Push "B" and the Mac Pro video display appears on the 24″ Cinema Display, and the USB keyboard and USB mouse controls the Mac Pro.
For a small box that has only two pushbuttons to control it, getting the KVM to work was a major hassle. Atlona's box is crippled by woefully inadequate instructions, and poor labeling on the back of the KVM Switch itself.
The printed booklet uses tiny type, and it's difficult to read. The critical diagram, the one illustrating which cables plug into which sockets, is a mass of overlapping lines. The layout of the various sockets on the back is confusing, as the "A" USB sockets are side by side on the right side of the back case, but the "B" USB sockets are at opposite ends of the back case!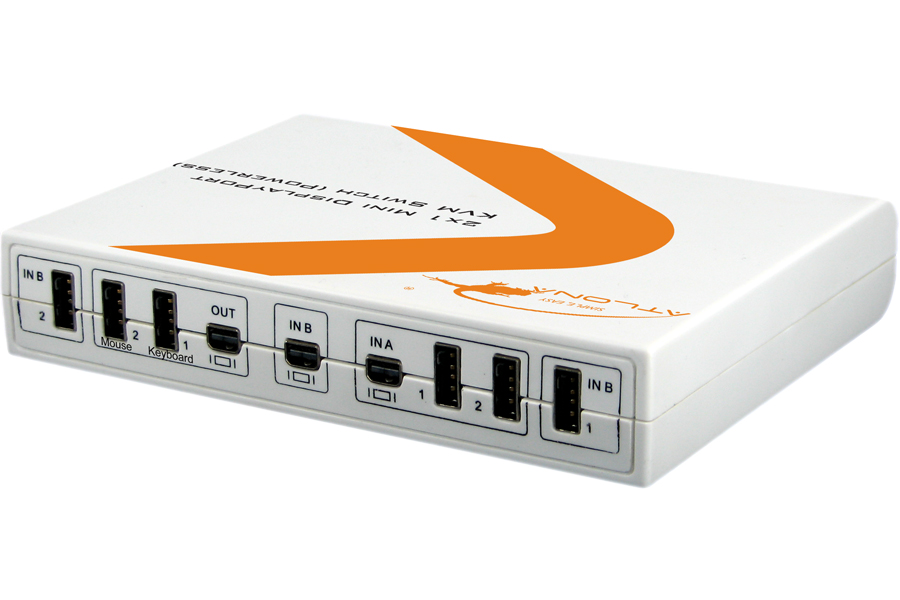 The instructions refer to "In" and "Out" but there is no clarification of whether "In" refers to "into the computer" or "into the KVM Switch."
Atlona conveniently includes all the required USB and Mini Displayport cables, but they are only 3 ft. long. Plan on having your two computers fairly close together, with an unfortunately unavoidable rat's nest of cables.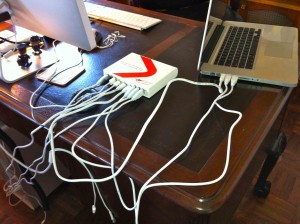 Even though I'm persistent to a fault, I had to consult with Atlona Tech Support to get the KVM Switch to work. Support Technician Ben worked with me for thirty minutes to get me up and running. Once the cables were properly routed, we had to restart both Macs to get the MacBook Pro to recognize the 24″ Cinema Display. During testing, I disconnected all the cables to take the MacBook Pro on a business trip. After my return, I hooked up the KVM Switch again, and found that I had to restart both Macs to get the MacBook Pro to drive the big display.
Here's how I got my setup working: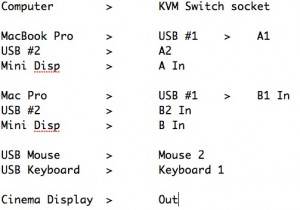 When the Atlona KVM Switch works, it works splendidly. Push the button, and you can seamlessly switch between seeing and controlling one computer or another with just one monitor, keyboard, and mouse.
Aside from the poor documentation and short cables, there are some minor annoyances. The Atlona KVM switch requires the use of both USB ports on the MacBook Pro, so if you need to use a USB device on the laptop, you're out of luck. We did not attempt to test the KVM Switch using a USB hub, as we had enough frustration with a stock installation. The Mini Displayport cable Atlona provides is a good quality cable, but it would be even better if it had some indication on the plug for "this side up." Mini Displayport plugs only fit into their sockets one way, but they are so close to being rectangular it's difficult to tell the proper orientation without a marking on the plug.
Conclusion. KVM Switches fill a particular need; and you know if you need one. Atlona's version works well if you get it working. The documentation is frustrating. Ben in Tech Support knows what he's doing; ask for him.