v-JAYS over-ear lightweight clear-bass folding headphones
Company: JAYS (of Sweden)
Price: $98 US (not available until approximately November, 2010)http://www.jays.se/products/headphones/v-jays.html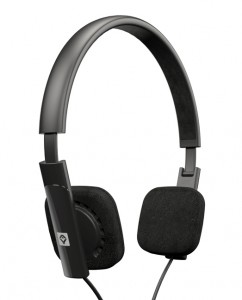 Martin Taylor enjoys listening to music. But he doesn't like headphones, any of them, because "they always color the sound in a way that is unnatural." I asked him to help test the new v-JAYS from Sweden. He was impressed. (He is a MyMac reviewer, The Other Martin Taylor, not the famous jazz guitarist although our Martin does play a Taylor guitar. He also owns a Martin.)
"Bass is very strong and clear, Nemo," he said. "Much more than I've heard before. These must be expensive headphones." Not especially, I told him. They are priced under $100.
What about design, construction, and fit? "Really lightweight and comfortable," said Martin. "I could sit and listen with them all day, both for pleasure and at work. The folding earpieces aren't essential, but they'll help with packing and travel. Is there a case provided?" No, I told him.
Martin only could locate the very subtle LEFT and RIGHT embossed indicators on the interior of the frame, just above the ear pads, because we were sitting outdoors in the daylight. JAYS should add a little raised dot adjacent to the word LEFT for quick identification in low light, as AKG does with their headphones. Wearing v-JAYS backwards is not very different from frontwards, because they are almost completely symmetrical, which is a good thing for many listeners. Martin adds, "This company is smart to have a two-stage audio cable, so people can decide for themselves if they want a two-foot or four-foot distance to their audio device."
Martin's assessment was made during an afternoon examining and listening, which was midway through my official MyMac review of v-JAYS over-ear lightweight clear-bass folding affordable headphones. Let's work through that series of features one by one:
OVER EAR Small, square pads rest gently on the ears, without abundant sound cancellation or isolation. Some ambient noise can be heard most of the time, and people in the same room or vehicle can hear a bit of what you are hearing, which is potentially annoying, but not excessively so. An extra set of pads is included, and additional pads are available from JAYS for $8 U.S. per set of four.
LIGHTWEIGHT The flexible, comfortable, plastic inverted-U frame is almost weightless. They conform to the width and bulk of your head and hair without inconvenience. The two-stage audio cable is durable, and also lightweight. Quality of construction appears to be robust, although we won't know for certain until we bop til we drop, and hold 'em til we fold 'em (see below).
FOLDING The lower two inches of the plastic U-frame, containing the speaker drivers and aforementioned pads, fold inward until the total size of v-JAYS is about half of when in listening position. A small bag or case should have been included, because target purchasers of this product will beat up their headphones anyway. The speaker housings pivot generously in both lateral directions, which we applaud.
CLEAR BASS Wow! Minutes and hours and days and weeks listening to v-JAYS convince me the company made a major breakthrough with sonic solutions. An uninterrupted audio spectrum from sparkling highs through robust lows is present in every song and genre. Bass clarity is better than we have reviewed previously. Aside from the most heavy sub bass tracks, v-JAYS are a wonder to behold, for enjoying the low-end aspects of your favorite tracks. You'll be surprised at how much detail you've been missing. Examples: "Kokomo" by the Beach Boys, "The Girl from Ipanema" by Stan Getz and Astrud Gilberto, "I'll Never Love This Way Again" by Dionne Warwick, "I Cried a Tear" by LaVern Baker, "Flor's Secret" by Enya, "Five Minutes to Live" by Johnny Cash, "There Is No Light" by Wildbirds and Peacedrums (really exciting!), or "Comin' in the Back Door" by Baja Marimba Band. Understand that the sonic experience is more lean and austere than thick and sludgy, which will take a few days fully to appreciate.
AFFORDABLE v-JAYS' low price places this product in a class by itself. Open-cell earpieces are not for everyone, but our MyMac evaluations have concluded that they typically lead to superior audio clarity.
EQUALIZATION Individual audio equalization is important to use with precision listening devices. "Acoustic" on an iPod/iPhone/iPad is the testing and personal setting we use most of the time. v-JAYS performs brilliantly with this equalizer setting, but please determine your personal general favorite—then set it and forget it. BEWARE of playing music or spoken word audio too LOUD through v-JAYS, because these are efficient headphones.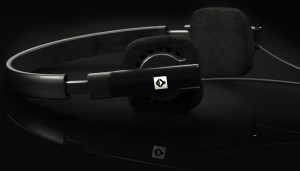 These are exceptional over-ear, open-cell headphones. I would buy them myself and I recommend them to anyone who wants clear bass from lightweight highly-portable headphones. Strong MyMac 8 out of 10 Review Rating, held back only by the lack of a case and difficulty in distinguishing between the left and right channels. Nicely done, Jays of Sweden.
LINKS:
v-JAYS product details and photos, plus links to additional reviews
Another review's ratings summary makes me chuckle:
Practicality: 8.5
Design: 9.5
Value for money: 7.0
Features: 6.0
Durability: 9.0
Kung fu verdict: 9.0