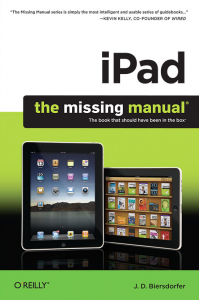 iPad the missing manual
Author: J.D.Biersdorfer
Company: O'Reilly
Price: US $24.99 CAN $31.99
299 pages
missingmanuals.com
http://oreilly.com/catalog/9781449387846
A product as elegant and intuitive as the iPad shouldn't need a manual, but J.D. Biersdorfer makes short work of that premise with this new title in the missing manual series. J.D. Biersdorfer has the credentials to speak about it as well, she is the author of iPod: The Missing Manual and The iPod Shuffle Fan Book, and is co-author of The Internet: The Missing Manual and the second edition of Google: The Missing Manual. She has been writing the weekly computer Q&A column for the Circuits section of The New York Times since 1998.
There are sixteen chapters in this manual.
Chapters 1 and 2 explain the basics such as how to turn the iPad on and off, connect and disconnect to your computer, copy and paste, keyboard shortcuts, charge the battery and even how to clean the iPad's screen.
Chapter 3 is all about how to get online, using public Wi-fi spots, tips about the AT&T service plan and data network.
Chapters 4 and 5 cover all the basics about surfing the web and using mail.
Chapters 6, 7, 8 and 9 show the user how to use the built in apps, how to get apps from the app store, how to use the iBook reader and find iBooks to read, and how to get and play games.
Chapter 10 covers iWork and how to create documents, spreadsheets, and keynote presentations.
Chapters 11, 12, 13, 14 and 15 teach the user about organizing and syncing media files, how to master iTunes, how to play music and other audio, how to obtain and watch video, and how to view and manage photos.
Chapter 16 helps the user to sync with MobileMe.
Appendix A is a tour of the iPad settings.
Appendix B is Troubleshooting and Care.
Any user can get most of the information that is published in this manual by going online and searching topic by topic. Having it all well organized in one book eliminates this task and is well worth the purchase price. I also appreciate that the author writes clearly enough for the brand new user to understand, but doesn't talk down to experienced users and includes plenty of tips and tricks for a user of any experience level.
iPad the missing manual is another hit from O'Reilly. If you want to get the most from your iPad, this book comes well recommended.